Time is gold in the real estate business. You don't just put up a house or a building model and wait for interested clients to approach you. Interacting is the first step in gaining a competitive advantage in this industry, followed by communicating.
Real estate agents need to be proactive to grow their real estate business. For the company to grow, it requires excellent agents to communicate to sell a property, particularly in sales conversations.
It is the only way for an agent to generate leads that turn into potential customers and, eventually, confirmed buyers. It's not easy, but excellent benefits and pay are waiting for a satisfied customer who finally buys the property.
Cold calling is an excellent concept, but it's more complex than you may imagine. You can emphasize your real estate firm when looking at cold calling functions.
Cold calling is challenging since you need to come up with something original to say. You must read from a script informing folks on what you have and how trustworthy your company is.
If you have a workable strategy in place, cold calling in real estate might be effective. This short article will explain what cold calling in real estate comprises and what you'll need to prepare for it.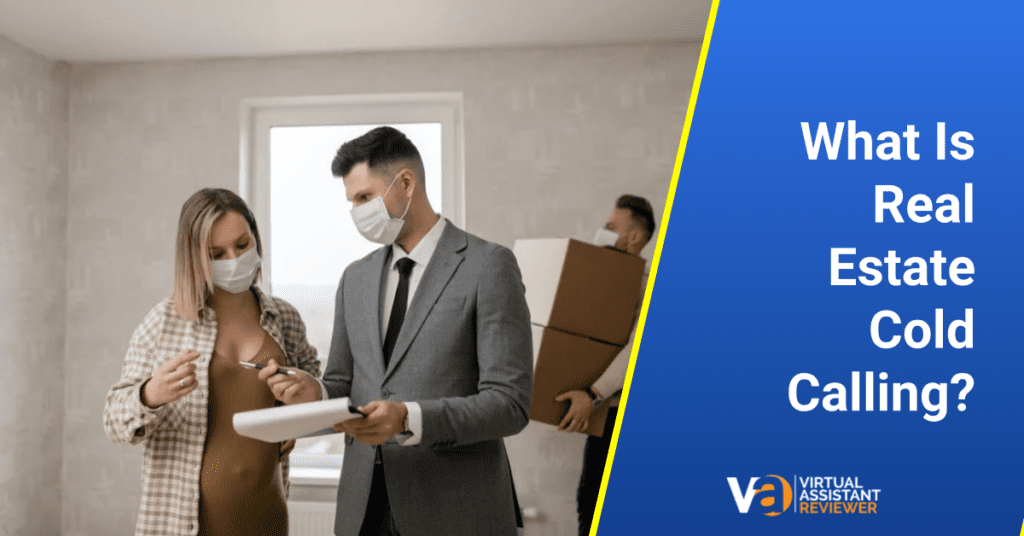 What is Real Estate Cold Calling?
Real estate cold calling is the process of making outbound calls to a list of contacts. The calls would be directed to people who are unfamiliar with your company.
The term "cold calling" comes from the people you contact who
are unfamiliar with your organization or brand. You're attempting to persuade folks to use your service.
Cold calling is the opposite of warm calling, which involves communicating with persons who have previously done business with you. Cold calling can begin a positive relationship with someone, leading to warm calling.
How To Find Leads?
You can find leads to add to a list of contacts for whom you will make outbound calls as part of your cold calling practice. You can find leads by doing the following:
It will help review the specifics of people looking to buy a home. People who have gotten jobs in the area or sold their old properties are examples of this.
You could also look for people who want to sell their homes, including those who may be leaving the area.
Take a look at where new properties are popping up. Some people may attempt to relocate from their current residences to these new ones.
Anyone who has had a job change may also be easy to contact. You could inquire about what people are doing with their homes and whether they want to buy or sell something based on changes in income.
You can have as many leads as you want, but you must set appropriate parameters for who might be a good lead for your company.
People who understand the market and require a property should be your leads. When you're trying to explain to people what you want to offer and showcase in your work, explain what you want to provide in your career.
What is the key to perfecting cold calling scripts?
Every cold calling script in your arsenal should have a specific purpose. One possibility is to contact a prospect looking to sell their home. Another option is to reach out and see if a homeowner plans to sell soon.
But no matter what script you use or scenario you use, it should all have a few essential tools:
Goal
You must define your desired outcome from the call, whether meeting with the prospect of securing a listing.
Positivity
On your call, you should be upbeat and show your prospect that you're excited about working with them in the market.
Empathy
Even on a first cold call, share your prospect's frustrations and demonstrate that you understand their pain points. Ask your prospect questions to engage in a more meaningful conversation and deepen your relationship.
Value
Instead of just selling them to your real estate agency, offer a solution to their problem.
Setting a daily goal for how many cold calls you intend to make is an excellent way to approach real estate cold calling (and make it realistic).
Assume you get one conversion out of every 20 cold calls you make. If you're content with bringing in two new prospects per day, make no more than 40 cold calls that day.
You don't want to feel burned out, but you also want to make sure you have enough prospects in your pipeline to achieve your objectives.
Read More: What is Professional Outsourcing?
Advantages of Outsourcing Real Estate Cold Calling
If you're wondering why owners invest in this type of service, consider the following advantages of real estate outsourcing services, particularly cold calling:
Reduces Operational Costs Associated with Hiring and Replacing Agents
As a business owner, you must be cost-conscious. Establishing your cold calling team will undoubtedly necessitate a significant investment, resulting in either a profit or a loss for your company.
If you want to save money and stay efficient in the long run, investing in an outsourced team is the best option.
The cost of operation is reduced as you outsource. Most real estate companies, which frequently hire and replace real estate agents, prefer this method. You save money and save time at the same time.
Professionally Trained Real Estate Agents
One of the most beneficial aspects of hiring a real estate virtual assistant to perform real estate agent tasks is that he is trained to make numerous calls per day. They will assist more clients in purchasing properties with your knowledge.
24/7 Quality Service
Because work occurs 24 hours a day, seven days a week, investing in an outsourced real estate call center is critical. You may have clients from different time zones in the real estate business, and an average agent will not meet all their needs in 8 hours.
If you invest in outsourcing real estate services, you can ensure that someone is always available to assist your customers, even if you are not present.
Different Time-zone Benefits
One of the most beneficial aspects of hiring an outsourced call center team is ensuring work is available around the clock. With this advantage, you can take full advantage of time zone differences, ensuring that your customers worldwide receive assistance from your preferred outsourced team.
Jack of All Trades 
Another benefit of using virtual assistants is their ability to multitask. Aside from cold calling, these assistants can also set appointments, schedule appointments, and organize emails for agents.
And if you are concerned about serious errors, you can rest assured that your preferred outsourced team will provide quality services. Because most of these assistants are experienced professionals, they can provide satisfying services and assistance to your clients. Your outsourced team will ensure that you only hire the best people for the job.
You Can Also Check: Quintessential Guide to Hiring Call Centers
Takeaway
If you want to expand your real estate business, you should not rely solely on skilled real estate agents.
To ace cold calling, you must do more than just dial numbers and tell prospects you can sell their home.
So, whether you're just touching base or trying to reestablish a relationship, the strategy is the same:
Listen to their concerns.
Be empathetic.
Let them know you're the right realtor to help them sell their home.
Lastly, try outsourcing your real estate services if you want your business to prosper and your customers to be more satisfied with your services.