Earning a decent living while working from home may appear to be an enticing job combo. It is still very possible to make a lot of money while working from home.
Working remotely or telecommuting appeals to many people because of its convenience and flexibility. Working from home can save you time and money.
In fact, according to Flex Jobs, most telecommuters earn $4000 more per year than their non-telecommuting counterparts.
It is good news for anyone looking for a well-paying remote job. There is a stable career waiting for people of many experience levels who want to work remotely.
In this article, we have listed some of the top-paying remote jobs in the US based on pay, including their responsibilities and the average salary for each.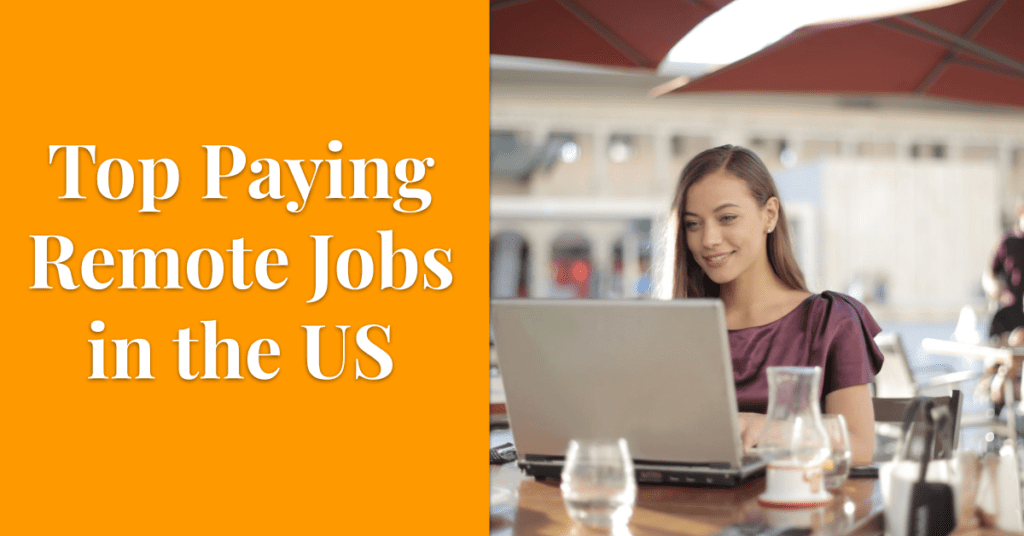 Registered Nurse
In the past, working as a nurse from home would have seemed like a pipe dream. Work-from-home nursing jobs are more popular than ever before. Technology has made it possible to attend to patients' needs remotely.
Registered nurses provide patients with telephone support, consultation, follow-up services, and case management and recruiting. Patients who are elderly or immunocompromised can access care from remote registered nurses and those who live in rural locations far from healthcare facilities.
According to the US Bureau of Labor Statistics, the average salary of a registered nurse is $80,010 as of May 2020.
Accountant
Accounting and finance jobs can pay well.
According to Indeed's data, as of July 2021, the average wage for accountants coming in at $57,429.
Virtual accounting jobs provide tremendous flexibility. The flexibility is not only limited to working remotely but also to the availability of part-time positions. You can also do it seasonally, especially during tax season or on an alternate work schedule.
Accountants examine and prepare financial documents and books of accounts for individuals and businesses. They also provide extensive financial advice and ensure that its budget and operating expenses are financially sustainable. Accountants can work remotely in entry-level and senior positions.
Bonus: There is a high rate of career growth in this field.
Application Developer
An application developer, also known as a software developer, creates and modifies source code for software applications. App developers build, program, test, and maintain mobile, computer, and web browser applications.
Application developers frequently work independently or in small groups. It allows them to work remotely in a variety of situations. App development is a rapidly expanding remote profession. It also offers extra benefits, such as stock options or profit shares, particularly in startup environments.
According to Indeed's data, as of July 2021, the average wage for application developers in the US is $84,186.
Graphic Designer
Graphic designers use images and text in a variety of contexts. These include company logos, promotional materials, and more. Their skills can be helpful in a variety of industries.
This field places a high value on experience. Some graphic designers are completely self-taught and have received no formal training. These individuals typically have advanced skills in computer-aided design. Thus, entry-level designers must have a strong portfolio developed through coursework or internships.
Graphic designers with the highest salaries work in advertising and public relations. According to BLS data, they earn a median annual salary of $55,800.
Digital Marketer
Digital marketers plan and manage marketing campaigns. It is to promote a company's brand, products, and services.
Their responsibilities include campaign planning, metric analysis, and trend identification. It enables them to work remotely from any location with internet access. They usually have prior experience in art direction and social media.
Digital marketers learn to optimize their skills to apply them to both small businesses and large corporations. Thus, creative and ambitious individuals have a lot of room for advancement in this field.
According to Indeed's data, as of July 2021, the average wage for digital marketers in the US is $57,208.
Medical Writer
Medical writers create detailed medical materials for a variety of audiences. They do this through a thorough understanding of clinical research methods.
Medical writers also assist in the preparation of studies for submission to the FDA. Moreover, their writings are used in publications, medical journals, and internal company use.
Medical writing is a popular remote career option for those who have the proper knowledge and expertise. Medical writing can be a rewarding profession for people with strong communication skills, writing abilities, and scientific background.
According to Indeed's data, as of July 2021, the average wage for medical writers in the US is $ 72,543.
Operations Manager
Human resources and other critical business functions, such as quality assurance and recruitment programs, are overseen by operations managers. Many of these professionals work from home to establish and maintain business organizations.
Since operations managers collaborate with all departments within a company, the best candidates for this position are effective and exceptional time managers. Some of the job duties will differ depending on the industry in which you work.
According to Indeed's data, as of July 2021, the average wage for an operations manager in the US is $65,768.
Freelance Writer
Freelance writing is a writing job that does not need to be employed by a company or organization. Writers can work for a variety of clients or for one client who provides consistent, ongoing work. Technical, marketing, and creative writing are all examples of this.
The life of a freelance writer is not only one of independence and great flexibility. It is possible to live a stable life if one becomes skilled in the business side and persevere to do better. A great freelance writer is often a creative wordsmith as well as a savvy businessperson.
According to Zip Recruiter's data, as of June 2021, the average salary for a freelance writer in the US is $63,213.
Remote Tutor
A remote tutor assists students with assignments or learning subjects via an online or virtual connection. The responsibilities of a remote tutor may vary. It may depend on the employer, the level at which you tutor, and the age or needs of your students.
Remote tutors can teach a range of subjects, from English as a second language to biochemistry. They frequently use video chatting apps and teaching software to communicate with students worldwide in one-on-one or group settings. Some tutors develop their own lesson plans, while others teach from a program.
Remote tutoring jobs are ideal for those who enjoy teaching and want to work from home. According to ZipRecruiter, the average annual pay for a remote tutor in the United States is $68,659 as of June 2021.
Software Engineer
A remote software engineer uses programming languages and frameworks to create and develop systems.
Based on the client's needs, software engineers create software ranging from video games to network systems. Since this job is remote, you can work from anywhere with a reliable internet connection.
A software engineer is one of the highest-paying and most popular remote jobs. Their ability to solve problems using computer science can be further specialized to increase their salary.
According to Indeed's data, as of July 2021, a software engineer's average wage is $104,608 per year in the US.