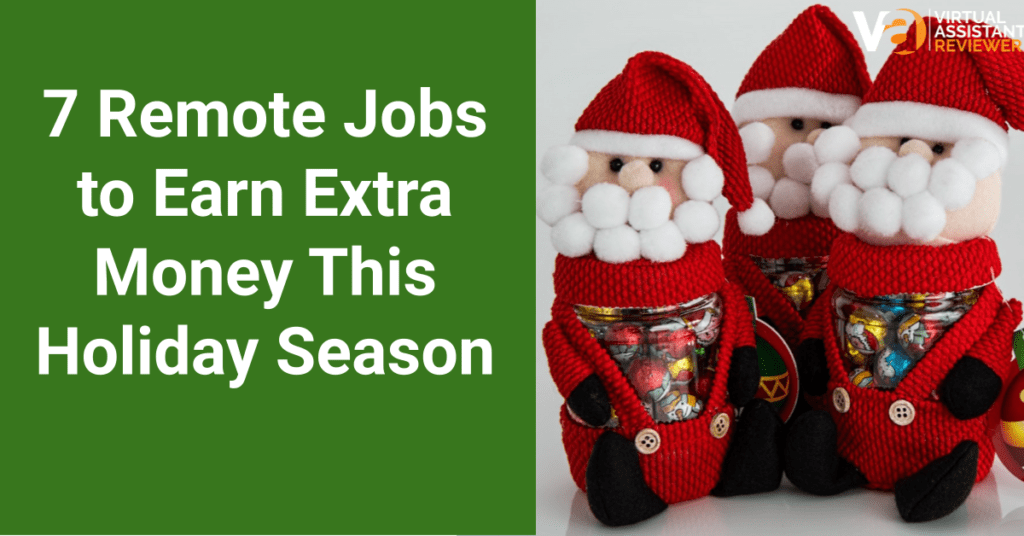 It is inevitable for many to spend extra bucks during the holidays. We may need to buy gifts for our loved ones or avail of the holiday sales or discounts for some more extensive than usual shopping.
It is better to be prepared for the holiday spending all year. You may have to create a budget and a strategy to maximize savings. And this may not be straightforward as one may expect.
But don't fret, because this article will help you with your dilemma.
You can always perform some side work or get a seasonal part-time job to supplement your income. If you have a full schedule, consider working from home part-time during the holidays to supplement your income.
Check out these best remote part-time jobs to make additional cash this Christmas season.
Consider a profession as a proofreader if you're the type of person who notices every typo and grammatical error in the articles you read. It is an excellent career requiring no qualification and allows you to make good money by using your eagle eyes.
Thanks to the recent boom of web content, proofreading positions are in high demand. As a result, there's a higher chance you can get your first client right away.
Why Consider Proofreading?
It might be difficult for the author of a text to identify errors in their work. Thus, the second set of eyes is necessary. And not all authors are excellent spellers or have a good handle on the more technical aspects of writing – they are all artists!
A writer may lack time to proofread their work in other situations, necessitating outside assistance.
Freelance writers can work from anywhere. One could work from a beach, a mountain villa, or simply from home. It is one of the most flexible remote jobs out there.
You could work as a content writer, a ghostwriter, a copywriter, or a technical writer. You'll need specialization for optimum outcomes because it will help you become more knowledgeable about your subject and better equipped to construct a convincing proposal.
Writing blog articles and web content for businesses or websites is also known as content writing. And with the popularity of internet searches, content has been the new battleground for many companies.
Freelance writers are needed to pump up relevant and high-quality content to the internet. Writers produce articles that are part of the execution of a content marketing plan specifically intended to improve a company's Google ranking.
It's also a great side gig for anyone with writing experience from school or who dabbled in blogging. You can demonstrate your previous writing projects to prospective clients using your blog entries as a sample portfolio.
Ghostwriting entails writing for someone else and publishing the information under their name. Many book authors have utilized the services of ghostwriters. But bloggers, politicians, and students also comprise the demand for assistance with writing tasks.
Technical writing, which includes creating owner's manuals, user guides, and other documentation, is one of the most lucrative specializations. Few people have both the technical expertise and the writing experience needed to succeed at this, so if you're a good fit, you'll have a terrific opportunity to make money.
Why Consider Freelance Writing?
Writing offers a lot of money-making possibilities. It is especially true in this era of content and knowledge explosion.
Writing is also a tool for selling and marketing products and services. A freelance writer can work as a copywriter for a firm. It can cover writing sales email copy, product description, a Google Adwords tagline, etc.
If you have the skill and the talent in writing, you should strongly consider this your remote job of choice. You get to hone your writing talent while getting paid. That, for me, is a win-win.
You Can Also Check: 7 Best Remote Jobs That Don't Require A College Degree
Transcribing audio or video files is a remote job that humans must still do despite the rapid technological advancement the world has seen.
A transcription job is the most popular option for those looking for a part-time hustle rather than a full-time job. But if you learn to enjoy the job and be more skilled doing it, then you have the option to make a full-time profession.
Another form of transcription is scoping. Scoping is converting shorthand from court reports into intelligible text for court reporters instead of transcribing audio. The average hourly wage for a scoping job is $20 to $30.
Another type of job you can apply for is medical transcription. However, this job requires accreditation from the Association for Healthcare Documentation Integrity to work in the United States. Its income potential is somewhat similar to scoping.
Why Consider Transcription Jobs?
Because transcription work is time-consuming and requires close attention to detail, businesses frequently outsource it. Depending on how quickly you type and whom your client is, transcribing can help you earn a decent hourly wage.
When your earning potential improves over time, you'll realize that this is among the low-paying remote jobs. But as you get more experience and become more skilled, a transcription job may become a well-paid remote job.
Dropshipping focuses on selling products without having to handle them physically. A third company, like Shopify, takes care of the merchandise and the shipping and even provides you with a website where you can list your items.
It's a simple way to get started with an e-commerce career. Shopify delivers a fantastic dropshipping guide that walks you through the process. The amount of money you can make will depend on the worth of your goods, the prices you charge, and the size of your business.
Dropshipping is one of the most common ways to earn extra money. The main advantage of creating a dropshipping store is that orders are delivered directly to the customer. It means store owners (like you) don't have to worry about stock or shipping. And, because you only need to order a product after a customer has purchased it from your store, it's a low-cost business to start.
Why Consider Dropshipping?
Creating a successful dropshipping store is an excellent skill-builder, similar to blogging. There is a high demand for people who can assist existing businesses in selling more through their Shopify store, which means there are excellent opportunities to freelance or be hired on a long-term basis, depending on your preference.
You Can Also Check: 10 Best Remote Job Websites to Find Remote Jobs in 2022
Video editing is another online fad gaining traction with each passing year. Video editors with experience are in high demand, and the more you specialize, the more you can earn above $50 per hour.
Although video editing may appear intimidating at first, you may rapidly become an expert if you get the hang of one piece of software. It is also ideal for a college student currently pursuing a degree in filmmaking.
Why Consider Video Editing Jobs?
Video material is used in many businesses, leading to many chances for freelance video editors. Successful freelance video editors can handle shifting video demands with various clients, whether marketing or film production.
There is no need for certification to go into video editing because the work itself serves as your resume. As a result, putting out a few interesting experimental videos can help you quickly acquire a job or a freelance chance.
If you're frequently praised for your speaking abilities, you might want to try pursuing a career as a voiceover artist. As a voiceover artist, you'll read a screenplay and deliver a vocal recording for audiobooks, videos, and films.
You can expect to work on commercials, videos, and narrating audiobooks, among other things, as a voice actor. With only a few hundred dollars in equipment, this work may be done at home.
Why Consider Voice Acting Jobs?
Reading a script and using your voice to bring it to life is known as voice acting. According to the US Bureau of Labor Statistics, fees for the first hour might reach $300 (and between $200 and $350 for each additional hour).
You Can Also Check: 10 Work from Home Jobs with No Experience Required
Working as a bookkeeper from home is an attractive option if you stay organized and have a strong mind for numbers.
A typical bookkeeper's responsibilities include:
Monitoring accounts payable and receivable.
Reconciling payments and income.
Assisting in preparing financial reports.
Providing support to in-house accounting departments as needed.
You can contact individuals or businesses directly or advertise your skills on a freelancing website to offer this service. There are also numerous job listings that you can find on freelance websites. The earnings potential range from $20 to $60 per hour.
Why Consider Bookkeeping?
If you enjoy working with numbers, this is a field where you can make money. The more you specialize, the more options to charge outstanding hourly wages. Bookkeeping, like proofreading, does not require certification.