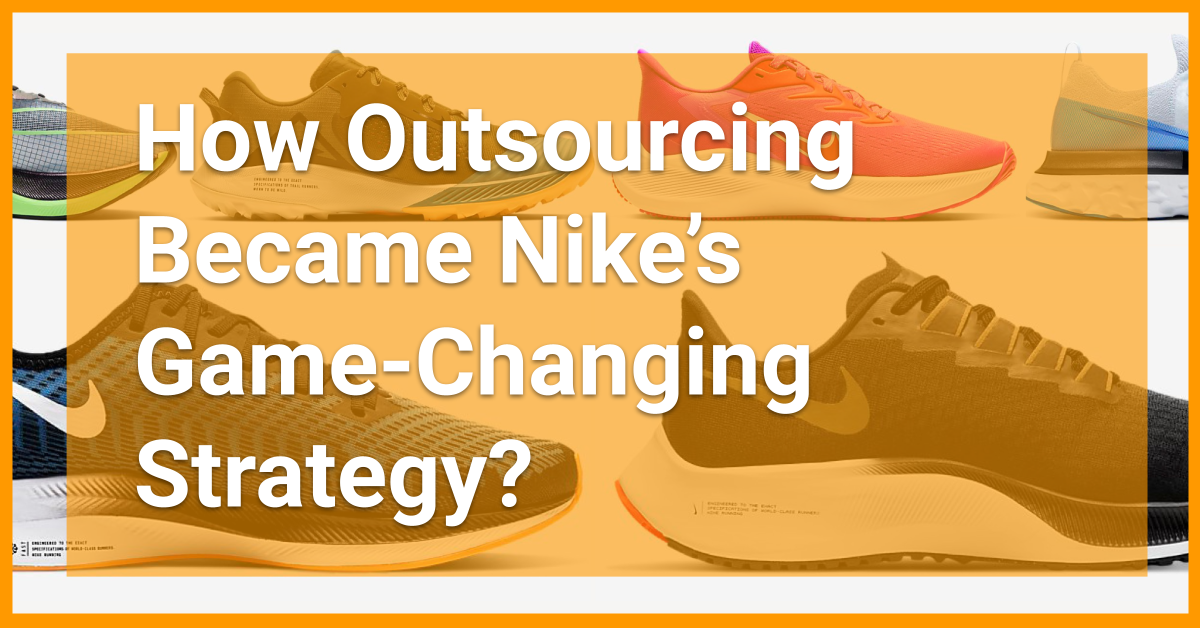 If you have already heard about Nike's outsourcing practices and wondered why they did it, you're not alone. We all know that Nike has risen to prominence as the world's leading manufacturer.
Most of the company's footwear and apparel are manufactured outside of the United States. In 2018, its global revenue was $36.4 billion.
The company employs over 73,000 people and operates 1,182 retail stores around the world.
Since Nike does not have its manufacturing facilities in the United States and instead chooses to outsource the work to contracted plants in the Philippines, Vietnam, China, Indonesia, and Taiwan, Nike footwear is manufactured by 500,000 people worldwide.
Being an early adopter of outsourcing has helped Nike grow into one of the world's most extensive athletic footwear and apparel companies.
It increased profit margins, reduced inventories, reduced price markdowns, and ensured customers received the correct product assortment on time.
Their sales revenues total $3.7 billion, while Reebok's are $1.2 billion.
The following are the reasons how outsourcing became Nike's game-changing strategy:
Cost-cutting
Nike's ability to reduce overhead through outsourcing is a valuable resource. Cutting costs by hiring at a lower wage or paying less for plant operations allows Nike to reinvest the extra profits in other business areas, such as advertising, thereby increasing the company's potential for growth. Furthermore, lower operational costs are more likely to attract and retain company investors because more money can increase business profitability.
Competitive Advantage
Due to outsourcing, Nike can create its products more efficiently and at a lower cost, allowing it to price its items more competitively. As a result, Nike can compete on pricing with other companies that sell similar products. Nike may be able to corner the market for its items by reducing competition.
Reebok has also embraced the 100 percent outsourcing concept and is making significant progress. Adidas, a German footwear firm famous for its plants in Germany, is another latecomer to the outsourcing scene. It is the third-largest market shareholder, but it is also the fastest-growing.
Converse and New Balance have a combined market share of 3%. They struggle with revenues of $280 million and $260 million, respectively, because they are a "Made in the USA" brand vital to their sales strategy. It's debatable if they'll be able to keep going in the long run.
Finances and Risk Management
Outsourcing allows Nike to avoid some of the financial obligations that US tax laws would otherwise impose. Furthermore, by outsourcing to subcontractors, Nike assumes less risk associated with the production of its product, such as insurance liability.
Nike's Setback with Outsourcing
Nike has long been chastised for exploiting foreign workers and providing poor working conditions. Activists accused the company of using child labor for manufacturing soccer balls in the 1990s. Since then, the company has worked to improve its labor practices and reduce its environmental impact.
In most of its factories, the company has eliminated older steam boiler systems, resulting in 15 to 20% energy savings.
In 2017, 96 percent of the waste generated during footwear manufacturing was recycled or converted to energy. Nike is now well-known for its efforts to ensure decent working conditions and to embrace sustainability.
Background
What is Nike's Birth Story?
Visionaries Bill Bowerman and Phil Knight founded Nike in 1972.
Nike's goal was to continue Bowerman's legacy of innovative thinking by assisting every athlete in reaching their goals or by creating lucrative business opportunities that would set the company apart from the competition. This goal included providing a quality work environment for all Nike employees.
How Are Nike Shoes Made?
Nike hires skilled engineers and designers and supports them to embrace disruption. Hundreds of factories around the world rely on the company for design and materials. Although it is not yet a sustainable brand, it does use recycled and organic cotton, hemp, bamboo, and other eco-friendly materials.
EVA foam, lightweight plastic, and mesh fabrics are common materials used to make the shoes. The discarded materials are recycled and used to make other products, such as rubber playgrounds and shoe boxes.
Nike claims that more than 75% of its products are made from recycled materials. The company's goal is to eliminate all footwear manufacturing waste and reduce its environmental impact by half.
Nike has been developing new, sustainable materials that use less water and energy in recent years. Many of its shoes, for example, are made of fly leather, which is 40% lighter and five times more durable than grain leather. It boasts a lower carbon footprint and uses less water during production.
To reduce waste, the company employs innovative processes such as ColorDry and Flyknit. ColorDry, for example, is a new technology that enables manufacturers to dye fabric without the use of water. In addition, Nike has launched its line of premium recycled materials to produce shoes and apparel.
What is Outsourcing?
Outsourcing is the strategic use of external resources and labor to complete tasks previously handled in-house by staff. In layman's terms, since not all jobs can be done in-house, outsourcing allows specific parts of a project or service offering to be delegated to efficient service providers who are experts in that field.
The basic idea behind outsourcing is when a company hires experts in a particular field to perform job-specific tasks previously performed. It is a business strategy that allows the company's management can focus on the more critical concerns.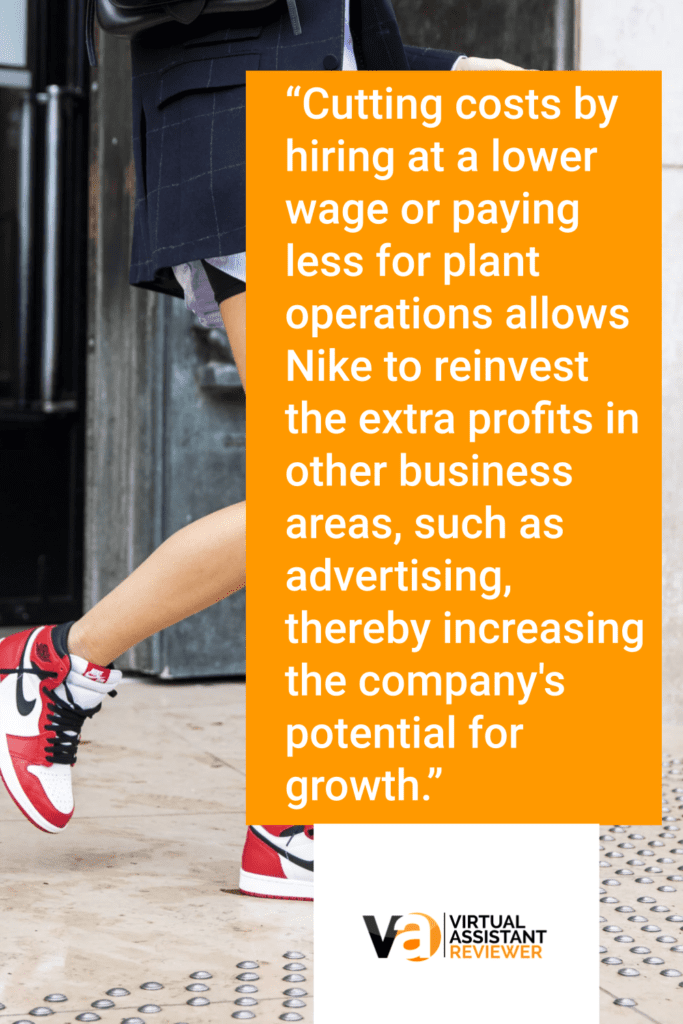 Pros and Cons of Outsourcing
Pros
You can pay as a contractor when you outsource. It allows you to avoid hiring more employees, saving you money on everything from benefits to training.
Many businesses have discovered that outsourcing provides them with access to talent in other parts of the world. If you require specialized assistance, it is often necessary to broaden your search.
Compromising quality for cost is not a great option, but outsourcing frequently allows you to have the best of both worlds. It is wiser to find the right talent at the right price by searching a global talent pool.
Outsourcing a part of your business to another country or overseas can help you tap into the growing global market. It has the potential to keep your business operating virtually 24 hours a day.
Cons
There are significant reasons for this, including the fact you are frequently hiring a contractor rather than an employee. And, because the person is not working on-site, maintaining the level of control you desire can be difficult.
Despite all the perks, it is only helpful if the quality you expect is delivered. Anything less than this will be a letdown. This is not to say that you cannot successfully outsource specific tasks; however, you must first discuss the expected quality with your outsourced team.
Takeaway
Nike proved that outsourcing could be a powerful tool when it comes to leveraging your business. The brand has made significant changes over the years to become a recognized sustainability leader.
Nike is the undisputed world leader in the footwear market, with a market share three times its nearest competitor. It has risen to the top thanks entirely to outsourcing.
With the understanding of integrating outsourcing into a business structure, there are many significant benefits to using this approach on various businesses.
For more outsourcing tips, follow this link.