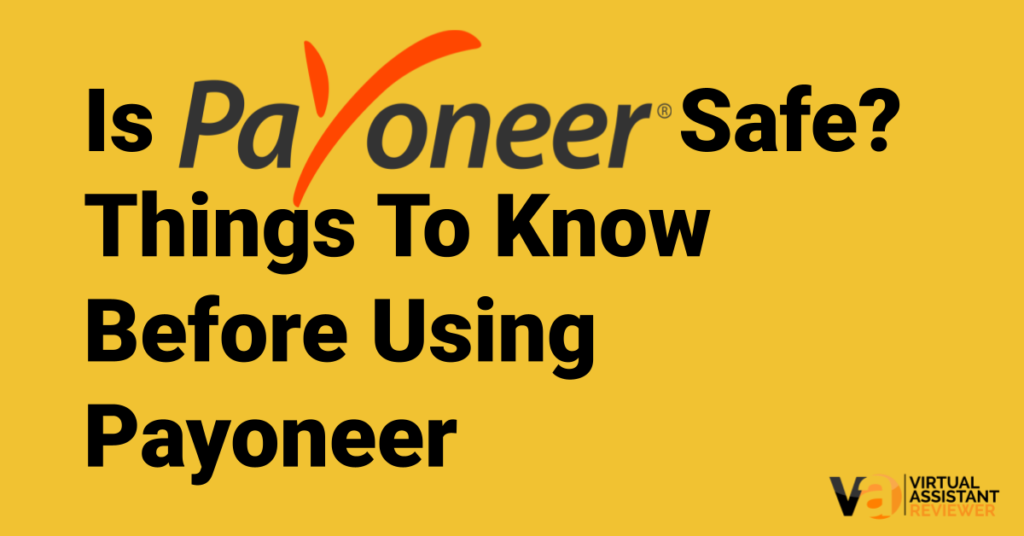 Payoneer is well-known among freelancers and affiliate marketers, particularly those who do not reside in the United States. Payoneer is popular among non-US freelancers due to its high conversion rate. Affiliate marketers also use Payoneer for organizations or platforms that require a bank account.
Payoneer is a global payments service platform that allows anyone to transfer cross-border payments online instantly and effortlessly. It is critical to know that your money is safe when entrusting it to an intermediary.
We created this article to guide you and give you some helpful tips you can keep.
Is Payoneer Safe to Use?
Payoneer is unquestionably a secure, legitimate, and trustworthy platform that employs secure encryption and consumer protection to keep you relatively safe online. Although Payoneer is a legitimate site, nothing is entirely risk-free, and data breaches can happen anywhere, so you must adhere to the appropriate security protocols.
Some of you might not need this. However, for those looking for specifics, here are some of Payoneer's security features:
Requests for CAPTCHA
Verification procedure in two steps
Web Application Firewalls (WAF) (WAF)
Bot detection software
Tracking on multiple sites
Proactive searches for user accounts
Is it Possible to Get Scammed on Payoneer?
Yes, but other online payment methods, like Payoneer, are susceptible to various scams. However, if you know the precautionary measures, you can protect yourself from scammers, hackers, and thieves.
People are often victims of fraud because they are unaware of the warning indications to look for. To avoid this situation, you should be aware of the following guidelines for safeguarding your account before it's too late and a hacker or fraudster strikes.
Tips To Avoid Scams on Payoneer
Payoneer has excellent security features. You can add to that by ensuring that everything on your plate is secure. Even if Payoneer has the greatest, god-like security protections, anyone with evil intent can still access your Payoneer account if you post your login credentials on Facebook and disable the two-step verification process.
Here are some safety tips when using Payoneer:
Never give out your login information
It is common sense never to give anyone your Payoneer username and password. It is basic logic. But what if it's "Payoneer" who asks for your username and password? Yes, we're referring to fraudulent text messages and phishing emails.
Phishing is a scam in which a thief poses as a trustworthy entity to obtain your account information, including your email, password, username, credit card number, and other personal information. You can get phishing emails that look like they're from Payoneer, but they're not. The email appears to have come from Payoneer, but it didn't.
When you click on such links, you will be directed to phony sites with the Payoneer logo, and if you type your account details inadvertently, the scammer will receive all of your information.
Always double-check emails, whether they're from Payoneer or not, and use a browser to access your account instead. Payoneer will typically only send you emails with a link to validate your new account or if you have sent or received payments.
Bottom line: Never give away your login credentials, no matter how "professional" the message appears to be from a business email address that seems to be from a Payoneer employee.
Keep Your Devices Safe
You'll always need a device to access your account, whether a smartphone, laptop, tablet, or anything else. Your responsibility is to protect and keep your devices with you, or the device must be locked with a passcode or PIN. Aside from that, follow these simple but effective security tips:
Installing root applications to root your devices is not recommended because those applications may contain malicious software that exposes your account information, among other things.
Your devices must be password protected so that no one can access them.
If you're managing your Payoneer account, avoid using public Wi-Fi for financial transactions. Instead, use mobile data if you're out and about.
Enabling the remote wipe security feature lets you easily erase all your device data permanently if your device is lost or stolen.
These security tips are beneficial, but the primary layer of protection is maintaining physical control of your device.
Create a Unique Password and Keep It Safe
We all know that "123456" is not a good password, but many people use it, and if you are one of them, chances are your account will be compromised sooner or later. You don't have to be a part of those legends; instead, always use a strong password.
Don't make your accounts easy targets; your password should include all the following features:
Upper- and lower-case letters
Use numbers, letters, and symbols (e.g., @, $, #, percent)
The recommended password must be at least eight characters, but the longer, the better.
Enable Two-Step Verification
Even if an unauthorized user knows your account password, two-step verification adds an extra degree of security, making it impossible for them to access your account.
When you enable two-step verification on Payoneer, you'll first be asked to enter your password. After that, a code will be sent to your phone number via SMS or phone call (the system will ask you for the code). The code will expire after a short amount of time, so input it within 1-5 minutes of obtaining it; if you don't, you'll have to request it again.
You have the option of using the same phone number you used to create your Payoneer account or entering a new one to receive the code. Enabling two-step verification is extremely helpful since it prevents anyone from accessing your account and performing specific actions or financial transactions until the verification code is entered.
Use Payoneer on Secured Websites
Payoneer can collect money from various websites, including freelancing sites like Upwork, Fiverr, etc. We all know that adding Payoneer as a payment method to trusted sites like Fiverr or Upwork is simple, but plenty of others aren't.
To keep your Payoneer account safe, only use it on sites that offer secure, encrypted connections, and study whether those sites are trustworthy.
Always use private Wi-Fi networks rather than public ones
There are numerous public Wi-Fi networks available, most of which are located in restaurants, hotels, and airports. In a nutshell, don't and don't utilize public Wi-Fi networks because they don't employ cutting-edge encryption technologies.
Hackers can more easily attack a wide range of vulnerable devices or access points when using public Wi-Fi networks.
Perhaps you and the hacker are both on the same Wi-Fi network, and the hacker is employing one of the most frequent Wi-Fi security dangers known as man-in-the-middle assaults.
FAQs
What Personal Information Does Payoneer Collect?
When you sign up for Payoneer and use their services, they collect the following information:
Identifiers such as your full name, email address, mailing address, phone number, IP address, date of birth, and national identification number
Financial information, including your bank and credit account information, details of any transactions performed using any of the services, and, if applicable, credit history.
Internet or network activity includes interactions with their services or sites, cookies, and other tracking technology like Google Analytics.
Information about your company that is commercial in nature.
Geolocation information, including IP-based Global Positioning System (GPS) data.
Other information you provide them, such as when you contact and communicate with them, phone calls/emails, and other correspondence.
The personal data they collect about each user is clearly stated on their privacy policy page.
How much is a Payoneer Card?
The Payoneer MasterCard is available for free. You will, however, be charged shipping fees, which vary depending on location. If you need your card sooner, you can pay an extra fee for expedited shipping.
Is it possible to use Payoneer without a credit card?
Yes, you can still use Payoneer if you don't have a MasterCard. You can only withdraw funds from Payoneer without a card by transferring them to your local bank account.
Is it possible to withdraw funds from Payoneer?
You can withdraw money from Payoneer using your Payoneer MasterCard or by transferring funds to a local bank account, of course. Because it is affected by your needs, circumstances, and even location, there is no "better" way to withdraw money.
Getting a MasterCard is preferable if you need quick access to your funds. You can always move your funds to a local bank account if you're not in a rush.
Takeaway
No one wants to use a service that requires them to provide all their personal and financial information before knowing if it is safe and trustworthy. The same is true for Payoneer, but it is undeniably a safe, dependable, legitimate, and secure payment method; however, before using it, you must be aware of the warning signs (which I discussed above).