Fiverr is an Israeli online marketplace for freelancers. Born out of the concept of a two-sided platform for people to buy and sell a variety of digital services, it is now a global website available in 160 countries.
---
Once workers realized the numerous benefits of freelancing, individuals who became freelancers have started to surpass the number of those wishing to work in a regular corporate job. The increase of internet usage also aided the fast rise of freelancing around the world.
Approximately 20% of the population now dabbles freelance work as their primary employment or an additional income source. To answer the demand for a centralized marketplace for freelancers, Fiverr.com was born.
On Fiverr.com, outsourcing is a very popular business option. The core concept of Fiverr centered around people's willingness to perform minor tasks for a mere $5. Eventually, it has turned into a global community of freelance workers and the businesses that hire them.
You may find freelancers and purchase their services on Fiverr. There are now more than 3 million gigs in the database, making it the world's largest marketplace for digital services as of writing.
Each gig initially cost $5, hence the name—FIVERR. Then in 2014, Fiverr removed the $5 pricing cap. The removal of the price cap led to the marketplace's continued growth, leading to a significant increase in the quality and quantity of gigs to the point that you can now get almost any digital service there.
Brief Background About Fiverr
Fiverr was founded by Micha Kaufman and Shai Wininger. The website went live in February of 2010. The company had this concept of a marketplace where customers could purchase, and freelancers can sell digital services. Writing, translation, graphic design, video editing, and programming were the initial service offerings on the site.
Services on Fiverr start at $5 and may go up to $5,000 with extra gig features. The services that freelancers sell inside Fiverr are called "gigs."
Cherubic Creative raised over $107.1M in sales in 2019, a 42% growth from the previous year. Customers can purchase over 400 service categories, 3.1 million buyers, 45 distinct languages, and the company operates in 160 countries.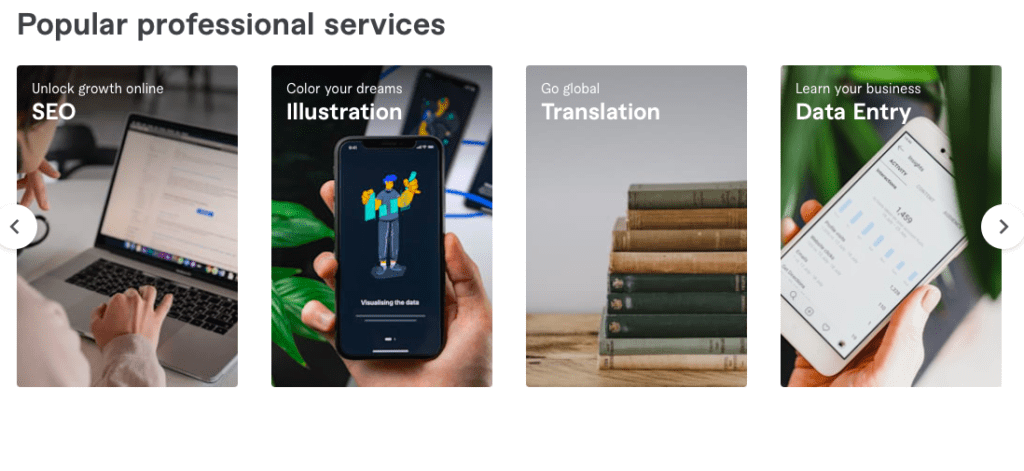 How Fiverr Works
Unlike other freelancing websites, Fiverr operates in a somewhat different way. On Fiverr, the freelancers offer their services with a price, timeline, and budget information.
Despite the seemingly limitless range of virtual services, the service is pretty a la carte. But requests for customizations are accepted as well.
In the beginning, every gig was $5 on Fiverr. However, Fiverr started offering high-priced services after the website opened its doors for more technical and highly-specialized professional services, such as web development and e-Commerce.
Freelancers may now configure bundles to include a wide range of various pricing options, add gig extras, and even provide estimates that go up to $10,000.
Fiverr functions in the same way as any other job marketplace. Sellers offer their services (gigs), and interested prospective buyers inquire about their services. If they are convinced with the gig offer, they'll make a purchase.
Fiverr serves as a mediator between both parties and ensures that both sides are satisfied with the results. On Fiverr, the company withholds 20% of every transaction amount. Fiverr will pay the vendor within two weeks after the vendor confirms that the delivery of the gig to the buyer (faster if you are a trusted member).
Sign-up Process
Before you can use Fiverr, you are required to sign up. Signing up on Fiverr is simple and easy for buyers as it is pretty much a straightforward process.
To register, use your Facebook, Google, or e-mail account. Keep in mind that you cannot alter your username in the future. You will be able to log in to Fiverr and utilize all of its features after you activate your account.
READ MORE: Best Courses for Virtual Assistants for 2021
How to Become a Seller
It is this part where virtual assistants and workers would have to pay attention.
To begin, click this link and then the "Become A Seller" button. It will take you to a detailed walk-through procedure. You'd need to complete the following five simple steps:
1. Create a seller profile;
2. Compose your gig;
3. Include an introductory video (not mandatory);
4. Make a bundle offer to boost your earnings;
5. Include add-ons to your gig to help increase the revenue.
While only the first two stages are required, the last three steps will help you produce more traffic and profit.
Fiverr Business
Fiverr announced a platform named "Fiverr Business" in September 2020 to streamline the platform's growth and execution. The B2B platform connects teams with the following great features:
a verified marketplace for on-demand freelance talent
collaboration and project management tools
a single centralized payment mechanism
24/7 live chat support
The platform also offers a Business Success Manager that matches businesses with the best talents.
The most critical point to remember is to match your expectations to your expenditure. While you often get what you pay for, there are instances when you may get some incredible bargains. Click here to find out more about Fiverr Business.
Plans and Pricing
The image above is a sample gig of a 5-star rated freelance virtual assistant from Fiverr. If you would notice, the price rate depends on the service package you want to avail. You can select based on your virtual assistant needs and how much time you would like your virtual assistant to work for you.
You can choose from numerous gigs available on the search tab and filter them according to the category, service options, seller details, budget, and delivery time.
Fiverr Review
Fiverr is well-known and popular among freelancers, even with several alternative freelancing sites sprouting like mushrooms. The enduring popularity of Fiverr is due to its sizable number of gig sellers and the wide variety of digital services being offered. Moreover, the website's security to buyers and sellers negotiating for fees and the scope of services is of tremendous value.
In a nutshell, below are what we think are the pros and cons of using Fiverr:
Pros
Affordable service for as low as$5
Project-based pricing (not hourly rates) so freelancers cannot bloat the fee by unreasonably extending work hours
Wide range of choices of various freelancers, from beginners to advanced level
More than 10,000 different projects available
Easy to use interface
Protected payments
24/7 customer support
Cons
Expert sellers charge high fees
Simple projects can take days to complete (higher charges for fast service)
A small number of fraud sellers or providing low-quality service
Access to the switch button is challenging for beginners
Fiverr charges $2 for every order
Fiverr Alternatives
Suppose you want a dedicated virtual assistant for your team; freelancing may not be the best option for you. In that case, you may opt for another platform such as VirtualStaff.ph or OnlineJobs.ph, websites based in the Philippines offering virtual assistants for either full or part-time employment. In addition, you can choose from their flexible subscription offer. Another excellent feature of their service is their Money Back Guarantee if you think you are unsatisfied with their service.
There are also several job board sites, such as Upwork, Indeed, and LinkedIn, where you may look for resumes of remote workers apart from the Philippines. When selecting a virtual assistant website, it is critical to ensure that the online job advertising and subscription platforms you choose are reliable and have been in operation for an extended period. Additionally, you should pay attention to both employers' and employees' candid comments and reviews.
Overall Review
Fiverr is a legitimate website with a plethora of excellent services and trustworthy merchants and consumers. The Fiverr community consists of many credible sellers who aspire to provide valuable services to their buyers' businesses or organizations. I use Fiverr for one-time engagements or non-recurring services that would arise from time to time.
However, you may also encounter unprofessionalism regarding the non-delivery of promised features and desired quality outcomes. So, it's essential to communicate first with the freelancer and set your expectations.
I strongly recommend Fiverr for companies who like to hire technical experts at a much lower price. Full employment could be more costly in the long as opposed to buying gigs from freelancers.
On the other hand, if you're interested in selling on Fiverr, all you need to do is deliver a high-quality service, be accountable, and work diligently. But if you want a more stable income source and hustling for gigs isn't for you, you may try other options provided here. Overall, Fiverr is an excellent platform for people or organizations looking for one-time remote services.
---
Have you used Fiverr before to hire virtual assistants? Please leave a review below and rate the company to tell everyone about your experience.