Online VA Team is a US-based virtual assistant provider with remote workers based in the Philippines. It specializes in customer support, lead generation, and digital marketing services.
Online VA Team is a prominent virtual assistant and remote staffing company that promises to accelerate business growth by reducing overhead expenses.
The company can free up your time further by assisting in managing your virtual assistant and support personnel. It allows you to concentrate on the bigger picture and more critical parts of running your business.
Your online team may arrange meetings, help with inbound calls, assist with lead generation by contacting prospective clients, create press releases, and promote your company on social networking platforms, among other things.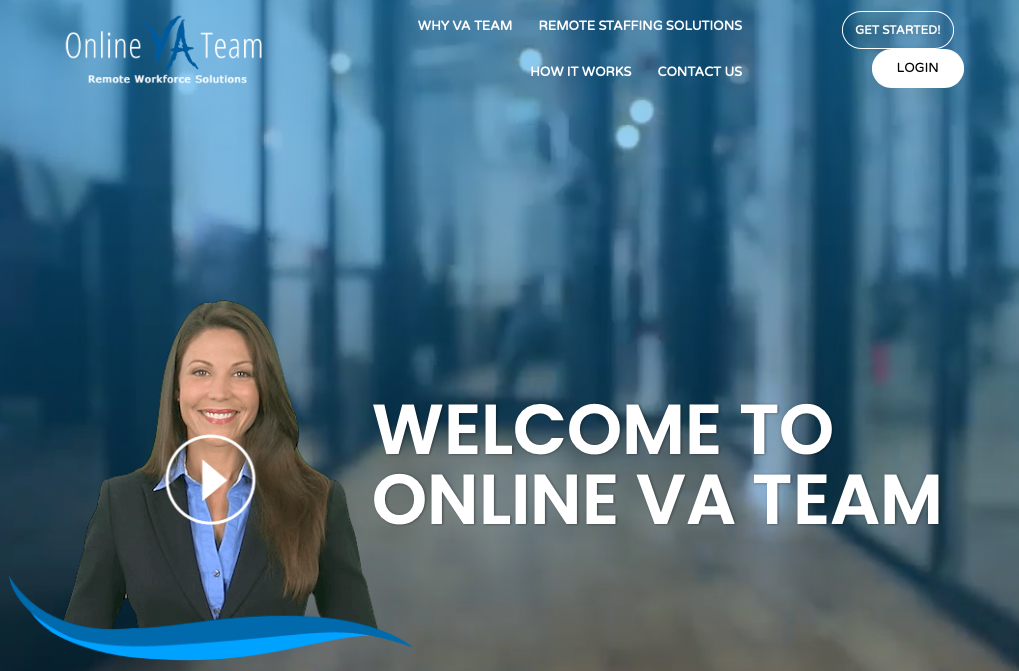 Brief Background About Online VA Team
Online VA Team is a virtual assistant business based in Michigan but has its virtual assistants distributed across the Philippines, working in the company-run remote offices. It was established in 2014 to service its client base of small to medium-sized businesses and self-employed individuals.
Access to their virtual assistants is available to help those who need to keep up with their workload and search for an affordable outsourcing option.
Online VA Team has established a credible matching process pairing virtual assistants to clients based on specific needs. They go out of their way to find candidates who possess the needed skills and qualifications to accomplish the job to the highest standard.
How Online VA Team Works
You can have your dedicated virtual assistants by following these simple steps:
Clicking on the "Get Started" button on the top of the page or calling (800) 989-0360 to sign up.
To determine what you need from a virtual assistant or remote worker, Online VA Team will get in touch with you and thoroughly go through the job roles and work specifications.
You may arrange a one-on-one meeting with the virtual assistant you think would be a good fit for your business requirements.
The virtual assistant begins work and learns your business process after you have selected the start date. You'll also receive daily e-mails on the summary of accomplished tasks. You get direct access to their computer system, task management system and on-site American personnel managing your account from the beginning of their shift.
Virtual assistants working for Online VA Team must have at least a bachelor's degree, and the applicants go through three rounds of interviews. In the first two interviews, their recruiting staff talks to the candidates. Then, you can make decisions in the final interview, which would be the best fit for the job description among the applicants.
By interviewing the virtual assistant, you can gain a better sense of their work attitude. They operate across any time zone, which means they can meet your needs 24/7. If you choose to have virtual assistants work while you're still fast asleep, it's up to you.
Services
You can choose from a variety of services the Online VA Team offers to their clients:
Virtual Assistants
In general, a virtual assistant functions like any other local staff member except that they operate in a different location. They may work on various tasks remotely, including administrative work, support personnel, and marketing.
Customer Service Representatives
Customer Service Representatives are in charge of mediating between customers and businesses. They assist with complaints, orders, mistakes, account inquiries, invoicing, and cancellations, among other things. They address consumer concerns through telephone, email, postal mail, or social media. They contact consumers and check account details over the phone.
Admin Assistants
Administrative Assistants perform clerical tasks in general. They organize and manage records for employees, business credit cards, and other critical information. Employ a virtual executive assistant to generate and edit different Microsoft Office documents.
Bookkeepers
By creating a chart of accounts and outlining bookkeeping rules and procedures, bookkeepers create a system for accounting for financial transactions. This position maintains subsidiary accounts by validating, assigning, and publishing transactions by reconciling inputs and balancing subsidiary accounts.
Lead Generators
Lead Generators are accountable for prospecting, qualifying, and creating new sales leads to assist enterprise account managers and sales executives. They are highly driven and capable of identifying and developing new business prospects via various sources, including inbound marketing leads, prospect lists, discovery, and personal research.
Sales Assistants
Sales assistants are in charge of communicating with clients to ensure a transaction proceeds well. They are required to assist clients in making selections from the company's assortment of products and services, process payments, and provide an exceptional level of customer service.
Live Chat Agents
Chat agents serve as the initial point of contact for online consumers. They collaborate with businesses and organizations that make online sales.
These agents' primary responsibilities include responding to clients' inquiries, talking with them online, and assisting them with the purchasing process. In specific ways, they are accountable for creating sales via superior customer service.
Marketing Assistants
Marketing assistants help marketing managers and executives with initiatives, including maximizing business revenues and developing sales strategies or marketing campaigns. They collaborate closely with various departments, including advertising, market research, manufacturing, sales, and distribution.
Virtual Executive Assistants
Executive Assistants offer top-level support to senior executives. They are entrusted with increasingly sophisticated responsibilities such as managing incoming and outgoing correspondence, filing and clerical work, meeting scheduling, maintaining complicated file systems and databases, document review and preparation, and potentially supervising other employees.
Social Media Assistants
Social media assistants handle the company's social media channels, including Facebook, Linked In, and Twitter, among others. They aid social media management in the administration of big projects, events, and communities. They collaborate with others to create large-scale social media campaigns.
Personal Assistants
When you deal with a hectic schedule, having personal assistants or secretaries at your side is essential. Personal assistants function as your initial point of contact, particularly when you have several people on your team.
Virtual Receptionists
A virtual receptionist performs equivalent tasks to a traditional office secretary, except that they are performed remotely. You may request customer service phone inquiries and give them customer information, or you can transfer inbound calls, or they take down information.
SEO Assistants
SEO assistants work to improve organic search results for their clients. By providing content writing and promotion services, they aid the company in creating and launching SEO campaigns, identify areas for development, conduct PPC ads, and enhance customers' sites' ranks in key search engines.
Pricing and Plans
The Online VA Team offers two plans. If you just want an assistant for an hour a day, you may employ a part-time virtual assistant. If you wish your virtual assistant to work eight hours a day, you'll need to hire a full-time assistant.
There's an Entry Level Plan – $250 monthly for 1 hour of Monday to Friday work ($12.50 per hour).
The Business plan, which is available at the cost of $995 a month for eight hours a day, pays $6.50 per hour.
To put it another way, if you are going to pay a full-time assistant's hourly wage, you get the job done for around half the price of paying a part-time assistant's hourly wage. Spending less than $1,000 a month for a full-time staff person is a great value offer.
Pros
Virtual Assistant solutions for as low as $6.25
Can manage your teammates and HR team
Hire top pre-screened talents
Skilled virtual assistants in many areas
Can hire VA for 1 hour a day
Staff tracking system
Designated local area code number
Cons
No free trial
No money-back guarantee
Other Job Platform Alternatives
You have lots of options when it comes to virtual assistants in the Philippines. You may take a look at VA Staffer, which specializes in marketing assistance. They help small businesses, chief executives, and entrepreneurs. The pool of young virtual assistants is promising to provide top-notch services to their clients.
While FreeUp, the charges for non-US freelancers are cheaper versus US-based freelancers. Through their thorough screening procedure, they filter out hundreds of unqualified candidates. It means you as an employer or company owner may concentrate on candidates who meet your criteria and thus have the ability to choose which prospects you pursue.
Overall Review
The Online VA Team fully appreciates the significance of your company, which is why they are taking the burden of all the tasks you can assign with their qualified virtual assistant team. In serving many clients, they realize that virtual assistants must promptly execute the company's essential functions while also demonstrating technical proficiency. So they provide highly qualified, experienced, and competent virtual assistants to assist with your organizational task management.
Have you used Online VA Team before to hire virtual assistants? Please leave a review below and rate the company to tell everyone about your experience.