Outsource Workers is provider of virtual assistant in the Philippines based in Australia. It specializes in real estate virtual assistants but offers services as well to businesses of all types and sizes.
A virtual assistant is usually an independent contractor who provides administrative, technical, and creative services online. Prior to the internet age, assistants are usually confined at offices assisting managers and business owners on administrative tasks.
With the rise of the internet, assistants are no longer exclusive to office-based entrepreneurs and business owners. It is especially true with the popularity and exponential growth of eCommerce and online businesses. Non-physical businesses and remote teams require assistance on various tasks as well. Hence the need for virtual assistants and remote workers has risen in popularity.
Outsource Workers is a company the seeks to develop and deliver solutions to its customers and clients through its focus on the fundamental principles of recruitment, hiring, and training of virtual assistants. It provides clients and customers trained virtual assistants who specialize in supporting real estate agents and agencies.
The company's overall goal is to help you manage your time better, be more efficient in managing your company's affairs, and make more money. Since it has a pool of industry-specific trained virtual assistants, it promises a quicker hiring and onboarding process.
Brief Background About Outsource Workers
An Australia-based company, Outsource Workers helps real estate agents and agencies find virtual assistants in the Philippines. Brett Russo, the founder, and CEO established the business in 2013. Since then, they've worked with over 200 customers, slowly built their reputation as a dependable and respectable virtual assistant provider in Australia and New Zealand markets since then.
Their target customers are real estate agents and agencies of all sizes. They provide virtual assistants for as low as $7.50/hour.
While the services Outsource Workers provides are inexpensive, it doesn't mean that the quality has been compromised. The years it spent in the industry reflect how Outsource Workers put emphasis on its training program and honing its virtual assistants as experts in the field. As a result, their virtual assistants are highly professional and can deliver on whatever job or tasks the client assigns them.
How Outsource Workers Works
Outsource Workers primarily provides Virtual Assistants for real estate firms and agents. However, it also caters to any other profession or industry where there is a need to assist in administrative and technical tasks.
To avail of its virtual assistant services, you simply schedule or book a consultation with Outsource Workers. The talk will allow the company to assess your requirements and specific needs and the qualifications and skills of the virtual assistants you need.
Once acquainted with your news, Outsource Workers will provide you from their pool of skilled virtual assistants the perfect match to your wants and needs. The company assures you that the virtual assistants are trained to do a wide range of services and are adept at apps and software.
Outsource Workers offers a "Done For You" service where it takes responsibility for the screening and vetting of the virtual assistant candidates. After careful evaluation, they will match these pre-vetted virtual assistants to you.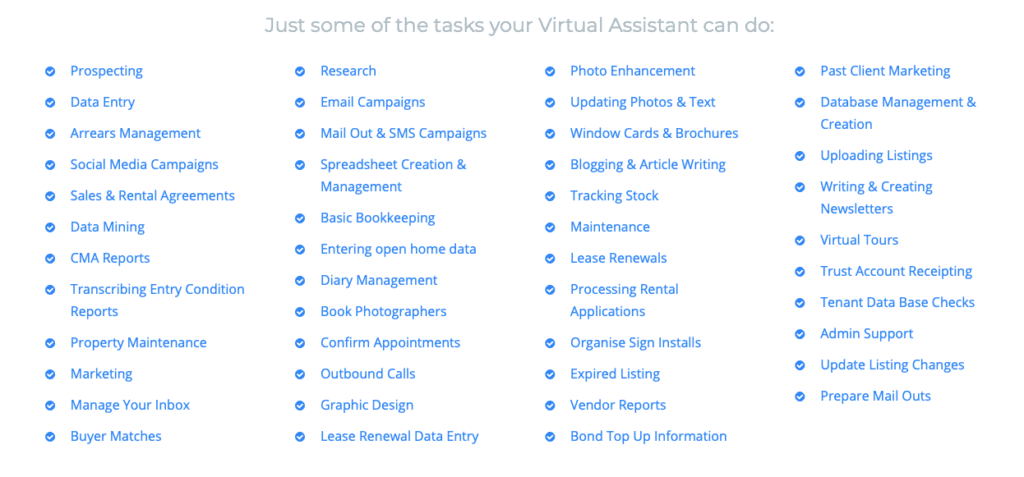 Services
Outsource Workers doesn't offer some pricing tier plans or packages. It simply quotes you based on your requirements, needs, and specifications. The rates start at $7.50, which is mid-range if compared side by side with other virtual assistant providers with remote staff based in the Philippines.
Outsource Workers guarantees that each virtual assistant can use the following tools, software, or website: Real Estate AU, GumTree, Outlook, Excel, Skype, Facebook, Twitter, LinkedIn, Team Viewer, YouTube, Adobe Lightroom, and Nitro PDF Editor.
Some of the virtual assistant services that Outsource Workers provides for their clients include:
prospecting
Arrears management
data entry
data mining
bookkeeping
content writing
SEO
SMS campaigns
email campaigns
photoshop editing
social media
blogging
and more
Pricing
Outsource Workers charges $7.50 an hour. The rate goes up depending on the specifications and the client's level of experience and competency requirements. Unless you book a schedule for consultation, Outsource Workers doesn't provide for price information apart from the starting point stated above.
Pros
Substantial database of virtual assistant resumes
Rigid process of hiring and training virtual assistants
Expertise on real estate industry needs and specifications
More affordable base rate for trained virtual assistants
Adaptable VAs for existing and streamlined systems/processes
Fully automated prospecting and databasing expertise system
Pros
No free trial
No money-back guarantee
No complete control in the hiring process
Prices and plans are not transparent as it is quoted on a consultation basis
Other Job Platform Alternatives
There are many providers of virtual assistants in the Philippines that offer competitive but more transparent pricing rates and plans. Here are some of them:
VirtualStaff.ph has two options for employers to hire staff in the Philippines: Do it Yourself (DIY) and Enterprise Solutions. For DIY, you choose for a premium plan that suits your needs. After registering for a premium plan, you can start connecting with Philippine virtual assistants inside the database. Of course, it would be easier if you create a job post to attract applicants. You can directly interact with the applicants inside the platform, schedule an interview, and if you like what you've seen, offer with the best and most reasonable rate.
On the other hand, the Enterprise Solutions offer a "Done For You" model where an account manager handles the screening, vetting, and initial interview with the candidates. Afterward, you will be given a shortlist of at least three candidates deemed perfectly matched for your needs. You'll pick then from the shortlisted candidates and the account manager will handle the onboarding process. Additionally, the Enterprise Solutions will handle payroll, time tracking, attendance, and overall supervision.
Another option is ClearDesk. It has one of the most user-friendly sites for finding virtual assistants in the Philippines. It also offers straightforward plans, non-complex sign up procedure, no longterm contractual commitments, and transparent pricing. Compared to Outsource Workers, CleardDesk's pricing is upfront and clear. You choose between $1,500 per month Starter Plan for 80 hours or the $2,500 Performance Plan for 160 hours.
If you look at it critically, you're paying $1,500 for a part-time virtual assistant working 20 hours a week and $2,500 for a full-time virtual assistant working 40 hours a week.
Lastly, TaskBullet is another option that uses the "Bucket System" for purchasing hours. The Bucket System ensures no monthly bills, commitments, or fees. You buy the hours you think is necessary to complete your tasks, and your virtual assistant works these hours. You simply pay the bucket's cost. When the bucket's hours run out, you have the option of purchasing the same bucket and continue, or choose another bucket.
Overall Review
If you're a real estate agent or a real estate agency, Outsource Workers is your best choice to start hiring your virtual assistants. They've specialized in this industry for years and expected that their virtual assistants are already trained with the industry specific skills and competency.
But don't box Outsource Workers to real estate as it also offers services to other industries.
You'll get trained and dedicated virtual assistants. If you face problems with the assigned virtual assistants, Outsource Workers can easily replace them from its pool of talents. It's less hassle than encountering disappearing Philippine virtual assistants hired directly.
The only downside is the non-transparent pricing as you only get the full picture of how much it will cost you after the call consultation with them.
Have you used Outsource Workers before to hire virtual assistants? Please leave a review below and rate the company to tell everyone about your experience.