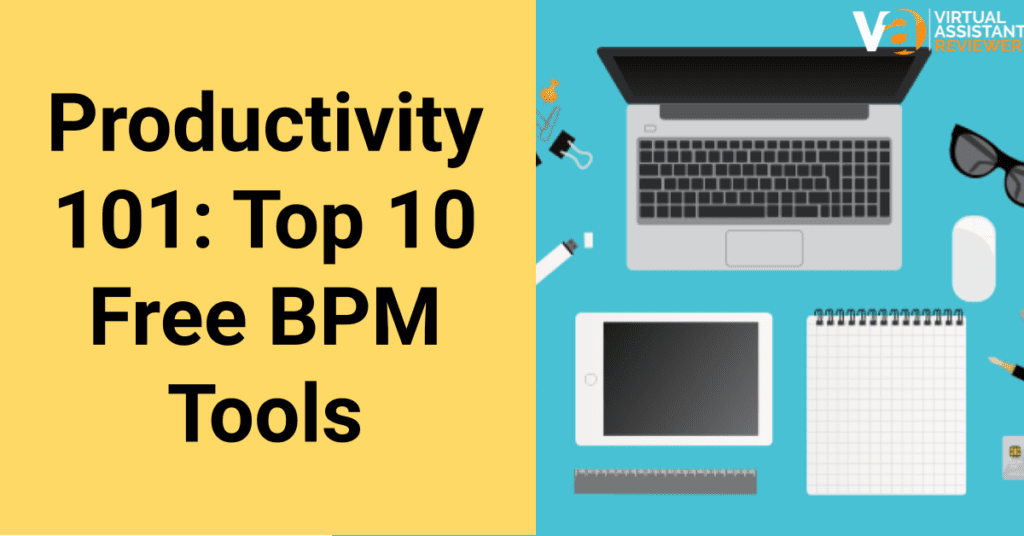 Whether free BPM software or a paid subscription, determining the right software can be complex and time-consuming. Finding BPM software (BPMS) can be a challenging (and expensive) task requiring many hours of study and a large budget. 
The most popular BPM systems frequently offer more than the basic needs of non-enterprise firms, with advanced features that are useful and mainly cater to the most technically competent users.
Differentiating between cheap and expensive BPM tools takes time.
There are numerous free and open-source process management tools available. Several vendors provide some of these services, hoping to sell you on their enterprise product eventually. Others are run and maintained by a community of developers who want to make BPM more accessible.
This article is the most comprehensive guide on the internet. So, keep on reading if you want to learn more.
What is BPM software?
BPM stands for business process management. Any software that allows you to create, edit, and use processes in your business is considered BPM software.
You can use this on a smaller scale (for individual use) or a larger scale (for enterprise use) to manage hundreds of processes, automate manual tasks, and generally optimize workflows in a company.
Keeping this in mind, your company should have a business software application to increase growth and efficiency.
Free BPM Software Definition
The term "free BPM software" refers to products provided for free by the solution provider. These offerings are typically trimmed-down versions of the expert or enterprise editions, providing essential functions such as report generation or data visualization.
In general, commercially free BPMS tools offer less functionality than their open-source counterparts. Still, it's a product you can already utilize, and they're often a great way to get more than a free trial.
Open-Source BPMS
Open-source software is software that has a source code that anyone can inspect, modify, or improve. These tools are intended to be open to the public and are typically managed and maintained by organizations with a specific mission.
The open-source BPM solutions on this list are surprisingly feature-rich, with a wide range of capabilities for various users.
It is essential to note that some of the open-source options on this list require some development knowledge, making them less than ideal for beginners.
We recommend reading the FAQ for each tool to determine how much coding is required to use the software. On the download pages, open-source tools usually do an excellent job explaining the requirements for use.
Top 10 Free BPM Tools
There is a plethora of BPM software available. Rather than providing an alphabetical listing of software that checks all the same boxes, here's a breakdown of the best free BPM software (or those with a free option) on the market right now.
Bizagi Modeler is a free BPM application (for single users). It was previously used to create, optimize, and publish process diagrams. The software simulates and automates a platform that connects people, applications, robots, and data on a single platform.
Bizagi enables true collaboration between business and IT by empowering people to drive digital transformation. They assist organizations in various industries working more efficiently to benefit the relationship between employees and customers.
Bizagi is used by top companies all over the world. They have a usage-based pricing model, which means you only pay for what you use.
With Bizagi, you can do the following:
run high-performance enterprise applications securely;
create contextualized experiences;
use graphical monitoring tools; and
use a single automation platform for all processes and devices.
Bizagi offers three products: Bizagi Studio, Bizagi Engine, and Bizagi BPMN, which cover a wide range of functions for both small and large businesses. Bizagi also provides a 30-day free trial, so you can be confident before you pay.
Kissflow is software designed to cause the least amount of disruption to your workday. The developers intended Kissflow for use in today's workplace.
Kissflow makes all of your work more accessible, efficient, and manageable. The software handles workflow, case, project, and collaboration. It also enables you to design your ideal work environment.
Kissflow has received good comments from over 10,000 clients. The program includes a digital workplace, workflow management, process management, procurement cloud, project management, and low code.
Kissflow business process management software is available in three plans: basic, advanced, and complete. The one-of-a-kind feature here is that each plan includes a free trial period. You get to test out the software's most powerful features before deciding if it's right for you.
Process Street is a simple BPM software designed to make recurring processes enjoyable and straightforward for teams worldwide. A simple, intuitive interface allows you to manage your team's business procedures and SOPs. It functions to streamline your operations, create comprehensive, dynamic checklists that you can share and collaborate with your team.
Process Street provides an excellent free BPM solution. It also has a few commercial options if you want more users and capabilities. Complex, responsive processes can be quickly built using conditional logic and changeable due dates in almost any application.
Rich form fields also allow you to include as much information as you need in your procedures.
BPM tool for marketing, sales, and service, Creatio, is an award-winning low-code platform that controls business activities across the entire customer journey. You can use Creatio to automate tasks, enforce rules, and ensure compliance with third-party regulations.
Creatio enhances marketing by orchestrating customer journeys and reducing the lead-to-revenue cycle. Creatio also accelerates the entire sales process, from lead generation to repeat sales. It will assist you in improving your service by streamlining customer interactions and speeding up service delivery.
Industrial analysts rate the company highly as a critical market lynchpin. Creatio is credited with accelerating all sales, marketing, and service operations of the business. The company has a global presence, with active operations in 110 countries.
Creatio BPM software comes in two main products: Studio and Portal. Studio lets you build custom processes and solutions, while Portal allows you to collaborate with your clients, partners, and staff.
Studio has two pricing tiers, Free and Enterprise. The free version allows you to create stunning process diagrams with easy-to-use and straightforward visual tools. On the other hand, the Enterprise is a complete product with integration and configuration features. Enterprise comes at a $25 per user monthly subscription.
The free Studio has limited features but is still helpful for small businesses. The Studio is available for free for a 14-day trial period.
Portal has three pricing plans: Self-service, Customer, and Partner. Self-Service Portal comes free but is only for a limited number of users. Customer Portal comes at $6 per user monthly. The Partner Portal is an all-in-one partner relationship management (PRM) service.
Integrify is a BPM software solution designed for large enterprises that want to use business process automation to streamline processes that typically require a high level of human intervention. With an Open REST API, there is also a focus on integration.
Integrify maps the processes using process flow diagrams, so some learning is involved. However, anyone with a basic understanding of BPMN should have no trouble with it.
Subscriptions begin at $40 per month per user, but a limited free BPM software trial is available. It could be the solution for larger enterprises with a larger budget looking for a scalable process mapping solution.
For Office 365 integration, FlowForma is the go-to no-code BPM software. That is, FlowForma is a multi-award-winning Office 365 app. It is an excellent solution for businesses with established, less-flexible systems that must integrate with Office 365.
FlowForma offers many products under the heading of "process automation," which includes:
FlowForma Engage (a business vetting process)
FlowForma Connect (a workflow integration tool)
FlowForma Simplify (reusable forms you can build out yourself)
FlowForma Collaborate (a collaborative workflow management tool)
FlowForma Decision (decision-making software), and many more.
FlowForma is a robust set of BPM tools. However, there is a high learning curve when so many features to choose from. However, FlowForma is one of the best options for large enterprises if you have the time and money to invest in it. There is a 30-day free trial of BPM software available, after which the plan costs $950 per month.
With Bonita BMP software, you may get complete assistance for your digital operations and IT modernization. Bonita is a modular and open-source automation platform. Bonita will improve your business operations by increasing visibility and perception. It is simple to use because the Bonita UI Designer allows you to develop a responsive user experience. Monitor and control your business processes and apps with Bonita.
Bonitasoft BPM software coordinates work, automates business processes involving individuals from many domains, and monitors performance over time. BPM software provides an excellent customer experience by assuring consistency and continuity of service.
Bonitasoft is a global company with over 150,000 members and customers from over 75 countries. Annual Bonita subscriptions are determined by on-premise, private or public cloud, or Bonita Cloud. A personal cloud membership is $80,000, whereas Bonita Cloud is more than $140,000.
Pegasystems provides a case lifecycle management tool for the development of business applications. Using their outcome-driven case framework, you can create a process flow with this tool. Each case is defined by its stages, which correspond to how people naturally talk about their work. There is a separate list of tasks for each step.
It's similar to processes-within-processes, and it can be helpful to use cases involving complex, interconnected processes. Pegasystems also offers a Robotic Process Automation (RPA) solution for automating simple tasks. Pricing is tailored to each client's needs, and they also provide a free BPM software trial. Its full BPM software functionality is available starting at $200 per month.
ProWorkflow is a well-known BPM tool. The software is intended for managers and staff to plan, track, and collaborate on projects to improve project delivery.
ProWorkflow, on the other hand, is now in its eighth iteration, the result of continuous research and development. The software includes a collaborative feature that allows multiple users to work simultaneously. The app also enables a team to chat, send messages, share files, and do other things.
Allow the IBM ProWorkflow software to take control so you can spend less time managing your business process mentally. The software's features include task management, timesheet entry and reporting, contacts management, workflow management, simple templates, and many more. You can also use other add-ons and integrate your workspace with your preferred tools.
Professional and advanced pricing levels are available with ProWorkflow. You can also pick whether to begin your payment plan monthly or annual.
Camunda is a BPMN process map execution engine that includes a Decision Model and Notation (DMN) and a decision engine. This platform is lightweight and highly scalable with robust REST APIs and great scripting integration support.
Camunda can also be utilized as a container service in JBoss, Tomcat, or other application servers for customers that prefer a more technical approach. Especially useful for running numerous apps simultaneously without the need for separate processing engines. For a specific price plan, you'll need to contact Camunda. Free trial is also available upon request.
Takeaway
Companies can match business activities with customer needs by using Business Project Management solutions. Utilizing business process management (BPM) solutions can improve efficiency and production. It lowers costs while also reducing errors and dangers. All of the BPM software we've highlighted above offers a free plan for a limited time. It will allow you to see if the software you've chosen is compatible with your industry. Furthermore, you can pay for each BPM software subscription plan if you desire additional functionality.