As 2020 rolled in, more companies started giving the option of allocating work from home days in a week. Coworking spaces started popping up from left to right, making it easier for remote workers to become productive with a reliable internet connection.
Due to the new normal caused by the COVID-19 pandemic, the whole world has no choice but to work in the safety of their homes. Tech powerhouses such as Apple, Twitter, and Facebook have welcomed this new arrangement with open arms, making the idea of this new setup permanent.
Although the lockdown was not an easy feat, it did have some good points to consider as more business owners saw the value of working remotely. More remote workers encouraged this new setup as they got comfortable with the idea.
If you are on the lookout for companies that cater to the value of working from home and are in sync with your values as an employee, here's a list of the best companies for remote work.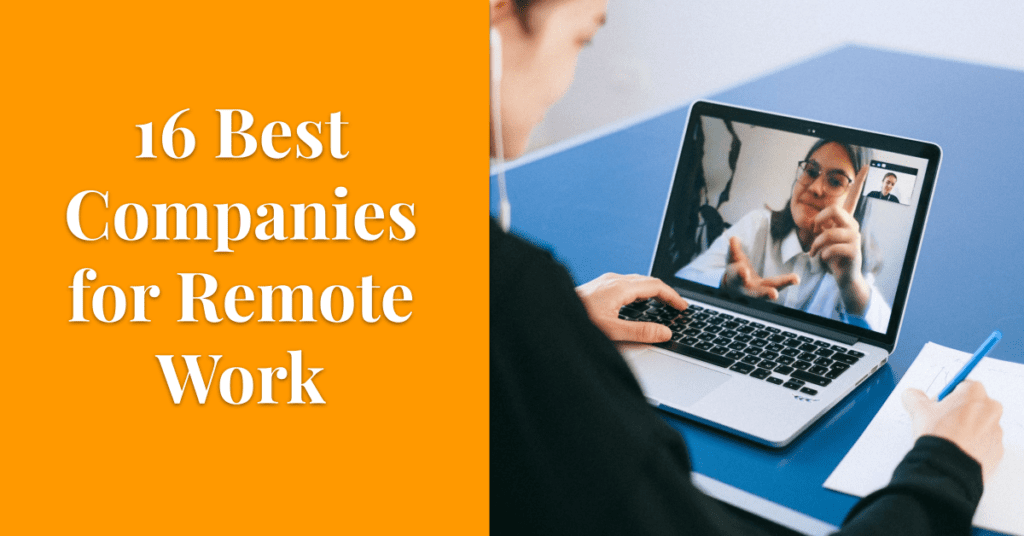 Doist
Doist is the brain behind the famous productivity tool, Todoist. It has helped millions of people become more productive and have more order in their lives.
Todoist is known for its sleek style. It is an online app available on mobile, desktop, and browser extensions.
The company started in 2007, and ever since, its popularity has spread throughout the globe in Asia, Africa, and the Americas. The members of the Todoist team are also spread across the four corners of the world. It goes to show that this tech company is open for remote workers and online-based staff.
Working for the company allows you to enjoy remote work benefits. As a team member, you get to work on projects related to your field of interest and expertise.
InVision
InVision helps numerous established companies like Netflix, American Express, and Ikea. It provides tools that help one generate ideas, prototypes, and manage designs. This unique platform allows one to create designs on a virtual scale.
Employees from this company all work remotely. Team members are all spread throughout numerous countries. Being part of the company allows you to acquire insurance, allowances, and budgets for travel.
Toptal
Toptal is a freelancer's haven. This company initially catered to people in tech, but in later years, they've learned to diversify its talent pool as they included writers, designers, and many more individuals.
The team behind this marketplace works fully remote. The members work in various parts of the globe. Being a company that unites the best of the best with the most sought-after companies, Toptal really knows how to run a company of remote workers.
Knack
Run by a cloud-based tool, Knack allows companies to run apps that help gather and share data. They make sure these tools are easy to handle. The best part is that there is absolutely no coding involved.
They have more than a thousand clients who were able to run more than a hundred thousand apps. There are only a little over 30 team members who work around the world.
Being part of the team entitles you to join corporate retreats and insurance coverage for health, dental, and even vision. The best part is you get to enjoy vacation leaves as well. Most of the members are well-versed in the field of engineering.
Virtual Staff PH
Virtual Staff PH is a jobs marketplace in the Philippines for remote work and online jobs. It started in 2016, serving as a platform exclusively for Filipino workers to get online jobs.
The company preaches about the benefits of remote work and building a remote team. True to its words, Virtual Staff PH is also a fully remote company with staff working across the Philippines and in India.
Making the most out of technology, the team behind Virtual Staff PH collaborates to further enhance the platform and provide more outsourcing innovations to its hundreds of thousands of Filipino workers and thousands of clientele across the world.
FlexJobs
FlexJobs was established with remote workers in mind since its primary mission is to help more people find work remotely, so it only makes sense that it is one of the best companies for remote work.
This company has been running as a team that works remotely since its inception in 2007. Employees enjoy many perks such as professional development, snack subscription, furniture, and allowances allotted for coworking spaces.
Automattic
Automattic is a company that is committed to catering to the wide-scale market. Their clientele is spread throughout different parts of the globe. People who enjoy the services given by the company can speak numerous languages. Wherever you are in the world, Automattic can still find a task for you to do based on your skillset.
Ghost
They offer a competitive salary, cover for all the tech support you need, offer unlimited paid vacation days, and close the office on the last Friday of every single month.
For remote work, Ghost currently has openings for designers and engineers.
This non-profit organization is a space for journalism to thrive. Ghost established a system that helps create content. To build their work system, they utilize Slack, Zoom, and Github for coordination. This company offers a good salary deal.
10up
10up provides consultancy services and web design. They make it their business to guide clients into the digital era through management, engineering, cloud building, and user experience. With a team that consists of experts, you don't have to worry about navigating your way into the tech world.
This company has given developers, designers, and service representatives fantastic work opportunities. They reserve their Fridays to spice up their workflow and how they set goals.
Zapier
Zapier allows different apps to work together so users can enjoy a more efficient workday. This company operates remotely with employees spread throughout various parts of the globe and varying time zones.
New employees must join an immersive virtual training program where they get to educate themselves about the culture of the business and the products they offer.
Zapier offers a good salary, with an enticing vacation package benefit and many more awesome employee perks. They are now on the lookout for marketers, engineers, designers, and many more tech experts.
ScrapingHub
Scrapinghub is among the most progressive businesses in tech. They use web content as a way to make important information. Thousands of companies and over a million developers enjoy the magic Scrapinghub provides since they deliver their tech needs. The team is spread out all over the globe. Once you get hired, you'll be given a chance to be part of ScrapingHub's program for shares.
Buffer
Buffer is among the most popular social media scheduling apps out there. It helps people manage brands and develop their business on the world wide web. This company began almost a decade ago. It has grown to have over seven hundred thousand clients, including Intercom, Shopify, Basecamp, Github, and many other companies.
The company distributes its team of around eighty individuals who live and work in about fifteen nations worldwide. Buffer offers health insurance to each of its employees both abroad and in the USA. To top it all off, when Buffer does excellent in the market, each team member is gifted with shares. No wonder it's been deemed as one of the best companies for remote work.
Hubstaff
Hubstaff is used as a time tracker for over three thousand companies. It doesn't only track time; it is also used to process the payroll and check attendance automatically.
This company began in 2012 with remote workers in mind. Its system was used to help members of the team who work remotely. The people behind this brand all have the drive and sheer talent who are based in different parts of the world. Hubstaff is seeking people in the field of engineering, development, and so much more.
Time Doctor
Time Doctor makes sure people are on time and have a boost in their workflow. This company developed software that helps monitor time and allows its users to use their time productively.
Time Doctor came to be after founders Liam Martin, and Rob Rawson came up with the idea to make the software. The company's primary mission is to be the most respected productivity app and time tracker out there.
Toggl
Toggl is a popular and simple time tracking tool that helps remote team members perform great regardless of where they are in the globe. The team all work remotely and spread out in around forty nations around the world.
Gitlab
GitLab is a company that is composed of a collective of engineers and developers. This space is where they talk about tips and their craft among each other. They are looking for people who can do marketing, sales, product management, and engineers.
Check out our database of virtual assistant providers to start working remotely. I have painstakingly and comprehensively reviewed the companies listed in our database.