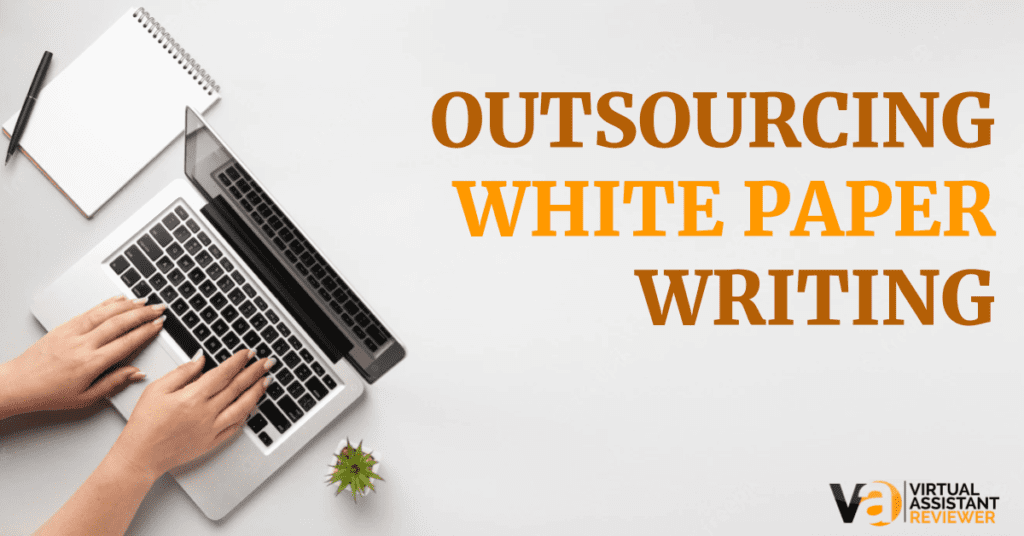 White papers are informational resources for current and potential customers. They use infographics and data to communicate new products or services and exciting updates. 
As a service provider or professional, white papers will assist you in establishing yourself as a thought leader in your field. Thus, white papers need to be thorough and impeccably written.
But writing white papers take so much time, from research to laying ideas and creating graphics that go with it. Because of this, companies frequently consider outsourcing white paper writing.
This article will discuss how outsourcing white paper works and why you should consider it.
What exactly is the purpose of a white paper?
A white paper provides valuable information to its readers. Many businesses use white papers as part of their content marketing strategy to help generate interest in their products and services.
The topic of your white paper will depend on the information that your company wishes to share with the public. For example, suppose you've just finished developing project management software and are ready to introduce it to your current and potential customers.
Perhaps you've devised a business process that will assist your clients in resolving their cost analysis issues. Use your white paper to communicate your new service or product to the world and get potential customers.
How does outsourcing work when it comes to writing a white paper?
Many businesses hire professional content writers to write copy for their websites and blogs. It will not be different in the case of outsourcing white papers.
You can outsource the writing of white papers like any other content-driven part of your marketing strategy. There will be differences in the competency and technical knowledge of the writer you're hiring. Writing a white paper requires higher skill as it is more illustrative than regular content writing.
White papers are typically commissioned by who?
Businesses and companies typically commission white papers as part of their content marketing strategy. Most companies may not have an internal team of writers to produce white papers. So outsourcing white paper writing makes sense. 
Hiring an outside writer brings a new perspective to the table apart from having the skills to produce high-quality content. A skilled white paper writer has the expertise and experience to deliver the quality needed.
Hiring a professional writer to write your white paper can improve its effectiveness. And it would be a bonus if the writer had a solid marketing background.
The Benefits and Drawbacks of Outsourcing White Paper Writing
It takes a special gift to be able to write. From addressing a letter to creating social media posts to writing a white paper, a skilled writer needs to carefully choose every word that the content presents to the public.
Hiring a professional writer can increase the success of the white paper and any other marketing content that you may produce. But outsourcing white paper writing is not a walk in the park.
If you outsource your white paper writing, what challenges might you face? And more importantly, how do you avoid stumbling blocks?
How can you overcome the difficulties of outsourcing white paper writing?
Being prepared is the best way to avoid frustration when outsourcing your white paper writing. Your white paper writer can only produce high-quality content if you provide them with high-quality information. 
Before they can begin working on your white paper, your content creator will need to understand the following:
(1) The corporate culture
What should your white paper's tone and tact be? Will it be a data-heavy document with graphs and tables or an easy-to-digest one with a colorful infographic? Allow your writer to acquire an awareness of your brand before writing a white paper representing your organization accurately.
(2) Technical information
Your writer will require all the data or specifications you want to include in the white paper. You hold the technical information, and you must transmit them to the writer if you expect them to appear prominently in the finished document.
(3) Content
Provide your outsourced writer with a list of words to use and avoid. For example, if you work in the service industry, you might only use "estimate" instead of "quote" when discussing pricing. An experienced writer is aware of it, but there is no harm in expressing these rules ahead.
Once you have set up your professional content creator for success, you can sit back and let their writing abilities take over. They will create exciting content that your target audience will enjoy reading. And it means more opportunities for you.
What are the requirements for outsourcing white paper writing?
If you are ready to hire a white paper writer, you'll need to gather some information so that your writer has a good understanding of the project. 
Here are some of the questions your professional writer will want you to answer:
(1) Whom do you want to reach out to?
Are you targeting this white paper at large corporations, small businesses, or consumers directly?
(2) What is the subject of your white paper?
Would you mind explaining why you want to write a white paper and why your target audience will be interested in reading it?
(3) What is the culture of your company?
Give your freelance writer a detailed description of the tone you want. Should they make content that is very serious or more lighthearted? Your writer can also benefit from brand guidelines and knowledge about key competitors. Assist the writer in getting a good understanding of your brand to write a solid white paper for you.
Why Should You Consider Outsourcing White Paper?
You are probably used to writing official letters as a business owner or administrator. However, writing ability does not always translate to marketing content such as social media posts, blogs, and white papers. Outsourced writers can help with this.
Outsourcing content creation can be beneficial to any company.
Outsourcing your content to a professional writer or a freelancer provides a fresh perspective on your marketing strategy. Experienced content creators understand how to learn everything there is to know about your business and how to communicate with your target audience in the most efficient manner possible.
An outside writer can help you with your content marketing strategy in general. It is common knowledge that professional writers produce high-quality content for every blog post, social media campaign, and website landing page. It holds for white papers as well.
Adding a talented white paper writer to your content creation team can boost your visibility among current and potential customers significantly.
Content is Everything.
The content of your company is a reflection of the company itself. As a result, it must be of high quality! And while anyone can string together a few sentences, creating quality content is a skill that not everyone possesses.
Because a white paper is often a client's first impression of your company, it must be well written. Your white paper will inform clients on how you can assist them.
Perhaps it contains technical information about your product or an infographic demonstrating the effectiveness of your service. Regardless, it's a critical marketing tool that a skilled content creator must write.
Because many businesses do not have in-house content writers, it is often best to outsource this content creation to a content agency that has an experienced white paper writer on staff.
Focus on more important things.
You are a great thinker in your field as a business owner with a strong support team. However, you may lack the time or resources to develop your content marketing strategy. 
Instead of writing marketing content, your team should grow the business and serve existing clients.
When you outsource your white paper, you're hiring a professional partner to develop high-quality and compelling content for you.
Professional writers have the experience and training on how to churn content quickly. As a result, they'll be able to produce a high-quality white paper for a shorter period. You will save time by not writing the white paper yourself and not micromanaging the writer.
Outsourcing your white paper writing can save you money because you only pay for the writer's service. If you are looking for someone to produce your white paper, you can check our writing services. You may also hire a white paper writer from various service providers I feature on this website.
How do you know which white paper writer is suitable for you?
Outsourcing your white paper writing entails forming a collaborative relationship with a professional writer. It's also critical that you feel at ease with your partner. You have a lot of talented writers at your disposal, but not all of them may have written white papers. You'll need to know what they can do and their specialization. Gather as much information as possible to weigh the benefits and drawbacks of outsourcing the writing of your white paper.
Takeaway
Your clients will benefit from white papers. They can even help you generate more leads by keeping your existing customers informed about new products and services. As a result, selecting the best white paper writing service for your company is critical. You can use research to gain the information you need to make the best decision for your company. As a result, you're less likely to be scammed.