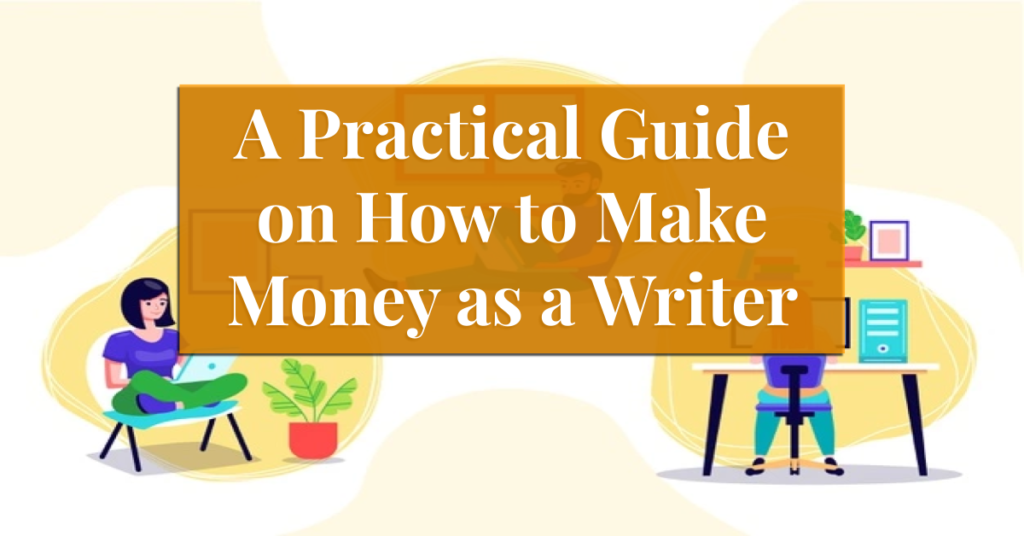 There is good news for writers out there. The chances of landing a dream writing gig are endless.
With online work opportunities popping up from left to right, it's now easier to navigate your way around a writing career path that fits your lifestyle.
It won't be a walk in the park. But it will be worth it.
If you're still stuck wondering how to make money writing from home, this guide will surely help you.
If you have a gift for the written word, your skill will come in handy across various industries. Content has become a valuable currency to reach potential customers in the internet age.
And wordsmiths, also known as writers, are at the forefront of this content revolution.
We are at an age where writers' opportunities to make money are plenty. One only needs to find a way to hone those skills to stand out in a growingly competitive industry.
This list will give you an idea of where you can earn from your writing.
Become a scriptwriter for video creators.
Do you know the intricacies of scriptwriting? Are you well-versed in its technical side?
Then, writing scripts for video creators can be an excellent chance for you to earn.
Since video creators have a lot on their plate already, hiring a scriptwriter makes their to-do lists shorter.
And since video content is very high in demand, so are the writers behind these videos.
The public consumes video content like it's the end of the world. YouTubers are making a killing in this content climate that has increasingly leaned towards video.
You can submit your resume to these YouTubers are offer your services. You can provide links to samples of your work. 
You Might Also Like: Effective Ways to Earn Extra Money at Home
Send some magazine articles.
Suppose people enjoy hearing you talk about exciting tidbits of life or your insights about whatever trends and styles. In that case, you may want to jot it down and submit it to a much wider audience — a magazine.
Having the talent for storytelling is a way to make money writing from home. To this day, many freelance writers make money as freelance contributors to print and digital magazines.
Some magazines even pay good money for one well-written and compelling article. Before you apply:
Try to do some research to see if you can find the right magazine that would enjoy your article.
Make sure that what you've written hasn't been published in the past.
Be mindful of instructions, requirements, and essential guidelines that magazine companies put out for contributors before reaching out for a better shot at being accepted.
Create podcast show notes.
Show notes help listeners understand the podcast that they follow. These notes appear alongside podcast episodes.
And different podcasts require a varied length of show notes. Some podcasts may require a bit lengthier notes. Others may need a brief description to give listeners a glimpse of the show.
You may reach out to podcasters to solicit gigs. There are also job boards looking for writers to work for podcasts.
Become a content producer for small businesses.
When interacting with small business owners, see if they need help with their social media content. In recent years, more and more small businesses have found the importance of maintaining an online presence.
But an online presence is not only about putting up a website. A business also needs to produce consistent content to rank on top of the local search results.
You can offer these businesses to write for their blogs or copywriting for their pamphlets or brochures.
To get small businesses as clients, you have to be in the loop with what's happening in your locality. You can try keeping tabs on the local chamber of commerce. You'd get to expand your connections by mingling with many more local business owners. 
You Can Also Read: 10 Tips to Enhance Web Research Skills
Make money using affiliate links.
Suppose you've chanced upon content creators who include Amazon links to the most random items. It is a type of marketing strategy that uses content to promote products.
By using these links, you'll get a portion of that sale. And you'll get your commission every time the merchant makes a sale through your links.
The compounding effect makes affiliate marketing one of the most lucrative ways to make money writing from home.
As an affiliate partner, you will work with companies to create and divert traffic to eCommerce sites. Creating affiliate content is a fantastic way to earn passive income through writing or blogging.
It is not easy, though.
There is some strategy involved when getting into this type of business. But once you get the hang of it, you'll be able to relax a lot more and wait for the money to come in.
Become a blogger.
If you're still pondering how to make money writing from home, consider a career in blogging. There are millions of blogger success stories that can serve as inspiration.
These bloggers found a way to make money writing from home. And you can, too, with enough perseverance and grit.
To begin, you must pick the niche for you.
You can jut down things that interest you. You can also do research which will help you discover more topics that may interest you.
You need to stand out and be very specific with the content you will be creating. Well-written blogs and informative articles are your keys. Hooking your readers will make them devoted followers.
The next step is setting up your self-hosted website. Building your website will be challenging. Follow this link to learn about how to start your website or blog.
If you expect this to be a long-term commitment, consider the website cost as an investment. You will be paying for the upkeep of your website.
When things are all up and running, keep in mind that you need to post regularly. To attract more readers, use social media to promote your posts.
It may take time before you become a bona fide blogger superstar. But if you play your cards right and remain consistent, you can see the fruits of your labor.
Become a copywriter.
Copywriting is a form of writing used for marketing and promotional content. As a copywriter, you will write for blog posts, websites, emails, and practically anything.
Brands and organizations use a copy for promotional purposes. They lure in more readers to make their products and services more known.
Some companies and businesses outsource to freelance copywriters. Marketing agencies will also hire someone to do their copies for them. Places like Zip Recruiter and Indeed are where you can find openings for copywriting jobs.
Write poetry.
Poetry may not be the top option for anyone who wants to make money writing from home.
There is no money in poetry. Poets will die a pauper. These are the usual misconceptions.
But contrary to popular belief, turning your prose into actual money is possible.
There are several places online where they allow poetic submissions. Once they pick your piece, you can get paid. It may also boost your confidence as a writer.
Crazyhorse, Poetry Foundation, EPOCH, and Boulevard Magazine, are some publishers worth checking out.
Write product descriptions.
Some eCommerce businesses provide massive compensation to talented writers who ensure that their product descriptions are SEO-friendly.
You can find openings on websites like Crowd Content and Upwork, where you can connect with potential clients.
This job is high in demand as eCommerce stores have become very popular. You can also directly approach online stores and pitch your services.
You Might Also Like: Online Jobs You Can Do as a Student
Become a ghostwriter.
Celebrities are not the only ones who avail ghostwriting services. Many websites and blogs are also open to hiring ghostwriters as well.
There's a big chance that the latest entry of a blogger you are following was by someone else. Perhaps the blogger has become too busy to update the blog alone.
Ghostwriting is a way of consistently releasing content outsourced to an unknown writer.
If you don't mind NOT getting recognition for the things you write and just want to earn, then looking for the next ghostwriting gig is the way.
Do book reviews.
Bookworms will be thrilled to know that they can get paid to become a book reviewer.
If you can read fast and create titillating, purposeful reviews, this is a great way to earn some extra cash.
Apply to companies like Reedsy Discovery, Kirkus, and Online Book Club if you want to kickstart your career as a book reviewer.