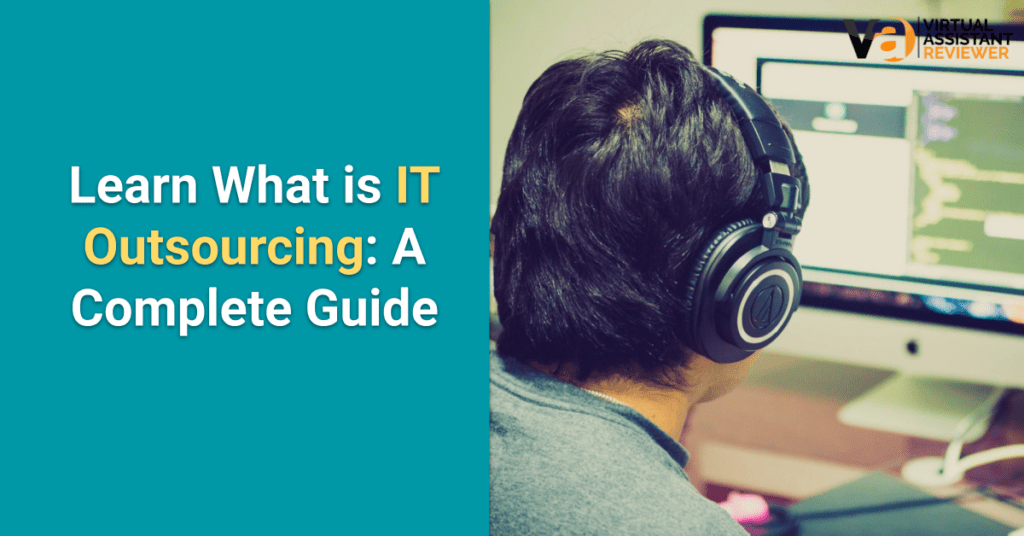 IT outsourcing is the process of utilizing an external service provider to perform some or all of the company's IT needs and functions, such as infrastructure management, strategy development, and service desk management.
IT outsourcing companies can take complete responsibility for all IT maintenance and support. It is known as a fully managed service, and it provides additional assistance for an internal IT staff, known as co-sourced IT support and typically used by larger companies.
A company may utilize a single provider for all its IT needs or employ many service providers for distinct aspects of its IT function.
KEY POINTS
IT outsourcing uses external service providers to deliver IT-enabled business processes, application services, and infrastructure solutions for business outcomes.
IT outsourcing allows businesses to cut costs, accelerate time to market, and leverage external expertise, assets, or intellectual property.
Definition of IT Outsourcing
IT outsourcing refers to the strategic utilization of external IT resources to handle internal resources and employees' functions. In other terms, "IT outsourcing" refers to contracting external service providers (such as an IT firm or a freelancer) to supply IT-related business processes, application services, and infrastructure solutions to achieve business objectives.
A simple example of IT outsourcing is when "Company A" commissions "Company B" to construct the company's website or mobile application (an IT Outsourcing provider).
Types of IT Outsourcing
There are various types of IT outsourcing distinguished by where and how they do their service. These are some examples:
Outsourcing based on projects 
Typical examples of this type are software development outsourcing and nearshoring. The process of outsourcing IT-related work to a company in a neighboring country. In theory, this should facilitate travel and communication between the two companies.
Outstaffing
In the case of the outstaffing model, the company purchases employee time from an IT outsourcing provider. Typically, companies pay hourly or monthly rates. It could also be in a retainer contract where an employee of an IT firm checks the company's systems for diagnosis monthly.
Establishment of R&D center 
It is also also known as having an offshore office. Some businesses open an office in another country (usually under the same brand name) and hire locals to work in the office. It is typically the most cost-effective type considering the wage levels disparity between the West and these foreign countries.
In contrast, establishing an onshore office is the process of recruiting professionals who live in or near your city. It's an excellent way to keep things under control but at a higher cost versus an offshore one.
Examples of IT Services Outsourced
Here are some of the most common IT functions that businesses and firms outsource:
Application/software development
Web development/hosting
Application support or management
Technical support/help desk
Database development/management
Telecommunications
Infrastructure
Why Outsource IT Services?
Organizations make partnerships with efficient and specialized service providers, who eventually become business partners in the long term. Outsourcing involves the transfer of employees' functions from one company to the outsourcing organization.
IT outsourcing is now one of the essential services that small and medium-sized businesses outsource. The preference of these companies contributed to the growing popularity of IT outsourcing. So would it be prudent that you jump on the bandwagon?
First, it is essential to know why businesses outsource their IT functions. Understanding these reasons may help you assess whether your business needs to do the same or not. Some of these reasons are as follows:
Reduce business expenses
Top on the list of reasons is the hope of businesses to cut their costs. Many companies choose offshore locations, primarily in cheaper economies, to save on staff salaries. And this reason is more relevant now with the rising wage levels in the US, Canada, and Europe.
There are risks in outsourcing to offshore locations like defects in services performed or products delivered. But with careful study and insightful implementation, outsourcing to offshore locations can be a fantastic cost reduction any business can surmise.
Indeed, IT outsourcing can result in significant cost savings.
According to studies, more than 80% of businesses with fewer than 100 employees would benefit significantly from outsourcing email management on their own. IT companies can deliver access to equipment and services at a fraction of the cost that your company would incur if it did it independently.
Expand the pool of talents
Whether offshore or onshore, outsourcing can expand a limited talent pool. Traditionally, a business can only source out talents from surrounding areas. It is usually within a certain radius from the office location where staff can drive to and from work.
But it is a reality that sometimes local talents do not have the experience and the skills for your IT needs. With outsourcing, you get to work with IT service providers comprised of a well-rounded and highly-experienced team of experts.
Outsourcing provides access to previously unavailable resources, such as infrastructure access, staff capabilities, and other relevant capabilities.
The best part is that you won't have to pay for any IT training. It is the outsourcing company's responsibility to train your employees on the most recent techniques and programs.
Free up resources
When a business is expanding rapidly, key individuals focus on critical matters. They can no longer spend their time dealing with IT problems, troubleshooting systems, or building the IT infrastructure needed.
The valuable time of owners and business managers are made free from time-consuming tasks and can now redirect their energy to more important matters. Delegating IT functions to reliable service providers can bring a whole new dynamic to management. With more focus given to crucial issues, managers can lead the business to new heights.
READ MORE: Everything You Need to Know About Knowledge Process Outsourcing (KPO)
Advantages of IT Outsourcing
IT outsourcing poses many advantages, which includes the following:
Achieve Core Functions
People come to mind when you think of outsourcing. It is getting skilled individuals working for you. But third-party providers also offer other essential services like security monitoring and data storage. When you outsource, it means you have the opportunity to use the service providers' existing software and infrastructure. You may also have the option to integrate the providers' functions into your overall work system.
Scaling Staff
Bringing on new employees, particularly in IT, presents challenges, primarily in time and cost. However, with outsourcing, you can easily integrate experienced IT professionals into projects and critical tasks. Staff is also scalable.
It means that a company can hire as many or as few people as it needs. Upon completing these projects, you are flexible to reduce the number of staff comprising the project team. This adaptability gives you unprecedented control over project management without requiring you to devote time to hiring, training, and managing new employees.
Increased Security
Outsourcing allows a company to access additional security services such as data monitoring, protection, and backup. Providers can monitor and report unusual network activity, keep essential software like antivirus up to date, and observe good cybersecurity practices. It is advantageous because not all businesses have the capital to invest in cybersecurity infrastructure, resulting in dangerous gaps in coverage. These gaps allow for potential intrusions, resulting in downtime and a slew of other issues.
Cost Cutting
One of the primary drivers in IT outsourcing is its ability to reduce costs. The reduction of the expenses covers both staff salaries and the initial investment needed to set up an IT infrastructure.
There is less capital required because the company does not have to train or retain long-term employees.
Furthermore, a managed service provider (MSP) can provide IT infrastructure through virtualized services, whereas an enterprise needs to build it from scratch. These and numerous indirect benefits such as increased efficiency and security help a company's bottom line remain competitive in IT despite a lack of resources locally.
Better Focus
Even if a company outsources, it does not imply that it is lacking in IT. The entity could have already invested in the foundation of its IT functions. But it may find outsourcing an effective way to shore up weaker areas of an organization or help with larger projects. It allows on-site personnel to focus on their specialties and prioritize goals. 
READ MORE: How Outsourcing Became Nike's Game-Changing Strategy?
Disadvantages of IT Outsourcing
IT outsourcing is not all rosy. There are also several drawbacks that you also need to consider. Here are some of the downsides of IT outsourcing:
Control loss
Control loss is one factor that frequently stymies outsourcing investment. When an enterprise uses third-party services, it delegates core services to a different entity and staff body. Some people are concerned about having a secondary company manage their security or essential functions. There are also concerns that a secondary MSP might not manage tasks to the same standards as an internal team.
Lower quality
Quality can be an issue depending on who and where you outsource to. While some IT providers provide a solid infrastructure and experienced staff, others may only offer less qualified individuals, impacting service quality. It boils down to insightful research and conducting due diligence before deciding to outsource the IT functions.
Communication lag
Depending on the provider, communication can suffer significant lapses, which is vital to consider. Long periods of turnover on inquiries and conversations are problematic because the slower the response from the outsourcing provider, the more significant the impact could be. In business, time is gold.
When dealing with a security issue, for example, quick communication is critical. In this scenario, if you outsourced cybersecurity services to a third party, communication breakdowns would severely hamper your business's efficiency and exacerbate other issues such as prolonged downtime.
Security Risk
Since the company relies on a third party to handle its data, either in part or entirely, your information is in danger if the said company does not adhere to the same safety standards or is compromised somehow. Traditionally, third parties will take appropriate precautions to protect your information, but this is not always the case with MSPs.
Takeaway
IT Outsourcing not only saves you money but also allows you to focus on your core business tasks, allowing your organization to grow. There are advantages and disadvantages to IT outsourcing. And it's up to business owners or managers to weigh on these things before finally having a third-party provider handle the company's IT needs.
When deciding what to offshore, it is also critical to understand the risks involved with IT outsourcing. On the other hand, an adequately prepared outsourcing plan can provide a slew of advantages and revitalize company efficiency and profit. As long as done correctly, there are numerous benefits to IT outsourcing.