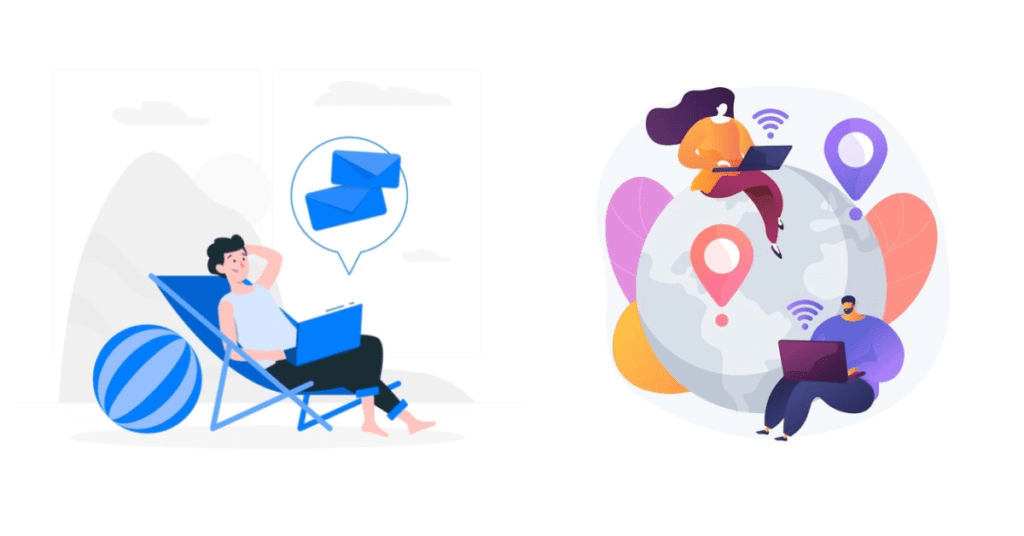 COVID-19 has made remote work a necessity rather than a cost-saving option for many firms and professionals. They say that working from home can be a litmus test for your productivity. 
Many would also argue that working from home necessitates intrinsic motivation to complete tasks efficiently and on time. Yet, this is not always the case.
You do not lose productivity because of working from home. But you do lose productivity as a result of not getting your shit right.
When you work from home, you are less likely to leave your house and engage in typical adult activities. Distractions are also present at every step.
If you have embarked on the journey towards working from home, you should have known that, similar to the traditional workplace, you still need to change your habits and routines to be successful.
Here are the top 10 tips for the work from home digital nomads:
1. Establish Morning and Evening Routines
When getting yourself out of bed each day, a routine can be more effective than a clock. What steps do you take as part of your morning ritual before you start your work?
It could be sipping a steamy cup of coffee before going over your to-do list. It could be getting dressed or walking in your neighborhood.
Look for an established and easy-to-follow routine to use as your signal. This signal could be as mundane as brushing your teeth or taking your dog out for a walk. That way, you'll be able to incorporate the new habit of starting your workday with a smile.
Create a habit that indicates the end of the workday, precisely as you did when you started the day. It may be a business messaging app sign-off, an evening dog walk, or a yoga class at home.
It might be as simple as turning off your computer and listening to a favorite podcast. Whatever you pick, make it a habit to mark the conclusion of the working day.
2. Stick To Your Schedule
Decide and stick to your schedule. Many remote workers find that having clear guidelines for when to work and when to call it a day helps them maintain a work-life balance. Yet, one of the best advantages of remote work is flexibility when the job allows for it.
Since you'll no longer have coworkers to remind you to pack up and leave the office, set the alarm at the end of the day to state that your typical workday is coming to an end.
You don't have to stop at that exact time. But knowing that the workday is technically over can help you begin the process of saving your work and calling it a night.
When working from home, maintaining a general work-life balance is critical. Personal life is just as important as professional life.
You should always keep track of your workdays and hours. It must be structured in such a way that you can easily follow it.
3. Create a Comfortable Home Office
Find a dedicated and comfortable workspace that you can associate with your job and leave when you're not on the clock.
As much as working from home is convenient for many because it allows them to coop up in their bed or couch, it becomes difficult to resist the temptation of sleep with our not-so-healthy sleep routine.
That way, you can either succumb to your lethargy – which is highly demotivating.
But you can always choose to escape the allure of your typical home setting. The latter is always superior and more efficient.
Thus, a dedicated workspace will help you stay focused on your work by providing an office-like environment. Because, in the end, concentration is the key to achieving practical results.
4. Establish Ground Rules with the People in Your Space
Suppose your children are learning at home while you are still working. They will need clear house rules about what they can and cannot do during your work hours.
You may have to discuss with your household members the quiet hours, scheduled meetings, and your turn to using the family's shared equipment like computer desks and chairs, especially if you share your place with another adult who works from home.
Moreover, just because you're at home and can do the chores or care for pets doesn't mean your family should think you always will. That's good if that's how you want to divide up the house chores.
But if you take it all on because you're at home, you may feel overworked, and your productivity may suffer.
5. Take Schedule Breaks
As a telecommuter, it is all too easy to become distracted and avoid taking breaks entirely. Don't let the guilt of working in the same building where you sleep keep you from taking five minutes to unwind.
A lunch hour and two 15-minute breaks appear to be the most common arrangement for full-time work-from-home employees. When doing computer work or other nomadic work, it is crucial to get up and move around every so often, at least once an hour.
Set the alarm or a timer on your phone or use a standard clock to keep track of time. Make sure you take your breaks in their whole, regardless of how you track them. For example, if you take an hour's break and return to your work after only 40 minutes, take another 20 minutes off.
6. Focus On Your Most Important Tasks
Work from home employees, particularly those dealing with increased workloads as they juggle family and work responsibilities, should focus on essential tasks.
It is critical to remind yourself every day of what is truly most important to focus your attention in the right place.
Recognize what is necessary for your work to have clear goals.
7. Stay Connected Through Utilizing Technology
Loneliness, disconnect, and isolation are some of the common issues for work-from-home nomads.
Everyone works differently at home, from your teammates to your managers. As a result, it is frequently challenging to share information and get everyone on the same page.
Slack and Zoom, for example, can make it simple to check in with other remote employees. It can remind you how your work contributes to the bigger picture.
If you are an introvert who is not used to social situations, take part in a few interactive sessions to get to know the team. It will help you avoid any unpleasant problems among your teammates once you start going to work.
8. Listen to Feel-Good Music
Whether you admit it or not, music can motivate you to keep working without being bored or exhausted. You can enhance your productivity by listening to music that fits the enthusiasm of the project you are working on when creating your playlist.
Video game soundtracks are particularly good at this. The lyric-free music in the video game is supposed to help you focus. Thus, it's only natural that it would help you focus on your work.
9. Eat & Sleep Properly
Health, as the adage goes, is wealth. When you're a busy hardworking person, eating a nutritious diet is very important. As a result, instead of indulging yourself with junk food and unhealthy stuff, you should eat foods that help you function better.
Since you work from home, the more that you can eat healthy every day since your kitchen is just nearby. You don't have to unhealthy cafeteria food during lunch break.
If you want to achieve the most satisfactory outcomes, you must stick to a regular sleep routine. It allows you to think clearly.
Even if you work from home, it will keep you awake at unusual hours if your job life is demanding. If this is the case, try taking short naps.
To keep your energy levels high and renew your body and mind, all you need is a healthy diet and enough sleep.
10. Have a Positive Mindset
A full-time work-from-home life requires intense concentration. Your attention can be diverted at any time.
You might have some irrelevant thoughts pop into your head out of nowhere. However, it is not a cause for concern.
Give yourself some leeway. It is acceptable to take your mind off work for a few minutes, whether intentionally or unintentionally.
Stress can have a negative impact on both your mind and body. When you are stressed or anxious, your thinking capacity is slowed because your brain cannot process correctly.
Balance your efficiency with self-care.
If you are not mentally healthy, you will not be able to give your best effort.
Take one step at a time. Please don't force yourself to do it all alone. You can always ask for your colleagues' help, or even your family if you have a hard time.
Check out some of our other free remote work and virtual assistant resources:
Takeaway
Working remotely, primarily when you work from home most of the time, necessitates resolving these and other challenges.
We've included work from home suggestions to help you make the most of your new schedule.
Try a few, and you might find that working from home is just as productive as working in an office. Yet, determining what works best for you is not a bad idea.