How do you envision yourself doing regular work from the comfort of your home? Are you looking for an opportunity to acquire and hone new skills that will help you get ahead? Becoming a virtual assistant may become an excellent opportunity to earn a good salary while having more flexibility to achieve the elusive work-life balance.
A massive increase in the demand for virtual assistants has led to a surge in remote-working businesses and work from home job positions. However, becoming a virtual assistant and landing a job as a first-timer may be a bit difficult. In addition, regular university curriculums have not prepared many of us to work in a virtual environment. Therefore, virtual assistant training programs have become essential to prepare an aspiring remote worker and be apprised of the things to expect when joining an organization's virtual team.
This article offers a detailed list of the most up-to-date and worthwhile virtual assistant training courses available in Udemy to aid beginners or even seasoned virtual assistants in jumping into new industries to become more dynamic and easily adaptable.
1. Work From Home as a Virtual Assistant
The three-hour video course covers everything you need to know about working as a virtual assistant with certification to be awarded after you have completed the course outline and passed the online certification exam. The price is relatively lower as compared to other online virtual assistant courses you can find online. If you want to start your small business or work from a home office as a virtual assistant, you can take this Work From Home as a Virtual Assistant course.
2. Canva 2019 Master Course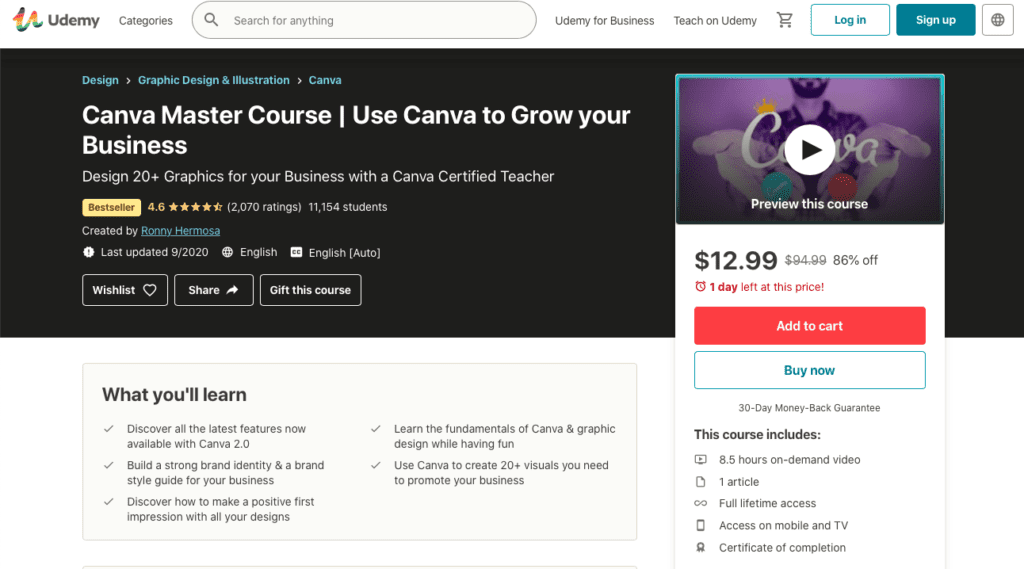 One of the best-selling online courses for virtual assistants, Canva 2019 Master Course is one of 2021's must-have virtual assistant training. In addition, Canva is one of the tools considered as the starter pack for any virtual assistant tasked with design projects. An outstanding graphic design tool with a massive library of templates and design ideas, Canva should be on the top of any virtual assistant aspirant's list of tools to learn.
The complete online course will grant you lifetime access to your preferred viewing platform. It's a Master Course that teaches all the features and functionalities of Canva that would transform you from virtually no experience to a graphic design maverick. The course also includes 20 projects designed to test your new skills and equip you with new competencies that may lead to higher pay jobs. Learn Canva for as low as $12.99 with a certificate of completion.
3. Powerful Social Media Marketing for Beginners (2020)
Suppose you happen to work as a social media virtual assistant. In this case, you'll be needing this Powerful Social Media Marketing for Beginners (2020), which is comprised of approximately 10-hours on-demand online video course, which will prove to be necessary for various social media tasks such as:
Creating social media profiles
Interacting with followers on different social media platforms
Curating images and contents for posts
Creating social media campaigns
This online course will give you the exact blueprint to work on the client's social media presence you're working with or learn the tricks to land a dream project.
4. The Complete Beginners SEO Course
Many companies hire SEO specialist virtual assistants to help the company rank higher on the search engine results page. For a competitive price, which includes the certificate for completion, the Complete Beginners SEO Course is worth your investment to leverage your virtual assistant skills.
You'll learn the SEO fundamentals and the importance of keyword research, and choosing the right content to rank or boost your clients' websites. Even if you have no background in SEO, the step-by-step guide will make you an expert in SEO if you take the course seriously. So pass the online exam and get your certificate of completion for SEO now.
5. WordPress For Beginners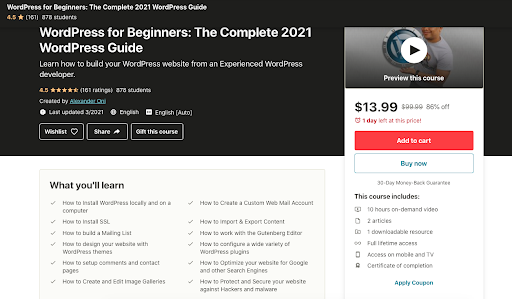 Many companies with established websites hire WordPress virtual assistants to create great WordPress sites to attract leads and clients. With this great buy WordPress For Beginners 10-hours on-demand video course, you'll learn from basic to advance skills you need to create and maintain a WordPress site. In addition, learn from an expert WordPress developer the clever use of various plugins and programs to enhance the functionality and design of your client's website.
6. The Complete Shopify Aliexpress Dropship Course
Many e-commerce business owners are looking for a virtual assistant to manage their online stores. Typically, a virtual assistant's responsibilities include customer support, organizing the product listings, order processing, clearing listing backlogs, boosting sales, inventory management, etc.
If you want to learn how to run an e-commerce store or website, The Complete Shopify Aliexpress Dropship Course is the one for you. In this course, you'll learn how to manage an e-commerce website for your clients from scratch. You don't need any technical skills to learn the basics of running an online store. You only need to take your time, digest the step-by-step process and pass your online exam to get certified in handling e-commerce stores.
Takeaway
To help you easily land a client or climb the ranks of virtual assistants in a virtual team, one needs to train and consistently acquire new skills that are valuable to business organizations being run remotely. But attending online courses requires adequate patience, perseverance, and a firm commitment to learning to enjoy long-term success. After getting certified and landing a virtual assistant position, you'll realize how wise of an investment these online courses are and how transformative they are in your virtual assistant journey.