Project management software is developed to help teams accomplish their projects with ease and with fewer difficulties. It's just as useful for startups with a small team as it is for more established corporations with a large workforce, as well as for several highly diverse teams working together to accomplish a single goal. Tasks may be assigned and re-assigned with the software's assistance, and deadlines may be met with certainty. Also, central management is provided to assist the users with their concerns about the software.
Therefore, it's only useful for you and your virtual assistant to use the numerous project management tools accessible right now. It will enable assigning work, organizing projects and tasks, and making the time tracking process simpler.
These are a few project management tools that can help you identify which solution best fits your organization and/or team's needs:
1. Monday.com
Collaborative spreadsheets seem to have been the basis for Monday.com. In the hands of a highly competent designer, picture a Google Sheet transformed into an interactive and collaborative project management tool. Via a web app or a mobile device, you can access Monday.com (for both iOS and Android).
Monday.com is highly visual, simple, and straightforward, so no much training is required to efficiently use the tool. The task of developing your perfect workflow, or selecting from a collection of pre-made templates based on how real teams utilize Monday.com, just takes a few minutes. The user-friendly design makes it easy for everyone on the team to begin working, with no intensive training required.
Pricing
Monday.com pricing begins at $24 per month for three users and increases based on your selected plan and team size. If your organization has more than 40 users, you may request a quotation to obtain accurate pricing.
You can avail of the 14-day free trial; no credit card is needed.
Best Features:
A variety of teams across a wide range of sectors contribute to the organization's success. Its simple and highly customizable interface makes it appropriate for any project or company. Here's the best offer you can get with your subscription:
Collaborate with the team using one platform
Keep track of all works and reports
Monitor progress at a glance
Can integrate all your existing tools
2. ClickUp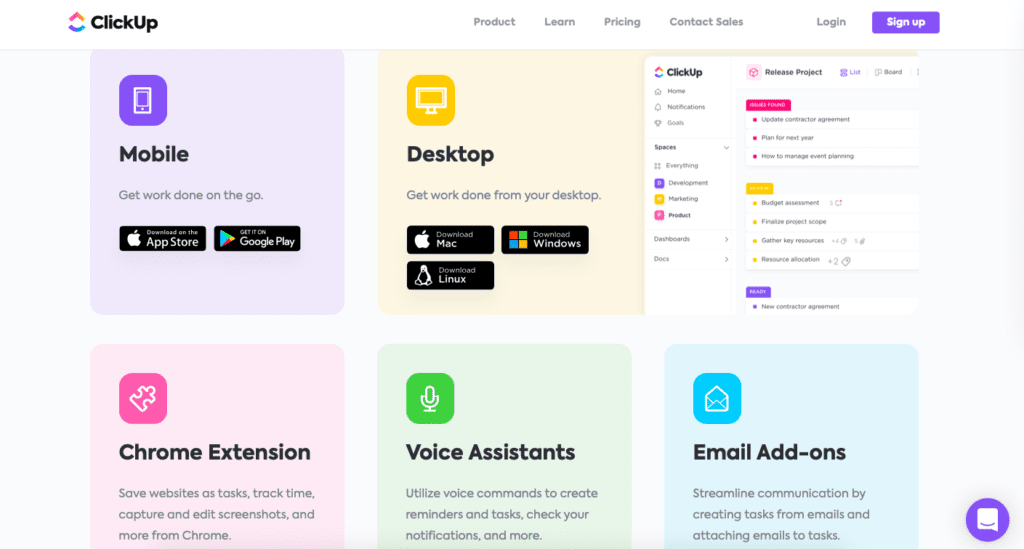 ClickUp is a powerful project management software product that enables you to organize and complete all of your team's projects from a single platform. Users may use the integrated workspace to plan projects, organize activities, manage resources, and connect and interact with team members and visitors.
Task management features include:
task checklists
subtasks, task templates
ability to filter, sort, and search
reorganize tasks
visualize tasks using Gantt charts, calendars, and timelines.
provides tools for creating, sharing, and collaboratively modifying Wikis and documents
can add comments to documents and tasks
assign remarks to other team members
communicate with other team members to facilitate communication and cooperation
reporting capabilities include the option to construct custom dashboards and six pre-built report kinds for collaborative reporting
ClickUp integrates with Slack, G-Suite, Dropbox, and a variety of other apps, as well as via Zapier's over 1,000 connections.
The free plan of ClickUp is comprehensive enough and provides all essential features. The unlimited plan is $5 per user per month and includes more capabilities.
3. Wrike
Wrike is commended for its software that is ideal for teams of five or more people. The tool is highly flexible, allowing customers to tailor processes, dashboards, reports, and request forms to their requirements.
Wrike's straightforward interface enables users to choose between Kanban boards, interactive drag-and-drop Gantt charts, and classic workload views, allowing them to see their priorities in the most appropriate manner.
Wrike includes the following features:
task lists
Subtasks
Timetables
collaborative workspaces
file sharing
real-time communication and collaboration
performance reporting tools
resource management
allocation tools
Wrike's design and navigation are simple to use and straightforward, with discrete areas, folders, and tasks. You may navigate between the main page and the timesheets, dashboards, calendars, reports, and stream (for notifications and messages). Additionally, Wrike provides a dedicated assistance center that includes interactive training, videos, a 'Getting Started' guide, and an active community.
Wrike integrates with over 400 third-party applications, including the most popular file management tools from Microsoft, Google, Dropbox, and sales and marketing tools from Salesforce and Marketo.

Pricing begins at $9.80 per user per month. There are four pricing tiers, including a free version and plans that enable free external collaborators to join a paying account. Other options are:
No charge for up to five individuals
Professional ($9.80 per person per month); paid in groups of five, ten, or fifteen
Business ($24.80 per person per month on average); for five to two hundred persons
Enterprise (price on a case-by-case basis); a minimum of five individuals
Wrike for Marketers (custom price); a business or enterprise-level update that includes capabilities for marketing and creative teams
Performance of Wrike for Marketers (custom price); an improvement from previous option above
Wrike for Professional Services (custom price); a business or enterprise-level upgrade that includes capabilities for professional services teams
Wrike for the Professional Services Performance (custom pricing); an upgrade from option 7
Additional upgrades, referred to as add-ons, are available for certain plan types. For instance, Wrike Proof is an add-on that automates the process of evaluating and approving files. Not all accounts are eligible for add-ons, however, as some already come equipped with one or two.
4. Clarizen
Clarizen One is an enterprise project and portfolio management solution that enables you to complete tasks more efficiently.
Thousands of worldwide clients, including Box, Dell, Bartle Bogle Hegarty (BBH) London, Jones Lang LaSalle (JLL), and Shaw Industries, rely on Clarizen to help them accomplish their business goals in a broad range of industries and in 124 countries.
Clarizen unifies business work through the following:
combines project management discipline
integrates workflow automation
collaborates to transform ideas into strategies, plans, and actions
enables enterprises to operate in their unique style
allows teams to stay focused on the essential things
produces outcomes more quickly
Clarizen provides a 30-day free trial, and prices start at $60 per user each month.
5. Smartsheet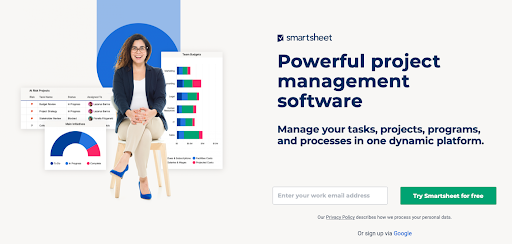 Smartsheet is a spreadsheet-based project management tool designed for enterprises that handle several projects with hundreds of moving pieces. It enables businesses of different shapes and sizes to manage workflows and collaborate more effectively through a single platform.
Smartsheet functions like a spreadsheet. It has been featured in several media outlets because of its highly rapid adoption. Smartsheet is an excellent project management software, as long as you want to work in Excel but would like to avoid complex formulae. Logos and color schemes may be added to specific projects, too.
The best features of Smartsheet are the following:
Keep project plans and schedule on track
Dynamic portfolio management
Accelerate program planning and delivery
Enhance reporting with real-time metrics and visibility for everyone
Automate repetitive process
Visualize projects with Gantt charts
Smartsheet offers several options, including different plans and product varieties. For individual users, they provide both individual solutions and enterprise-level solutions. The rates listed below are based on an annual subscription.
Individual — $14 per month
Business — $25 per user per month
Enterprise — Custom pricing
Premier — Custom pricing
Takeaway
Project management is no longer something you can afford to be without; it is a need. It is now the foundation of motivation and support for completing work and various organizational tasks. It is believed that project management software can oversee all project operations and timeframes while also creating its business results.
With many different solutions available, you may now have a cloud-based workflow tool that integrates your various products and services. The availability of project management software has made team collaboration more accessible and easier more than ever.
Now is the time to implement strategies to increase employees' productivity. For a team to be productive, it is essential that the team members do feel satisfied with work while still on track of the stages of projects completed. This way, employees are somewhat motivated by having a clear idea of their milestones and what is still to be done. Project management software may help you make better decisions and help your organization become more efficient in achieving targets and deadlines.