Managing social media accounts requires consistent and strategic posts. An excellent social media manager schedules posts based on repurposed materials and informative graphics designed to stir interest and encourage engagement. 
To help you effectively manage your social media channels, you can use both Buffer and Hootsuite as social media marketing tools. Hootsuite's methods for operating a social media account and scheduling posts are significantly different from Buffer's.
The two products' development has likewise taken diverse pathways, and they have distinct priorities when it comes to the feature sets they offer. When making product decisions, you consider what each product has to offer, their distinctions, and the types of individuals who are likely to favor each.
Before you pick which tool you'll choose for a premium subscription, here are the things you need to know about Buffer vs. Hootsuite:
Brief Background of Buffer
Buffer is an easy and simplified social media management tool that companies, organizations, agencies, and individuals rely on to achieve significant social media engagement and outcomes.
The product portfolio includes publishing, interaction, analytics, and team collaboration (Publish, Reply, and Analyze). Its solutions were meticulously developed and put together to assist social media marketers and teams operate more efficiently and successfully.
Buffer is ideal for smaller social media teams. It is easy to set up and use, but its features are extensive and dependable. Buffer just integrated Pablo, its new content creation tool, to help make up for the lack of Google Drive connectivity. The Business membership allows you to provide access to the platform to numerous users.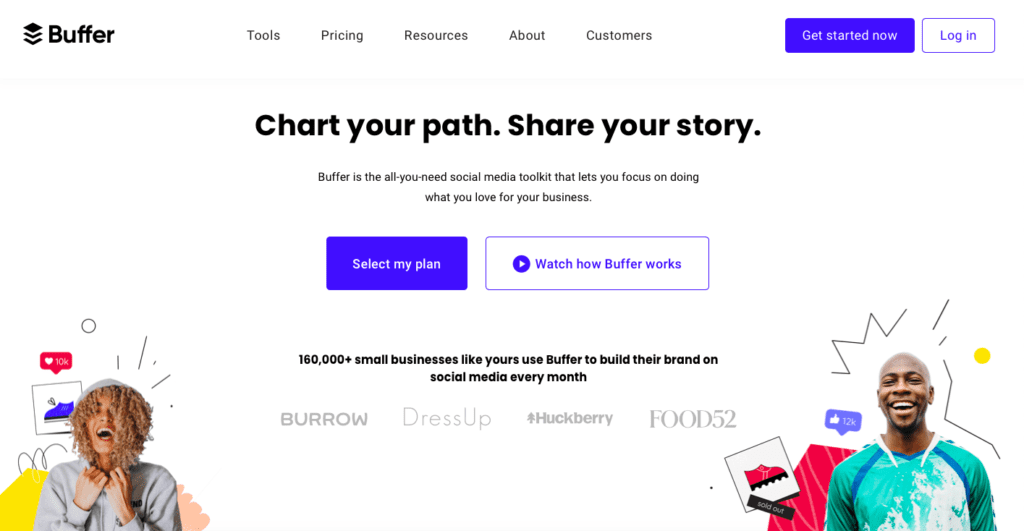 Brief Background of Hootsuite
Hootsuite empowers social media for companies of all sizes, from small businesses to big corporations. You can schedule posts across multiple social networks, which include Instagram, Twitter, Facebook, Linked In, Pinterest, and YouTube.
Hootsuite also allows you to do the following:
manage organic and paid social content;
monitor customer conversations;
unify communications; and
gain real-time insights from your social media channels. to make critical business decisions.
Hootsuite is ideal for companies looking for an all-in-one social media management tool that integrates various social media platforms. The entry-level plans are reasonably priced and provides you access to the platform for posting and monitoring social media material.
Additionally, Hootsuite has powerful interaction tools with your audience through social media.
Best Features of Buffer vs. Hootsuite
There are distinct ideas behind each Buffer and Hootsuite product. For many, Buffer boils down to a social concept: continually build a never-ending queue of posts, add to the top of Buffer, and remove those at the bottom.
Instead, it only exists as another means to get in touch with your social media connections. In contrast to Hootsuite, it works more like a stand-in for your social media accounts.
Imagine building a single column of each of your social networks, then extending them outwards like a bridge. That's how Hootsuite works in your social media.
Buffer's Best Features
Buffer is well-organized layout wise, making it a very simple tool to maintain your social media accounts. It has an automatic function for scheduling social media postings.
The software enables users to update status and tweets. It allows for simultaneous posting over several networks while also providing the user the choice of when to publish.
You can also instantly complete a post, or "Add to Buffer." The "Add to Buffer" function enables the Buffer itself to determine when is the most optimized time to post.
Buffer is a Safari, Chrome, and Firefox browser plugin that enables content sharing on any online page. A new icon is added to the current browser, allowing the users to share a specific link inside the current web page through Buffer.
Additionally, it offers texts that could accompany the link (which can freely be altered). There is an option to publish immediately or first to include it in Buffer.
The app's analytics will evaluate the effectiveness of its choice on when to publish a user's material. The integrated analytics maintain a healthy balance for users of small and home-based businesses.
The provided data is sufficient in characterizing the number of clicks, mentions, retweets, and potential reach of a user's postings. All of this are presented in an orderly manner without overwhelming the consumer.
Hootsuite's Best Features
Hootsuite combines highly efficient social media management capabilities with an easy-to-use platform that integrates with many third-party technologies. Hootsuite's brand is associated with social media software. Although newer competitors may offer more flashy features, Hootsuite benefits from the many third-party integrations over the years.
Given how rapidly the social media environment evolves, this does contribute to Hootsuite's future-proofing. As innovations occur, additional partners will provide applications via Hootsuite to assist you in capitalizing on them.
As a result, Hootsuite is an excellent social media management solution for self-serve clients looking to tailor the social media platform to their specific needs. 
Its Streams interface is the industry standard for monitoring numerous streams, and its audience control features are dependable.
Additionally, Hootsuite's certifications are well recognized in the industry, making it a solid choice for complicated social media account teams.
Pricing Difference
If your primary goal is to schedule and publish to your social networks centrally, both Buffer and Hootsuite are competitive prices. However, when you include Buffer and Hootsuite's extra applications, the total price increases significantly.
Both tools provide a limited free plans for users with minimal scheduling requirements. A user may connect up to three social media accounts.
Buffer offers 10 free scheduled posts compared to Hootsuite's 30. The free plans serve as a trojan horse to pique your interest in the service and encourage you to try them out.
Paid options start at $15 per month for Buffer's Pro plan and $29 per month for Hootsuite (Professional plan). However, at this point, comparing the two applications becomes more difficult. Buffer's subscription limits you to 100 planned posts (across eight social accounts), while Hootsuite allows unlimited posts across ten social accounts.
Both Buffer and Hootsuite cater to companies of varying sizes.
Buffer named its plans after the kinds of businesses for which they think they are suitable: Small business plans start at $99 per month, medium business plans start at $199 per month, large business plans start at $399 per month, and enterprise plans start at customized amount per month. Each plan increases the number of social accounts and users, but all allow for 2,000 scheduled posts in your Buffer.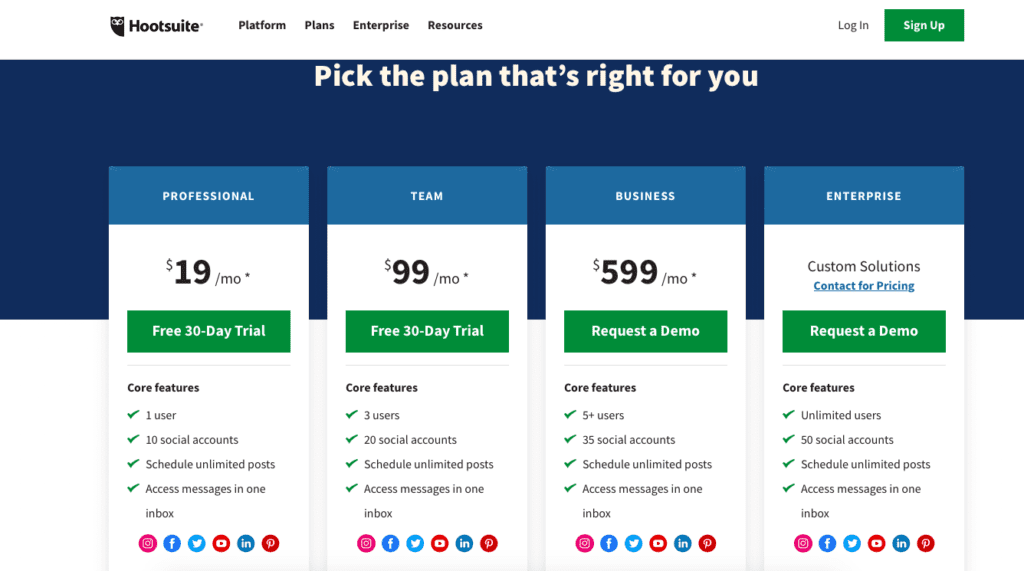 Hootsuite's premium subscriptions start at $129 per month for Team, $599 per month for Business, and a custom amount per month for Enterprise. Again, the only difference between these plans is the number of social profiles and users – all of them have limitless scheduling.
Overall Review
Both platforms provide communication management to some extent. Hootsuite includes this in its main package together with a consolidated inbox. Additionally, you may create streams to display conversations across several social networks.
Buffer has developed a special app for this purpose called Buffer Reply. It enables you to react swiftly to social conversations, handle customer service concerns, and provide an exceptional experience. You can respond to all your social conversations and support requests across Instagram, Facebook, and Twitter from a single collaborative team email.
Although Buffer's software requires a separate payment, the in-depth capabilities compensate for this. Additionally, both solutions offer a social performance analysis. While Buffer's default reporting is relatively simple, subscribers to Buffer Analyze get access to a far more sophisticated tool. Additionally, it offers statistics on Instagram Stories.
Buffer now features Pablo, a new content creation tool. You may search over 600,000 photos and include text overlays and filters. You may also upload a logo or image from your computer to be used together with the filter effects.
Hootsuite integrates analytics into its primary interface and also provides comprehensive reporting functionality. Hootsuite's Boost tab may be helpful if you create Facebook advertisements to promote your social media or blog posts.
The Boost tab enables you to increase the visibility of posts on Facebook pages. Within Hootsuite, you can connect your advertising account and manage your promoted posts. Simply pick the Facebook Page and ad account for which you'll be promoting posts, and Hootsuite's boosting function will suggest a campaign for you.
If you're asking which one is better for your business, the response will be, "it depends." Buffer and Hootsuite take very different methods to manage social media accounts and scheduling posts. Additionally, they have followed diverse routes in developing their products and added different flavors and features for its premium plans.