Saas (Software as a Service) has never been more competitive, and this is no different in productivity software. The gorillas continue to rule, while hundreds of newcomers offer novel ideas to the market daily.
Nonetheless, ClickUp, a Silicon Valley company, developed a project management tool utilized by Apple, Nike, Uber, Google, and Airbnb, among other businesses.
ClickUp is a cloud-based software-as-a-service platform that unifies all workplace communication tools for development, project management, human resources, business operations, and remote work.
Brief Background About ClickUp
ClickUp is a productivity tool for managing projects, time, and work in different types of companies. It was established in 2017 by Chief Executive Zeb Evans as an internal tool before launching it publicly. The business started in Silicon Valley before relocating to San Diego, California.
By 2020, its software products are being utilized by more than 200,000 businesses and two million individuals. The company raised around $100 million in December 2020, increasing its market value to $1 billion.
The company's application enables teams of any size to plan, manage, and communicate on projects using the same software. It includes documents, reminders, objectives, calendars, and even inbox features, allowing team members to remain connected and increase their productivity.
How ClickUp Works
The configurable office productivity platform includes tasks, documents and wikis, email and chat, objectives, reminders, time tracking, and resource management. Additionally, the platform integrates with over 1,000 other office applications.
Users may assign comments and assignments to individuals or groups within their teams. They may provide custom statuses to these comments and assignments. One may also monitor a project's status through an Agile dashboard or by an assignee.
The activity stream provides real-time visibility into tasks as they are generated and finished. Users may also set alerts to be delivered only when particular objects are accessed.
Users are notified when they are mentioned in a conversation by another team member, and comments may be modified after they are posted. Slack and GitHub are two integrations in the software.
Features
ClickUp is a cloud-based collaboration and project management solution suited for companies of any size or industry. Here are the best features of ClickUp:
Project management
ClickUp is a comprehensive toolkit for project teams to plan and oversee the completion of their work. Manage priorities, check deadlines, and monitor progress using a list view, a calendar view, and a Gantt view.
Teams may communicate effortlessly by adding comments to any task or document and then receiving alerts when changes occur. Dashboards are ideal for gathering information in an organized fashion and help keep track of schedules and budgets with time monitoring.
Agile Development
The platform has ClickUp features like bug tracking, sprint management, and product releases, enabling agile development teams to utilize it.
Users may also create Scrum dashboards. You can gauge processes by using various agile charts. Git integration, automated work sprint point system, syntax highlighting, and code collaboration are all features built into the code developers may use.
Remote Work
The benefit of remote work is that teams may continue functioning while working remotely. As a team collaboration tool, the application enables tasks to be assigned and handled, documents to be shared to set workflow, generate reminders, and monitor how jobs are going wherever they are.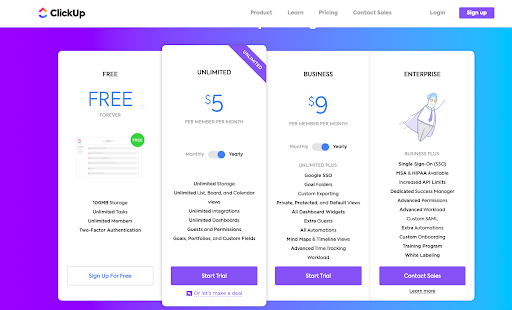 Pricing
While ClickUp does offer a free subscription, it restricts your ability to use the service. With the Free Forever plan, you receive five workspaces and a storage limit of 100MB. Additionally, you lose access to a large number of integrations (including Google Drive and Dropbox), as well as the ability to change file permissions.
If you need more storage or cannot live without a currently unavailable service, continue reading to learn about the features available on a premium plan.
Unlimited Plan
Unlimited, ClickUp's most affordable premium package, costs $9 per month per member if paid monthly, or $5 per member per month if paid annually ($60 total).
To provide context, monday.com's most affordable premium subscription is $8 per user each month. The Unlimited subscription has a restriction on mind maps and dashboard widgets. Included are the following:
Permissions for guests
maximum of 1,000 automation per month
Seven-day activity schedule with box views
Limited views and applications, such as Timeline and Workload
Business Plan
ClickUp's Business plan is $19 per month per member, or $9 per month per member if paid in full for the year ($108 total). Included are the following features:
Possibility of specifying necessary custom fields
10,000 automated processes
All views
Authentication using two factors
Enterprise plan
ClickUp's enterprise package is not priced in advance. Businesses interested in obtaining a quote must contact the ClickUp sales team directly.
Enterprise is oriented on the requirements of a larger company, most notably its security requirements.
While the Business plan is limited to two-factor authentication, the Enterprise plan includes custom single sign-on and legal review.
Additionally, you get superior customer assistance. What you receive in addition to the Business features is as follows:
100,000 automated processes
Priority assistance for customers
Examination of HIPAA compliance
Contract examination
Permissions for customized security
Pros
Appropriate for teams and individuals
Efficient dashboard view
Free version with all features
Customer-centric
Layout is user-friendly
Cost-effective
Unlimited members are permitted under the free forever plan
On all premium account levels, unlimited file storage is included
Cons
Overwhelming features and options for customization
UI needs more improvement
Only premium accounts have read-only guest access.
The reporting suite is only available on premium subscriptions only
Granular customization choices result in a lengthy setup process
Other Project Management Software Alternatives
Are you looking for ClickUp alternatives or competitors? Project management software is extensively utilized. Many individuals are looking for creative, time-saving software solutions for managing dependencies, resource allocation, and repeating activities.
Additional things to consider while evaluating ClickUp competitors include the user interface and project management. We've created a list of alternatives and rivals to ClickUp that reviewers selected as the best overall are Wrike, Jira, and Buildertrend.
Click is well-known among teams looking to operate more efficiently and effectively on a simple platform. Wrike is an excellent tool for managing teams, projects, and clients.
On the other hand, moving Jira settings or data from one Jira instance to another is ideal for an administrator or manager. Finally, Buildertrend is a resource for general contractors, builders, remodelers, specialists, and specialty contractors.
ClickUp's price remains competitive, starting at $ 5 per month with a free trial and free version. Then there's Wrike, which costs $9.8 a month and includes a free trial and a free version.
In contrast, Jira costs $10 per month with a free trial (no free version). Buildertrend is the most costly, beginning at $299/month with no free trial or free version.
Overall Review
Click is known for unlimited seats/users and offers robust tools for organizing and finishing all of your team's tasks in a centralized location. Users may use the centralized workspace to plan projects, schedule activities, manage resources, and communicate and interact with team members and visitors.
With so many project management systems on the market, ClickUp has to differentiate itself. Value for money is one of its primary unique selling propositions. While competitors' lowest-priced tires may cost $8-$9 per month, ClickUp offers a significant discount.