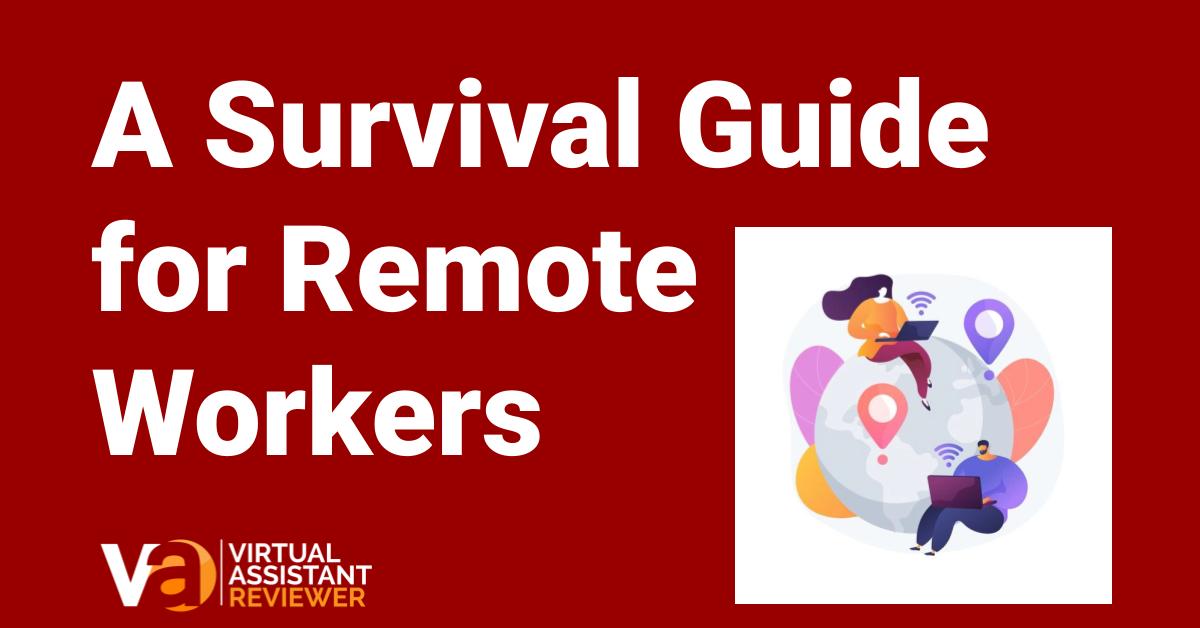 Burnout is the one thing many of us don't want to catch.
Working from home may sound like a sweet deal, but still working requires a considerable chunk of your time and effort. Working from home does not excuse you from low productivity, complacency, and subpar quality of work.
Some managers and executives demand more from staff working from home. Some are more skeptical of reasons given for delays as workers are left on their own, in the absence of close supervision once found in the traditional office space.
And as such, burnout is valid to all, whatever work arrangement we may have.
But as they say, we may not control the outcome, but we can always control the conditions in which we work. Prevention is better than cure. We hold the key to avoiding burnout from all the demands from work.
At the height of the pandemic, most of the population had to shift their focus as remote workers instantly. The lockdowns left many with no choice but to ride along the drastic change in how we work. Things were sudden and somewhat overwhelming to many degrees.
Mental health advocates quickly asserted that success in the workplace would follow those who stay attuned to their old work environment by sticking to what they know regarding coping with their previous office habits.
They also noted that it is essential to establish boundaries regarding personal life and professional responsibilities.
Working remotely is a privilege not many easily enjoy.
But flexible as it may be, it does not mean that there will be no challenges that await you while working remotely.
To help you survive the shaky early phase of your remote work journey, here is a simple guide that I have learned from my collective work experience and from remote worker friends I made along the way:
Follow a schedule
As said by the adage, humans are creatures of habit. Most of us yearn for structure in the way we live. And this is more than true for those who work remotely.
When the traditional work setup was king, the commute to work was a ritual that signified that you were on your way to starting another work day.
Now, as a remote worker, you have the opportunity to mold your schedule in the way you want it.
Plus, you got rid of the pesky commute time, and you can time your wake up just in time for the start of your shift.
And having the freedom to choose wherever you want to spend your work day can be liberating. But it can also be challenging to structure as the rigid office-based policies and rules are gone.
Establishing a more structured approach to how you face your day will save you from confusion and keep your momentum and well-being in check.
Assign your specific workspace
Working from home can blur the lines between your personal life and work responsibilities. Sharing a space where you work and loosen up can affect many remote workers' mental health.
So it has become vital that you create physical partitions to allow your senses to recognize the boundary between professional and personal.
If you're working at home, keep areas in your home reserved and divided between two things—spaces for working and spaces for living.
That means doing work duties in the kitchen or bed isn't encouraged.
Establishing this boundary can help keep remote workers from burning out. A dedicated workstation reinforces the urgency of completing tasks of the day.
Staying on your desk, for example, will lead you to want to kickstart your work. It won't make you idle at all.
Making clear distinctions across your living and working quarters is extremely important.
When you walk into a specific working space, this will evoke a signal in your mind that you must stay productive and work.
Certain areas in the home will also let the people living with you know when you're busy or not.
You Can Also Check: How to Work From Home with Remote Work
Take time for breaks
Remote workers often have the false notion that more time spent in front of the screen equates to more productivity. But that isn't the case at all.
In fact, this is the main reason why people get burnt out in the first place.
Physical manifestations also appear when your mind is under a lot of stress. Your muscles grow tense, and you'll feel pain.
One way to combat this is to give yourself time to recharge while working. Unfortunately, some remote workers overlook this need and fall prey to fatigue.
Depriving yourself of well-earned breaks will make you unproductive in the long run. To ensure that you stay on top of your break time habit in your work schedule, make it a point to honor your break time.
One of the joys of working from home is the liberty of finding your own pace when it comes to your daily schedule. You can practically do what you want while you're on a break.
Don't forget to inject more fun into your day. It will help you in more ways than one.
Hopefully, this will also make you realize how awesome it is to work remotely. Use your freedom wisely by finding more ways to step outside to refresh your mind, so you jump right back in and produce good work.
Staying all cooped in your workspace will make you irritable and much more sedentary.
Exercise
Doing exercises is one way to make remote work worthwhile. You can either have an intense workout regimen or walk around your neighborhood.
No matter how small or big the exercise or workout may be, it will still positively affect your overall energy level.
Remote workers can always look forward to a good exercise routine to stay focused and motivated. Exercise will help you become more fit and lean and is also an effective medium for reducing stress.
Becoming more active, feeling good, and looking good will go hand in hand.
You Might Also Be Interested: Healthy Work From Home Lifestyle Tips
Reach out when you need help
It is important to remember that no man is an island.
Remote workers often feel burnt out because of how isolating a work-from-home setup can be. You have no seatmates to talk to and office friends to share complaints. Also gone are the fun lunch breaks where you share funny stories with your workmates.
Reaching out to someone you trust is the first step to healing.
If it gets too much, seeking professional help is also the way to go.
Telehealth services have become a lot easier to access in recent years. Thankfully, getting the help you need is just a Zoom call away.
A safe space where you can freely express yourself will allow you to get fresher perspectives, enabling you to become more present for others and yourself.
Stay organized
Thanks to online productivity tools and various calendar apps, you can still keep tabs on your daily lists of activities effectively. It will help you become more efficient.
As for your physical workspace, decluttering your table is a great habit when you want to rid yourself of unnecessary items that no longer serve you. It will also breathe new life into your working environment.
New energy will flow freely, and you can be the best that you can be at work.
It's easy to get caught up with work tasks and chores, but if you stay organized, you can stay ahead of the game with no qualms. Knowing where your things are will not give you the peace of mind you deserve.
A clean and organized working space can help improve your quality of work immensely.
Unplug during non-working hours
To maintain a healthy work-life balance, you must never forget to take a step back and unplug from work-related things.
Stay consistent when picking a time you want to wrap up for work.
Avoid working in the wee hours of the night. Use your weekends mindfully by spending them with people you love the most.
Utilize them as your rest days, and always resist the urge to check your emails during non-working hours.