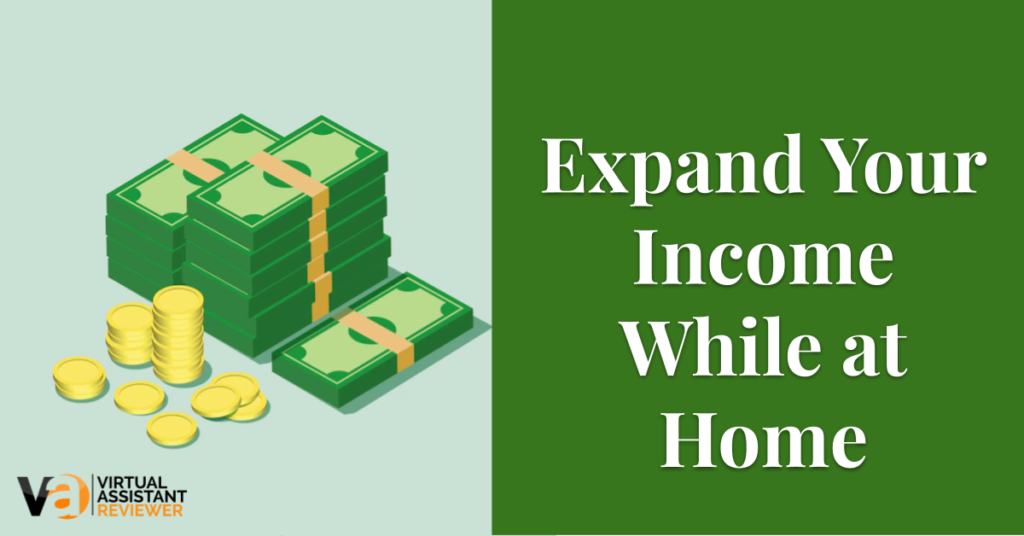 People nowadays are left wondering how to make money online from home. 
Seeing people go about their day clicking away on their laptops practically anywhere they want. It'sIt's a far cry from the traditional office work where staff is confined to their cubicles.
Luckily, learning how to make money online from home doesn't have to be a mystery anymore. People who crave flexibility and the perk of working anywhere they want can find lots of work opportunities online.
You are expanding your income while at home is a lot more attainable today than it was before. Are you ready to begin your job search?
This article will guide you to the most practical and popular online jobs and side gigs that can help you earn more while at home. Or better yet, at any place that sits well with you.
There will be no such thing as idle time once you know how to make money online from home.
Become a proofreader
Bloggers, authors, and even court reporters hire proofreaders to ensure that their content is free from error and doesn't have any grammar mistakes. To be a proofreader, you must be ready to lend your time as the final pair of eyes for your clients. It is a great side hustle, especially if you've already established some connections with your clients. You can even work on your projects in your free time. 
Be an audio file transcriber
Transcription jobs are either medical, legal, or even general. Some organizations require you to have experience in a specific field or industry. In this line of work, you will need to listen to audio files and create transcriptions into written material. Your rate depends on your experience, competency level, and your clients' industry.
Be a buyer and seller of domain names
These days, you can purchase a domain name and sell it on GoDaddy. The beauty of this business is that you can buy a domain name at a lower cost and sell it at triple the price. If you have a knack for cooking up catchy names for businesses and sites, domain flipping could be an excellent way to earn a steady profit stream. 
Become a website tester
Website testers share their opinions and reviews about a particular website's features. They also give their take on insights into the website's overall experience. This type of service helps companies improve. The feedback allows more room for growth so they can provide the best possible experience for those who visit, which can eventually boost sales. A platform like UserTesting helps individuals earn a couple of dollars by answering queries and providing feedback. 
Product flipping from online marketplaces
If you're lucky enough to score good finds on online marketplaces, you can buy them, spruce them up, and sell them at reasonable margins. Besides furniture, you can also find other items to flip, such as collectible favorites such as gaming paraphernalia and baseball cards. When you know how to make money online from home, you can find gold in any situation. 
Become an app creator
Most people don't know that becoming an app creator is possible, even when you don't have a developer or software specialist background. Working with an excellent idea is already enough. All you need is to source someone from Upwork, Fiverr, or Freelancer to help you with the technical side of things. 
Alternatively, there are platforms such as Appy Pie and Build Fire that can help you build your app even when you don't have any formal training and know-how on the fundamentals of coding. When your app is up and running, you can generate money when you put in-app ads on display, where you get to entice more users to go premium. If you're open to expanding, letting a more prominent company buy your app is also a win. 
You Might Also Be Interested: Online Jobs You Can Do as a Student
Managing Facebook ads for businesses
Facebook profits from letting companies place ads for their services and products on people's feeds. More often than not, small business owners haven't grasped the benefits of utilizing Facebook ads to support their business. Letting clients know how important brand awareness is will help you gain their trust and help you eventually grow your network. 
Become an ESL teacher
Teaching English as a Second Language (ESL) is among the most sought-after online gigs. VIPKid is a reliable platform that seeks native English speakers who can instruct English to young learners who primarily reside in China and other non-English speaking countries. Your performance in your demo interview and teaching background plays a huge role in the pay grade you will receive. 
Offer a private tutoring service
At present, there are thousands of remote tutoring platforms that are easily accessible. You can expand your income by teaching people and sharing your knowledge on things you are passionate about and know from the back of your hand. Want to start signing up? Sites such as Tutor.com and Wyzant are terrific places where you can build your clientele. 
Related Post: How to Apply for Online Tutoring Jobs as a College Student in the Philippines?
Become a seller on Etsy
Etsy is a haven for people who have a knack for creating artisanal items and vintage finds. To the delight of many entrepreneurial folks, this platform has become a great place where they can showcase their artistry while seeing their profit grow exponentially. Whatever you're into, Etsy has a buyer for you. This platform never runs out of potential items that you can work around with, from jewelry to house decor. 
Begin a dropshipping business
There has been a rise in the popularity of dropshipping businesses as more and more people shop online. Dropshippers gather products from makers and then sell these products online. Items are then delivered straight from the manufacturer and sent directly to the customer whenever an order is placed. Shopify has become a leading trailblazer in the world of e-commerce. 
To learn more about dropshipping, please read our comprehensive dropshipping guide.
Sell your photos
If you consider yourself a shutterbug, you'll be happy to know that there are sites like Adobe Stock and Shutterstock that pay people for photos. These photos are then sold to other brands and businesses as stock photos. The photos you take can be worth enough for you to build up your savings. In some cases, you don't even need to invest in fancy photography gear. You would only need a reliable smartphone, and you're good to go. 
Lend your voice
Do you have the gift of gab? Try becoming a voice-over artist. This profession only requires you to lend your voice to characters in video games, cartoons, and even commercials. If your voice is unique and pleasant to hear in front of a microphone, this gig can be an excellent option for you. A freelance site like Fiverr is a great place to start but if you want to be more focused on this career track, try visiting Voices.com.
Data entry specialist
As a data entry specialist, you must be able to input hard copies into spreadsheets. You might also scan documents and convert them into a program. There is no need to have formal training or a degree to qualify for this career. It is considered among the easiest ways to earn money remotely since the tasks can be done practically anywhere, as long as you have a suitable device and internet connection. Microworkers and FlexJobs are sites that present data entry job openings.