AskSunday is a US-based company that helps small and medium-sized businesses attain work-life balance and improve productivity.
To free your team members to concentrate on the big picture, AskSunday employs dedicated assistants to assist you in achieving perspective and clarity by doing ongoing chores for you. It's priceless to have a close working connection with a devoted personal assistant.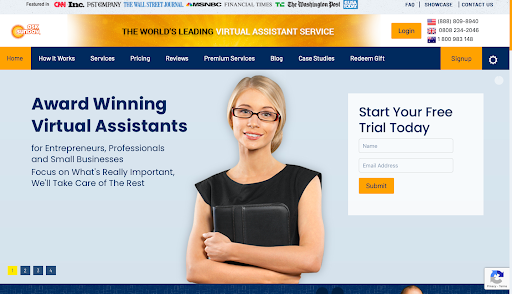 Brief Background About AskSunday
AskSunday is one of the most well-known virtual assistant businesses, having earned Tim Ferris' endorsement after his hugely successful 4-hour workweek self-help book series.
The business got widespread favorable publicity, was named one of Time Magazine's top ten websites of 2007, and bills itself as the world's "most award-winning personal assistant service."
Today, Jagdish Rangwani leads the business from its New Jersey headquarters. The virtual assistants work at the company's state-of-the-art contact center in Ahmedabad, India.
Their mission is to simplify life for clients and customers in the United States, the United Kingdom, Canada, and Australia by offering personal help through the Internet and telephone.
How AskSunday Works
The AskSunday Dedicated Assistant program provides a personal assistant to interested clients. With AskSunday, you can uncover your project needs, work style, and desired outcomes with a specialized virtual personal assistant.
Their dedicated assistants assist their customers in achieving perspective and clarity by removing ongoing chores off their to-do lists. The working connection that can be built with a reliable personal assistant is priceless.
A dedicated virtual personal assistant means receiving customized care without the additional costs of hiring new staff. They take care of all the taxes and insurance and don't need to bother about technology.
The Dedicated Assistant service assigns you a trained representative available via email, IM, and phone. Dedicated Assistants are accessible 24 hours a day, seven days a week, from Sunday to Friday.
They will only charge for time spent working on your project in 5-minute increments. In the AskSunday Portal, you can always check how much time is left in your mouth.
They use the Primary/Secondary scheme. You will always work with your Primary assistant. Still, if they are out, a secondary assistant who has been trained on your job from the start may smoothly finish your duties. This critical feature sets AskSunday apart from other DA suppliers and shows their scalability.
Follow these simple steps when you want to avail their plans:
Step 1: Input your personal information in the safe AskSunday Portal. A manager will contact you to welcome you to the service and help you choose the best assistant for your project. Your Dedicated Assistant will then call you to make introductions.
Step 2: Offload duties to your VA through email or phone. Give a deadline for completion.
Step 3: Your VA performs your job on time
Services
AskSunday offers various high-quality services, including graphic and web design, website building, SEO, content writing, corporate films and film production, marketing brochures and logo design, and much more.
These services are included in standard subscription plans but are charged at double the standard cost. Tasks for these services are scheduled at a rate that is double the actual time spent.
For instance, if a design job takes an hour to complete, your plan will include two hours to account for the additional costs associated with these services.
Pricing
AskSunday provides two distinct kinds of assistance: Dedicated Assistance and On Demand.
As the name implies, Dedicated Assistance will offer you a personal virtual assistant who will quickly help you with ongoing tasks such as online research, data input, and phone conversations.
Your personal assistant will be accessible through email and phone from 10:30 a.m. to 7:30 p.m. EST. Dedicated plans vary in price from $129 for 10 hours per month to $1199 for 160 hours per month (less than $7 per hour).
If you exceed your hours, you may purchase extra time at reasonable hourly rates or choose to renew your plan early. This solution is perfect for a virtual employee that works full- or part-time. You'll be able to assign assignments and oversee your VA's work via their comprehensive and secure web interface.
On-Demand Assistant starts at only $79 per month. It includes five hours of agent time, which is paid in fifteen-minute increments. One benefit of this arrangement is that your assignments are not restricted to 15 minutes, as with other virtual assistant businesses.
Agents are given tasks depending on their skill and availability, and they are available 24 hours a day. If extra time is required, it will be invoiced at a rate of $17 per hour.
However, like with any service, it is only worthwhile if you really utilize it. To alleviate this concern, Ask Sunday provides three hours of free specialized help as a "trial run" for clients interested in trying out their service without committing.
Pros
Award-winning VA platform
24×7 service
Primary and secondary dedicated assistants
With the free trial run for 3 hours
No commitments
Cons
Plans are relatively higher than other competitors
Other Alternatives
Business owners and entrepreneurs have relied on virtual assistants for decades, making them a staple in the business world. Fancy Hands and AskSunday enable customers to assign chores and projects to VAs.
They concentrate on company operations while VAs assist with personal duties, maximizing worker efficiency. Remote VAs perform the same job as in-office experts, typically faster and cheaper.
Fancy Hands is a 24/7 network that connects people and businesses with professional assistants for personal and executive duties. You may submit assignments from anywhere, whether you're at home in your PJs, at work, or on vacation.
AskSunday is available seven days a week, 24 hours a day. AskSunday gives you a personal assistant to help with scheduling, calls, research, and data input. Any service above that needs at least 80 hours per month.
Both systems provide personal virtual assistants capable of personal calendaring and everyday chores.
The executive-level duties (flight booking, data analysis, social media marketing, and management) are included in every strategy. Unless you pay extra and commit to 80 hours per month, AskSunday assistants will not perform executive duties.
Fancy Hands links you with virtual helpers. Your personal assistant selects you. Then you work with your assistant through the platform.
Overall Review
Using the AskSunday Dedicated Assistant program, you'll be assigned a personal assistant who will only work on your projects. If you have a specific need, a virtual personal assistant will get familiar with your working style and how you like your outputs.
A dedicated virtual personal assistant that delivers personal and customized assistance is much less expensive than hiring a new employee. With no worries about office space, health insurance, or 401(k) contributions, you can focus on what's important: making money.
When you use the Dedicated Assistant service, you'll have direct access to a knowledgeable agent who will respond to your emails, instant messages, and phone calls. Assistants are on hand 24 hours per day, seven days per week from Sunday to Friday.
Have you used AskSunday before to hire virtual assistants? Would you please leave a review below and rate the company to tell everyone about your experience?