Task Virtual is a Kolkata, India-based virtual assistant and outsourcing/offshoring services provider founded in 2016.
It's relatively uncommon for people to have jobs and projects requiring administrative work like data collection and analysis or recording and typing. 
Other common occupations include producing articles, managing websites or social media accounts, answering emails, or providing customer support services.
Clients may ask the assistants for short-term tasks and long-term projects that might continue for months or even years, and there is virtually no limit to the projects they can do.
Task Virtual is your right-hand fit for this kind of virtual assistance. They provide a wide variety of services to assist you in growing your company more effectively. Get your everyday chores organized with their virtual assistant and receptionist services. 
It offers you an edge in today's digital environment. Aside from concierge service and a wide range of other benefits are there to assist you in any way they can.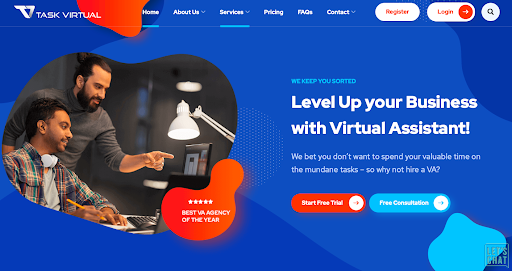 Brief Background About Task Virtual
In 2015, two buddies had a fresh idea for a project. At a networking event with a passion for entrepreneurship, the founders met and clicked right away.
The first was well-versed in managing administrative and marketing tasks. On the other hand, the other was a master at creating new products and services while also knowing the customer's requirements.
Together, their relationship blossomed, and so did their business plans. They started a virtual assistance firm to enable developed nations to outsource their labor to India without the bother of recruiting and developing infrastructure to support in-house workers. They might just outsource everything to this firm for a fraction of the cost.
Then in 2016, Task Virtual was born, based in Kolkata, India, and quickly began serving customers from all over the globe!
The company's development trajectory shifted a little as the journey went on. Still, nothing was going to deter these two determined entrepreneurs! Task Virtual has always focused on delivering a high-quality service with a strong sense of enthusiasm and detail. 
It's now associated with high-quality work produced by professionals who place a high emphasis on expertise, accuracy, and perfection, as well as sticking to deadlines.
Each member was carefully hand-picked from a pool of candidates to ensure that the Task Virtual team has the most significant talent, experience, and commitment. To provide fast virtual assistants, dependable support, and excellent service standards to customers worldwide was once just a fantasy. Today that vision has come to life.
How Task Virtual Works
Once customers decide on the kind of VA they want, they may begin working with that VA right away.
When customers use a search engine to choose a virtual assistant, they should be specific about their desired candidate. It's also a good idea to provide facts and details about the project or job that the VA will be responsible for completing.
Project information such as due dates, amount, software and programs that are needed to render services, and the expected abilities that the VA needs to possess.
If you're still unsure as to what Task Virtual has to offer, you can see for yourself by taking advantage of their FREE 3-hour trial, which is valid for two days. You may only subscribe to their premium plans after you've tried their free ones and have been satisfied with the quality of the services.
Refunds are also possible upon compliance with its specific return policy. To discontinue their services, just let them know before your next payment date that you no longer wish to work with them any longer.
As long as you claim the refund within two days of the purchase, you'll get 85 percent of the membership price back on your credit card. Once the two days have passed, you will not be eligible for a refund, but you will be able to use the bought hours for the following 30 days after purchasing them.
Services
Task Virtual's virtual assistants may assist a wide variety of jobs that include the following: 
Admin assistance
Management of social media
Writing and researching content, data entry, and email management
Additional services include: assistance with technology
Real estate management
eCommerce management
social media management
If you need assistance with a long-term project, they may provide custom estimates. The more information you can give to virtual assistant businesses, the stronger your connection will be. Give your assistant as much input as possible and be as specific as possible.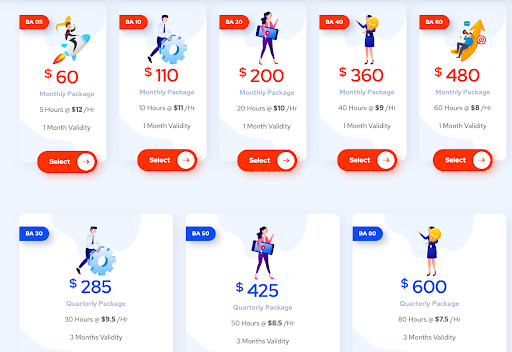 Pricing
Task Virtual has eight distinct packages to choose from. 
All options are ongoing monthly subscriptions that you may cancel at any time.
The rates are determined by the number of hours in a month, which are as follows:
$60 for 5 hours ($12 per hour)
$110 for 10 hours ($11 per hour)
$200 for 20 hours ($10 per hour)
$360 for 40 hours ($9 per hour)
$480 for 60 hours ($8 per hour)
$285 for 30 hours – valid for three months ($9.50 per hour)
$425 for 50 hours – valid for three months ($8.50 per hour)
$600 for 80 hours – valid for three months ($7.50 per hour)
In addition, they provide flexible packages:
Full-time – $999 per month for 160 hours ($6.24 per hour)
Part-time – $699 per month for 100 hours ($6.99 per hour)
Pay As You Go (PAYG) – $15 per hour – No commitment, no minimum, and no limit on the number of hours
If your job requires particular expertise and is also somewhat time-consuming and repetitive, it comes under Business Assistance. Several examples include content creation, research, presentation preparation, social media management, and market analysis.
Suppose your job has a deadline or a specified period for completion. In that case, a quotation-based Project Assistance plan is your best option. All their plans are monthly, so there are no long-term obligations involved. You may join or cancel at any moment.
Pros
Wide service range
24×7 availability
Dedicated virtual assistant team
Expert and professional team
With free trial
With refund policy
No commitment
Cons
Issues in language barrier for clients who want oral English fluency
Different time-zone
Other Alternatives
OkayRelax is quite similar to other virtual assistant startups but with a distinctive edge. It offers plans that render services on a per-task basis instead of the standard hourly rates.
The cheapest plan costs $99.95 per month covers 25 tasks. The more tasks you want, the higher the pricing plan you need to avail yourself.
If you want another task-based online job platform, you may try MyTasker.
MyTasker is a small to medium-sized administrative staffing business which offers its products and services to companies that provide administrative support.
MyTasker sometimes includes discount codes and discounts to its clients. Although the price and plans are not transparent, it's one of the downsides of their competitors. Nevertheless, you may compare the service with other platforms in terms of pricing.
Previously, they offered a Free Trial with a limited number of free hours. However, They now provide an "Exclusive Trial" that allows their customer to use our resources to establish their work process, communicate their instructions, and conduct a thorough assessment before proceeding with any of our hourly plans.
If you're looking for virtual assistant providers and outsourcing platforms that offer remote workers from India, you can also check Acelerar Technologies, VirtualEmployee, and Wish Up.
Overall Review
Task Virtual is an Indian virtual assistance firm. When working on this platform, most of the assistants are Indian nationals. Still, they are all well-versed in the latest administrative software and applications. 
Even though this is a new business in the virtual assistance industry, the assistants have been carefully selected and have a great deal of expertise.
In contrast to many others in the virtual help industry, this business is not fussy about the jobs and projects that customers ask for and inquire about.
Overall, every project and job is completed as quickly and accurately as feasible. And that they gradually develop and earn their respect and integrity with each completed task.
Have you used Task Virtual before to hire virtual assistants? Would you please leave a review below and rate the company to tell everyone about your experience?