FreeUp is a US-based marketplace for pre-vetted virtual assistants, freelancers, and remote workers primarily for e-commerce, digital marketing, and web development.
---
FreeUp is a marketplace that connects pre-vetted virtual assistants, freelancers, and agencies in e-commerce and marketing, offering them to clients to assist in several projects. However, FreeUp claims to only allow 1% of all applicants into their network of top-tier virtual assistants and freelancers.
The company proposes to solve employers' hiring problems. It does the interviews of candidates and applicants, and upon employer request, it provides the pre-vetted and qualified freelancers.
Gaining a fair amount of leverage since beginning in 2015, they've battled it out with a few of the industry's more significant, more established companies. In addition, freelancers, virtual assistants, and agencies worldwide are on the site, most of whom reside in the Philippines and the United States.
Virtual assistants that can fit your budget and outsourcing needs can be found here. Virtual assistants are the ones who determine their pricing on the marketplace, and there are no membership fees or hidden costs to join.
Brief Background About FreeUp
The Hoth bought FreeeUp (formerly the business name) towards the end of 2019. The digital marketing agency has used the platform frequently, and it sees the platform's growing potential.
Nathan Hirsch and Connor Gillivan served as CEO and Chief Marketing Officer until the recent acquisition of the business. Both John and Gerald have a deep understanding of e-commerce due to their considerable involvement in the industry, having sold over $25 million on Amazon. In addition, as founders of the firm, they've worked to help other e-commerce businesses to find ways to outsource their workloads.
Unique Proposition of FreeUp
Only the top 1% of candidates enter the marketplace due to its stringent interview procedure. While other freelancing sites often use a browsable database of virtual assistants, this one doesn't.
You make a request, and, on average, you will meet one individual who matches your qualifications within one business day. In contrast to the default, you can specify how many alternatives you wish to get, and the system will ensure you receive the required number.
Client turnover is protected on the backend by the firm. If a virtual assistant is unable to work with you in a rare event, FreeUp instantly and completely replaces them and pays all associated replacement costs. The team behind FreeUp is well-known for its excellent support service, which provides help 24/7.
How FreeUp Works For Freelancers/Virtual Assistants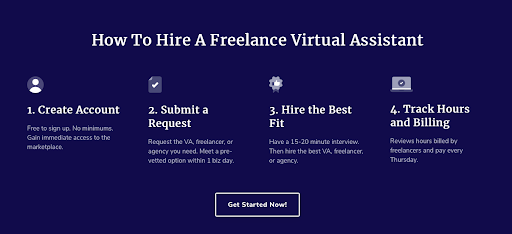 Thousands of businesses worldwide are looking to hire the world's finest talents. And now they can do it with more ease because of the platform created by FreeUp. But how can a worker or freelancer apply and join the elite 1% of virtual assistants? Simply check out the following steps:
Register your account and enter your information to be a part of the FreeUp Marketplace. The Freelancer Success team will reach out to you within one to two days with an invitation for an interview.
You'll be scheduling a meeting with a FreeUp representative, and you'll chat with them for roughly 30 to 45 minutes discussing your work history, essential skills, and communication techniques. If you get to receive an invite to the final step of the application process, you will be contacted in less than 24 hours.
A copy of FreeUp's Freelancer, Best Practices, and Terms of Use will be made available to the applicant to review and understand. After passing that examination, the freelancer will undergo a follow-up assessment to reinforce his or her knowledge of the subject matter. To earn acceptance in the FreeUp community, one must first pass the test.
You can set a payment method in your FreeUp account by logging in and going to your settings. A FreeUp support team will connect you to the marketplace with a FreeUp account.
Inside the platform, you can receive notifications on requests for services from interested clients. You can also use your FreeUp account to view tasks under the Open Projects Board, and then apply for work that matches your skillset and hourly rate.
Once you get paid, you may transfer money to the bank account you have set up every week.
The billing cycle starts on Wednesday and lasts until the following Tuesday.
Receive payments into your bank account every Thursday following the summary of your billing cycle.
Levels of Freelancers
Freelancers and virtual assistants using the FreeUp Marketplace provide services in more than 100 different skill sets, ranging from $5 to $100 per hour. Fixed-price projects are also available through the marketplace. They concentrate on four primary areas:
Business Operations
Ecommerce
Digital Marketing
Web Development
How FreeUp Works For Employers
You may join the FreeUp community and sign up for a free account to immediately get access to more than hundreds of pre-vetted freelancers.
The support team will contact you generally within 24 hours. They will link you with the perfect match if you answer a few questions.
To find out whether they are a good fit, do a brief interview. Then, proceed with the interview of the freelancer you're introduced to by setting it up for fifteen to twenty minutes.
Once you've chosen a freelancer, schedule a meeting where you set expectations about the hours you've approved, the completion dates, and the methods of contact.
Review your weekly hours worked, and the site will take care of the payment immediately. Each week, FreeUp's billing period runs from Wednesday through Tuesday.
Plans and Pricing
Workers here use freelancer pricing, which sets individual prices depending on skill levels. Entry-level professionals often charge $7 to $12, whereas mid-level professionals charge $10 to $30, expert professionals charge $30 and above. On the other hand, the site charges a 15% commission.
The commission fee charged by FreeUp will add to the overall rate billed to the client. In short, the billing to the client is the total amount charged by the freelancer plus the 15% commission fee, the minimum of which is $2.
Pros
Rigid screening of freelancers
Provide clients hands-on experience during the hiring process
Allows employers' skipping the applicants profiling process
Simplified process of matching freelancers to clients
Held high standards with FreeUp Best Practices duly agreed upon by freelancers
Cons
Stiff competition among freelancers
No control over the hiring process
Much smaller job marketplace than other competitors
No free-trial
Other Job Portal Alternatives
The charges for non-US freelancers versus US-based freelancers are cheaper in FreeUp.
However, the rates for non-US-based freelancers are significantly more expensive on FreeUp, when compared to other virtual assistant marketplaces such as VirtualStaff.ph.
On VirtualStaff.ph you can choose from hundreds of thousands of virtual assistants and remote workers in the Philippines. You can read our VirtualStaff.ph review to learn more about it.
FreeUp can also be compared with Prialto, ClearDesk, or Remote CoWorker.  There are also many platforms to find remote employees' resumes and profiles like Upwork or LinkedIn. These websites have varied offerings and value-added services that you can compare to, which is more beneficial. But you have to look for one thing — dependability. 
It is already an established brand in the outsourcing industry. If you are looking for an established company with a reputation for vetting top-tier virtual assistants and online freelancers, FreeUp might be a platform worth considering.
I'd consider comparing the following three providers:
Overall Review
FreeUp makes it possible for businesses to hire more quickly and more efficiently. Their vetting process removes hundreds of ineligible applicants through their rigorous screening procedure. As such, you as an employer or business owner can focus on competent and qualified prospects that match your requirements.
By eliminating the tiresome and time-consuming aspects of the employment process, FreeUp shortens the recruiting timeline. As a result, FreeUp might assist you in finding a suitable freelancer in a fraction of the time it would take you to do it on your own.
However, if you are more specific in regards to wanting to hire virtual assistants or remote workers in the Philippines, then we would suggest VirtualStaff.ph as a better alternative.
---
Have you used FreeUp before to hire virtual assistants? Please leave a review below and rate the company to tell everyone about your experience.