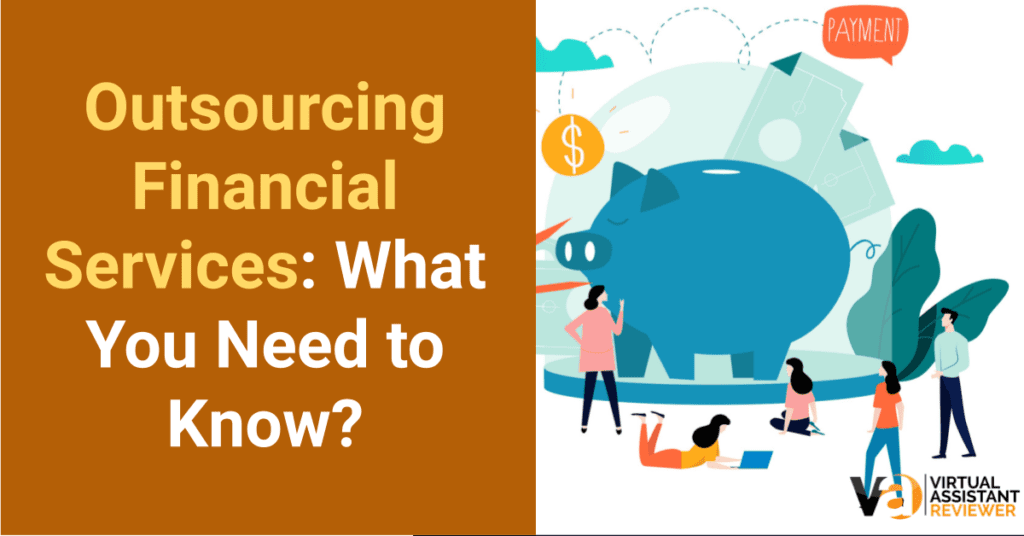 In today's economic environment, staying one step ahead of the competition could mean the difference between success and failure. Whether a small one or a large corporation, running a business comes with its own set of challenges and rewards. But whatever size or industry, finance is vital in many ways.
Financial services are essential for any organization, from payroll to monthly accounts. Therefore money and resources are spent on employee training and hiring qualified accountants to handle these responsibilities.
Maintaining an in-house accounting team, on the other hand, can be costly and time-consuming, especially for small and medium businesses (SMEs) that must manage their resources efficiently.
Outsourcing provides flexibility in responding to market volatility and dealing with the fluctuating nature of money collected. It also eliminates the added costs of training employees or purchasing expensive accounting software.
A company would employ an in-house team of accountants, and the number of accountants employed would increase as the company grew. As a result, additional infrastructure and resources are required. This ever-increasing expense is offset by hiring an outsourced firm with a team of experienced accountants.
This article will cover all you need to know about outsourcing financial services, including its advantages and disadvantages. We'll also guide you to choose the ideal outsourcing provider for your business needs.
What is Financial Services Outsourcing?
Financial services outsourcing refers to outsourcing various financial and accounting functions in their broadest sense.
This type of outsourcing typically includes back-office tasks such as:
Financial analysis  
Managing accounts payable and accounts receivable  
Bookkeeping 
Risk management
Reasons Why Companies Outsource Financial Services
Typically, financial processes are complex
Accounting and supply chain finance management are two processes that necessitate a great deal of knowledge and experience. Thus, many businesses prefer to outsource them to a specialized financial institution rather than putting inexperienced in-house staff on the job.
Keeping Current with Technology
Outsourcing services typically use the most up-to-date software to perform the finance function, allowing you to take advantage of their constantly updated infrastructure.
Increased Productivity
Instead of outsourcing complex finance tasks, you can devote your time and resources to your core business activities.
Resilience in Operations
Since you can scale up or scale down your outsourced processes at any time, outsourcing protects you from the operational risk of a volatile market or unforeseen circumstances like the pandemic.
You Can Also Read: What is Finance and Accounting Outsourcing?
Advantages of Outsourcing Financial Services
Financial adaptability is essential
Outsourcing assists businesses in determining and selecting the services they require. They can hire full-time staff or pay for the services provided by the outsourcing provider.
Fixed costs can be converted to variable costs, freeing up capital for other projects. The ability of a firm to outsource can make it more appealing to investors since it allows the company to put more resources directly into revenue-generating operations.
Flexibility in management
A third party will handle your accounting processes if you outsource. It means that someone else will manage your accountants while you get to concentrate on your company's core personnel. You can add and subtract headcounts whenever you like.
The business's efficiency will improve
Accounting is not something that all business owners are familiar with.
The accounting department is responsible for ensuring that the firm runs appropriately. Companies no longer must bear the burdens and difficulties of accounting when accounting services are outsourced.
Company owners can focus on other aspects of the firm without jeopardizing the accounting department's excellence.
The chance to use excellent global resources
In the outsourcing business, there are large pools of available resources worldwide. The organization might share resources with the outsourcing provider while using accounting services outsourcing.
SMEs and startup enterprises will access cutting-edge technology that is often prohibitively expensive. Accountants that are highly skilled and competent are no longer exclusive to large international businesses. With outsourcing, smaller entities can now access top-notch talents that were initially limited if sourced locally.
NOTE: Apart from the advantages enumerated above, you should also consider the payment system. Aside from the actual fees charged by the accounting company, you should know whether these fees will be charged as fixed monthly rates or as a lump sum bill at the end of the year. A fixed price is more manageable for many businesses and helps them plan their finances better.
You Can Also Check: Payroll Outsourcing: How Does it Work and Should You Consider It
Disadvantages of Financial Services Outsourcing
Let's look at two significant downsides of outsourcing your financial services now that you know how outsourcing might benefit your business:
Communication Barriers
Maintaining effective communication with outsourced employees might be tricky because they do not work in the same office as you. It's simple to hold meetings or even impromptu conversations in an in-house accounting department.
You must approach them and ask for what you require.
With an outsourced accounting team, however, this will not work. Whether you choose an onshore or offshore outsourcing company, you could be in a completely different time zone than your financial team.
If you are in the United States and your outsourced workforce is in India, their working hours will naturally differ from yours. Understanding and repairing communication gaps is critical for efficient operation.
To get the most out of your outsourced finance and accounting business, use a comprehensive communication platform and make sure you communicate your expectations and demands.
Language and Cultural Barriers
Compared to your in-house finance team, your outsourced finance team may have a different work culture and rules. In such circumstances, you must guarantee that your financial services provider processes your financial data or personal information under the same regulatory obligations as in-house staff.
To ensure everyone is on the same page, you may establish a guidelines paper or hold an onboarding session with your outsourced workforce.
Consider any language hurdles between your internal team and the outsourced crew. Consult your outsourcing provider and work on a test project to confirm that none of these factors affect your productivity.
How To Choose the Ideal Outsourcing Provider?
While there are some disadvantages to outsourcing your financial services, it still makes sense for most businesses. If you are interested in outsourcing, you need to select the best outsourcing provider that fits your needs.
Here are some fresh tips to help you choose the ideal outsourcing provider:
Define Your Business Outsourcing Goals
Before you outsource, you should clearly define the business goals you want to achieve through outsourcing.
Please list the items you want to outsource, how you want them handled, the areas where you need assistance, and how the outsourcing will fit into your current business process. It will assist you in outlining the services you provide.
Service and Cost Comparisons
One of the most significant benefits of outsourcing is cost savings. Your company's bottom line will benefit from the lower labor costs.
However, you get what you pay for, and going with the lowest vendor isn't always the best option.
Compare the many services provided, what they entail, the types of staff you'll receive, where they'll be located, and how they compare to other businesses. It isn't to argue that the cheapest option isn't the best; however, it's necessary to consider factors other than price.
Read Client Testimonials and Reviews
It's tough to tell if a service provider will meet your needs before hiring them. Examine the other clients for whom the outsourced service provider has previously worked and the quality of their work.
Keep an eye out for companies that are incomparable industries to yours or that have similar financial service/financial industry requirements.
Check out other customers' opinions about the outsourcing company's performance, workers, and work quality. Use these impressions to cut down your options to no more than two or three financial services outsourcing companies.
Be Aware of How They Communicate
In everything, you must be able to communicate effectively. Instead of a company that is solely concerned with task completion, search for an outsourcing company that wants to become a partner and work with you to help your business succeed.
Would they, for example, be aggressive in reaching out about improvement projects, cost-cutting ideas, accomplishments, internal controls, and other such actions?
Working with an outsourcing company that cares about their clients' success, just as you do with your own, will result in a happy and successful business relationship.
Takeaway
Outsourcing allows businesses to concentrate on their core competencies while completing secondary, repetitive, and menial jobs. It could be a cost-effective solution that improves the overall operation of your insurance firm.
You will boost your chances of success if you take your time and think about what you need from an outsourcing partner and complete your due diligence.
Keep in mind that the most excellent outsourcing partner for you understands your business, prioritizes to meet your needs, and provides you with the most output and efficiency.