TaskBullet is a flexible virtual assistant service provider that offers no contract commitment, transparent pricing, and "bucket" hours system that is perfect for intermittent work hours.
---
The pandemic not only rendered physical offices obsolete but has also transformed many office workers into remote staff. According to a recent PwC research, more than half of American employees said they would prefer to work remotely at least three days a week, even before the pandemic.
As a response to the growing number of people working remotely, companies are now hiring virtual assistants, who are particularly trained for routine-based tasks.
A virtual assistant can be a freelancer that assists clients remotely, typically from a home office, to render administrative, clerical, or sometimes technical tasks. With a focus on customer service, real estate, data entry, and admin support, Taskbullet.com offers virtual assistants to entrepreneurs by providing buckets of hours to be drawn by an assigned virtual assistant.
Brief Background About TaskBullet
The company was formed in 2013 and has slowly risen to prominence in the virtual assistant industry. The company is located in the United States and employs workers in the Philippines.
With TaskBullet, virtual assistants may work from home or the company's secured and Payment Card Industry (PCI) Data Security Standard compliant locations, usually the case to those handling inbound and outgoing calls.
The project managers are also from the Philippines, and a customer support team situated in the United States is available for support.
Virtual assistants at TaskBullet are said to have undergone a rigorous hiring process. The company is specifically invested in hiring virtual assistants perceived as quick learners and have advanced English communication skills.
TaskBullet uses the "Bucket System" for purchasing hours, ensuring no monthly contracts, no long-term commitments, or hidden fees.
How TaskBullet Works
TaskBullet promises no contract and no hidden charges. It charges clients with a Bucket System. And how does this Bucket System work?
Upon signing up, you're going to buy the number of hours required to accomplish the job, and your virtual assistant will work those hours. You will simply pay the bucket's corresponding fees. When the virtual assistant depletes the bucket's hours, you may either buy another bucket and continue or take a week off. It is flexible and doesn't bind you to a fixed monthly contract.
The bucket's hours are valid for three months. After purchase, you can use the hours for whatever task you can assign to your virtual assistant as long as within three months. After three months, these hours expire, so you must utilize your virtual assistant within this period.
My favorite part with TaskBullet is its 60-day money-back guarantee. It is beneficial when you find the assigned virtual assistant doesn't fit your needs or business. TaskBullet will reimburse you the worth of your bucket's unused hours if such a claim is made within 60 days from the date of purchase.
What do you get when you accumulate a bucket of hours? First, you may hire a virtual assistant, and you'll be given a dedicated project manager to work during your business hours. For concerns or emergencies, you may also contact TaskBullet's 24/7 customer service for help or assistance.
Task Delegation
TaskBullet uploads and monitors tasks using Basecamp as its primary project management software. It is straightforward to use and a practical work management system. They'll send you an email asking you to create a free TaskBullet Basecamp project upon signing up. This way, all your tasks, data, and communication are dispensed in a centralized application.
How to Begin
Getting started with TaskBullet is a simple process. You can submit job postings within 24 hours after you sign up.
They schedule a welcome call for all new signups, during which they demonstrate to you the use of Basecamp and assist with uploading your first assignment. After that, they'll send you an email inviting you to schedule a call with one of their onboarding virtual assistants.
Services
TaskBullet's virtual assistants are experts that can perform various tasks. The following are the services that TaskBullet's virtual assistants perform:
Data Entry
Online data entry services can help you with tedious but necessary clerical tasks of entering data into a spreadsheet or specialized software. This job requires the ability to type in a quick manner while maintaining accuracy and attention to detail.
Admin Support
When running a successful or a growing business, you would be flooded with many administrative tasks that need to be done on a regular basis, such as:
managing payroll and timesheet
ensuring business licenses are up to date
human resource tasks
renewing software licenses
taking care of employee reimbursements
These tasks are manageable to perform personally by any business owner, but it's time-consuming. To free up your much more valuable time, you'd need to hire a cost-effective administrative virtual assistant to maximize the value potential of your time and focus on more critical business needs.
Real Estate
TasksBullet provides virtual assistants to help real estate agents manage their day-to-day tasks, but the assistants don't know you, your workflow, or how you want things done, so they need some training. However, with their previous experience with most software tools real estate brokers use, training them wouldn't take so much time.
Social Media
Promoting your business and connecting with consumers and prospects on social media platforms requires a constant presence. Day and night, people tweet, update their Facebook status, and surf on Pinterest. Your social media virtual assistant would be responsible for scheduling posts, designing banners, or refurbishing website content for the social media channels. Their goal is to build a following and promote your business.
Web Developer
When you run an internet business, many activities tie you up with the development and management of your website. A web developer virtual assistant would come in handy. Instead of contracting a full-time developer, you can enjoy TaskBullet's unique "bucket" hours, where you only utilize hours when you need them.
Marketing Services
Your dedicated virtual assistant can help you finish those marketing tasks such as social media administration, content development, email marketing, graphic design, web design, and listing management.
Sales Assistance
A busy business owner may not always have the time to carefully enter sales information into customer relationship management (CRM) software. Due to hectic workload and haste, some mishaps could result in the loss of leads and possible future sales. Hire virtual assistants to divide the workload and make sure income does not fall through the cracks anymore.
Internet Research
Intensive research is often needed to properly run a firm and drive performance to the next level. There are always more things to research — knowing your target market, performing competition intelligence, and discovering industry benchmarks. Luckily, your virtual assistant can compile information found on the internet, collect them, and present them in easy-to-digest material.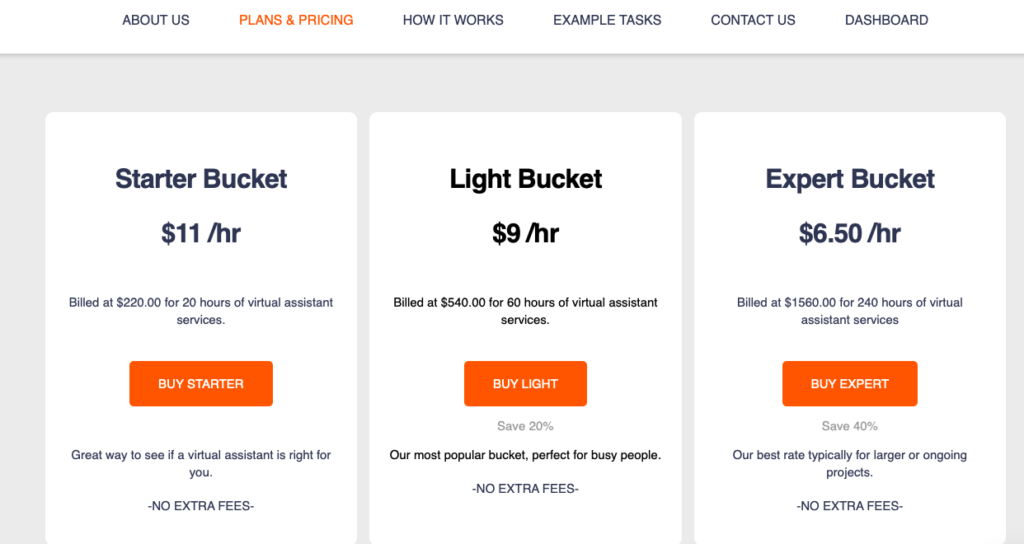 Plans and Pricing
TaskBullet's rates start at $6.50 per hour when you purchase a 240-hour block for six weeks of full-time support.
However, many TaskBullet clients begin with the "Starter Bucket," which includes 20 hours of support for $220 ($11/hr). The "Light" plan costs $9 an hour for a bucket of 60 hours.
Customers are not invoiced on a recurrent monthly basis but may renew, upgrade, or decrease their hours at any time.
The plans and pricing strategy make sense if you do not have a steady weekly workload. And if you do not have routine duties to delegate, you now have a cost-effective option of availing an adaptable virtual assistant service by utilizing TaskBullet's bucket system.
Pros
No contracts are required, and there are no monthly costs
90 days to consume your bucket's hours
Additional hours are not purchased until your current bucket is fully depleted
You can work as many or as few hours per day/week/month as you choose
A dedicated virtual assistant to work during your business hours
A dedicated project manager to work during your business hours
24/7 customer support
60-day Money-back guarantee
Cons
Not recommended for a full-time virtual assistant
No free trial
No complete control in the hiring process
Other Job Marketplace Platform Alternatives
Other alternatives to choose from for hiring virtual assistance are Clear Desk, FreeUp, or Remote CoWorker. Again, you may compare the pricing and best features and see what's best for your business needs.
FreeUp hourly rate ranges from $5-20, Remote Coworker hourly charge is $6-8, and Clear Desk charges the employers from $16-18 per hour. You can have a dedicated virtual assistant from all these job platforms, but not all offer the same flexibility as TaskBullet's bucket hours.
Overall Review
Taskbullet.com is a virtual help service that connects clients with virtual assistants that can complete daily digital chores without a long-term commitment. Its bucket system makes it more convenient and practical for employers whose needs don't need full-time work to utilize TaskBullet's hourly system. For project-based businesses, it's more cost-effective for them to hire expert virtual assistants from TaskBullet's unique approach.
Have you used TaskBullet before to hire virtual assistants? Please leave a review below and rate the company to tell everyone about your experience.