Accounting is one of the most common positions now offered to virtual assistants. They have now earned their title — virtual accountants and virtual bookkeepers. Working for remote accounting pays well, and the positions are relatively on the higher end of the pay scale.
But accounting isn't an easy profession. Virtual assistants would need to brush up, from time to time, certain concepts or accounting rules. As such, online accounting courses can be helpful in keeping with the demands of work.
If you are not well versed with accounting, but you want to work as a virtual accountant or virtual bookkeeper, here are some of the curated free accounting courses for virtual assistants that you should take:
University of Virginia Darden School of Business
The course will help you understand financial accounting and other related information to aid management decision-making. It will cover cost allocation, cost-volume-profit analysis, and cost-benefit analysis before making crucial business decisions.
As a virtual assistant, you can become an integral member of your client's business if you can contribute valuable inputs in understanding the company and its financial performance. The course deals with the fundamentals of managerial accounting, so a beginner or one without an accounting background can still follow.
It covers 13 hours of lessons. It has subtitles in Arabic, French, Portuguese (European), Italian, Vietnamese, German, Russian, English, and Spanish.
University of Virginia Darden School of Business
The course introduces financial accounting and the three most commonly prepared accounting output, the financial statements — Balance Sheet, Income Statement, and Statement of Cash Flows. The lessons will teach you how to analyze these financial statements and make conclusions about the financial performance and condition of your client's business.
A virtual assistant with an understanding of financial accounting can now start training for bookkeeping courses. Your knowledge is a requisite for you to appreciate the bookkeeping and record-keeping aspect of the profession. In this course, you get to understand the following:
Journal entries
T-account
Summarize transactions
Prepare financial statements
Draw conclusion from the figures in the financial statements
READ MORE: Best Courses for Virtual Assistants for 2021
Khan Academy
A virtual assistant with an understanding of personal finance and investment principles can work for an investment company or an investor. A virtual assistant can also the knowledge for personal investing endeavors. The course covers the following concepts:
Treasury bonds
Consumption
Mortgage loans
The market value of assets
Completing this course can lead to more employment opportunities. A virtual assistant working as a tax advisor can increase the rate or pay rise than working as a general virtual assistant.
University of Michigan
The course breaks down accounting to its most fundamental level allowing you to apply the essential components of accounting into your day-to-day operation. The lessons will deal with more related nuances of business, such as maintenance of inventory and making a sale.
Approximately 29 hours, this intermediate course can an excellent follow-up to Financial Accounting Fundamentals mentioned above. But the lessons are easy to understand that you can take it as a stand-alone course.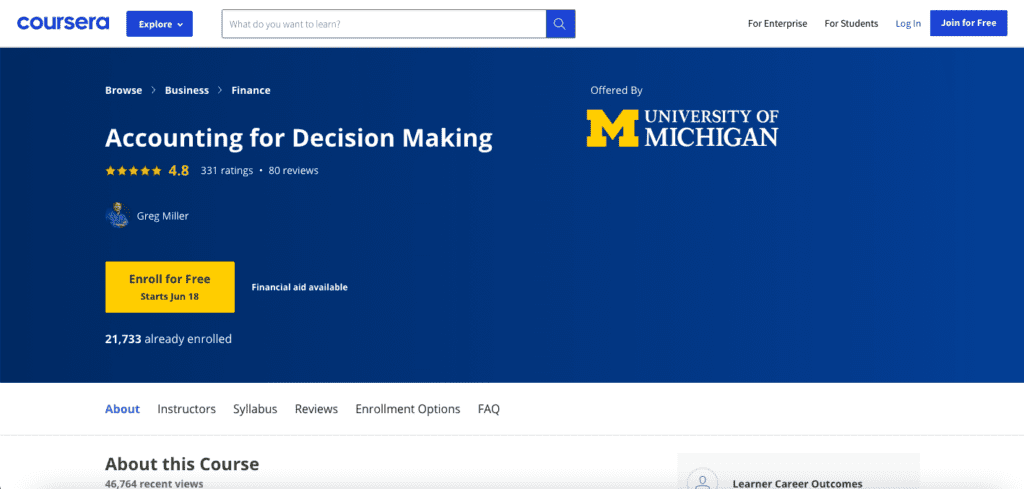 After completing these courses, make sure to add them to your qualifications. The certificates will surely boost your resume as you apply for virtual assistant positions or remote jobs in the field of accounting and taxation.