VirtualEmployee is a top virtual assistant and outsourcing company based in India with offices in Delhi NCR and Birmingham in the United Kingdom.
New technologies assist companies in achieving their objectives in creative and more efficient ways.
Many businesses worldwide, especially in western countries, found that using virtual assistants to handle administrative tasks and other time-consuming business duties helps them operate more effectively while effectively managing costs.
One of the top countries with affordable online workers is India, a leading outsourcing destination for decades. Thousands of virtual assistant businesses in India can link you with the massive number of online workers in the Indian subcontinent.
One of these companies is VirtualEmployee or simply VE.
VE promotes creativity and pushes virtual assistants and online workers to search for novel but highly-effective business solutions. Their employees have the flexibility to develop innovative methods and inject them into their daily job.
They provide employment opportunities in all significant specialized areas of expertise required in many businesses and companies. Through the years, VE has been able to partner with global clients across 30 nations.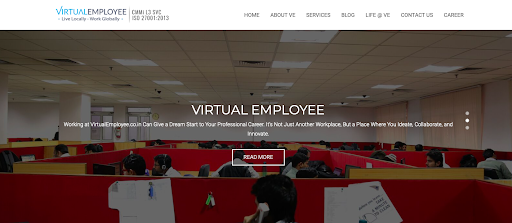 Brief Background About VirtualEmployee
Mr. Narinder Singh Mahil, a second-generation senior IT expert working in the United States, founded VirtualEmployee Ltd in 2007 to promote highly-talented and highly-skilled Indian workers to the rest of the world via global staffing platform headquartered in India.
It has its headquarters in the renowned Special Economic Zone (SEZ) of the New Okhla Industrial Development Authority (NOIDA). It has four well-established offices across the Delhi NCR region and a UK office in the busy business center of central Birmingham to facilitate customer management in the United Kingdom.
Starting with five workers in 2007, Virtual Employee (P) Ltd has grown to over 1,500 employees in five well-equipped offices, all of which are maintained to international standard, situated in the IT and commercial centers of Delhi NCR in India and Birmingham in the United Kingdom.
The company is a member of NASSCOM, a renowned trade organization representing the Indian information technology and business process outsourcing industries, and the Australian Chamber of Commerce.
Today, his simple idea has grown into a 1,500-strong business and into an ISO 9001 & 27001 accredited and NASSCOM-affiliated, with a worldwide customer base spanning five continents and a wide variety of IT and non-IT services across various sectors.
How VirtualEmployee Works
VirtualEmployee Ltd offers a diverse range of employment opportunities to professionals from a variety of fields, including software programming and development, healthcare, design, finance and accounting, engineering, law, sales, and internet marketing, as well as back-office support functions such as data entry, virtual assistance, bookkeeping, and transcription.
They continue to raise the bar by expanding the range of services it offers and the areas that they cover, including uncommon and specialized talents that are not often associated with conventional services.
Services
IT-Software, Hardware, and Networking
Software programming and development in PHP, JAVA, Python, C++, DotNet, Flex, VB.NET, App Development, and Custom Software Development
Website development, and in HTML, AJAX, ASP.NET, J2EE, ASP etc; in CMS development in Drupal, Joomla, WordPress, Magento, DotNetNuke, Typo3, ExpressionEngine, TYPOlight etc
Database development and administration; IT server administration and management; software upgrades, maintenance, and testing; eCommerce website designing, graphics designing, and more
Accounts and Finance
bookkeeping
invoice creation
financial statements
vendor billing
general ledger maintenance
tax preparation
balance sheet
accounts receivable
payroll processing
financial analysis
financial management
stock research
uses QuickBooks, Peachtree, Sage, NetSuite, Intuit, and Quicken
Engineering
Engineers from India are in high demand. VirtualEmployee Ltd. has an extensive network of worldwide engineering associates, meeting the growing demand for outsourced engineering services such as mechanical engineering, civil engineering, architecture, and structural engineering.
Transcription
medical transcription media transcription
legal transcription
engineering transcription
financial transcription
digital transcription
business transcription
audio transcription
forensic transcription
transcription services for audio and video transcription
subtitling
specialized transcription services for the podcast, microcassette, multimedia, YouTube, movie script, academic research, etc.
Internet Marketing
Search Engine Optimization (SEO)
Search Engine Marketing (SEM)
Social Media Optimization (SMO)
Social Media Marketing (SMM)
Pay-Per-Click (PPC)
local SEO, Mobile SEO
email marketing
affiliate marketing
web analytics
reputation management
content marketing
digital marketing
social media marketing, and more
Law
legal documentation
drafting, and analysis
paralegal services
legal research
patent services
property law and trademark services
intellectual property law
law office management
business and corporate law, contracts, and copyright services
e-filing services
environmental law
expert witness
immigration law
labor and employment law
legal billing
legal claims processing
litigation support services
legal coders
legal transcriptionists and legal subject matter experts (SMEs)
legal document specialists
experienced lawyer
Content Writing
business writing
technical writing
creative writing
SEO copywriting
academic content
resume writing
speech writing
ghostwriting
social media writing
content editing
content development services such as blogs, articles, press releases, product reviews, eBooks, case studies, white papers, and newsletters
Data Entry and Admin Work
data entry
data conversion
data processing
data analytics
data mining
data capturing OCR (optical character recognition)
ICR (intelligent character recognition) service along with proficiency in multiple formats such as MS Word, Excel, Access, PDF format, ASCII format, COBOL, XML, SGML, and HTML
Medical and Health Care
medical billing
medical imaging
revenue cycle management (RCM)
medical transcription
medical claim processing
medical records indexing
charge entry process and more
Architecture
support services for mechanical engineering, structural engineering, civil engineering, electrical engineering, and architecture engineering
AutoCAD, CAD conversion, CAM, 2D drafting,
3D modeling and rendering
SL design, product animation
electrical diagrams and MEP designs
multilayer board design
electrical plumbing engineering
embedded hardware development engineering transcription
layout and landscaping, floor plans, space plan including furniture placement
reflected ceiling plan
interior designing
retail space planning and design
3D architectural animation and walkthrough
Offer specialized skills in the most advanced designing tools and software AutoCAD, ArchiCAD, Revit Architecture, Microstation, Chief Architect, Architectural Desktop, etc.
Graphic Design and Animation
2D and 3D animation
3D prototype and modeling
flash animation, animation storyboarding, animated illustrations, product animation, computer animation, and web animation
Animation applications include Flash MX, Illustrator, Photoshop, Maya, LigthWave 3D, Dreamweaver, 3ds Max, Houdini, Indesign, etc., and development software such as PHP, JAVA XML, .NET, Dreamweaver, HTML, Action Script, Macromedia, etc.
HR-Recruitment
recruitment
data management
payroll
workforce administration
candidate sourcing and interviewing
employee training and development
labor laws
payroll and compensation management
insurance services
virtual help desk assistants
retirement services
Pricing
VirtualEmployee does not set a fixed pricing plan or a fee structure to interested business owners or prospective clients. The expertise and skills will determine how much your virtual assistant costs.
For example, a lawyer or a web developer will cost more than an administrative assistant. Based on the most recent pricing that we have gathered, the average cost of services by VirtualEmployee is between $1,095 and $1,995 each month.
The other thing you should keep in mind is that your remote worker is officially an employee of VirtualEmployee.com, not your business. You don't have to worry about tax filing, payroll processing, or statutory labor compliance since they handle it all for you.
Pros
Rich portfolio of services from different industries
Partnered with small and big companies from 30 countries
Offers both IT and Non-IT specialists
Featured in international media publications
ISO certified
Long experience in providing outsourced business solutions
Cons
Other Alternatives
For a competitive Indian-based VA company, Acelerar is the closest competitor.
Acelerar Technologies is a rapidly expanding, client-centered company that promises enthusiastic and value-driven online workers. The company specializes in virtual assistant services, writing, image editing, creative design, data entry, list building, and eCommerce solutions.
Acelelar's 24×7 proactive and multilingual business outsourcing management solution meets your outsourcing requirements cost-efficiently and qualitatively, thus increasing performance growth while lowering operational expenses and allowing you to concentrate on your core company activities.
Acelerar offers four distinct hourly packages, each with varying speeds. Their monthly packages start at $180, and the more hours you buy, the lower your cost per hour becomes.
Another Indian-based outsourcing alternative is MyTasker. It is a veteran in the outsourcing game and virtually competes with VirtualEmployee in all areas of specialized services and skills.
Based in Kolkata, India, MyTasker offers hourly plans that are not open to everyone. Similar to Virtual Employee, its pricing is not transparent, and the quoted fee will be based on your requirements and specifications.
Overall Review
Unlike other typical virtual assistant businesses, VirtualEmployee provides you with a full-time remote staff for a fraction of the expense of hiring one locally.
The VirtualEmployee hiring system will hand you eligible applicants' resumes so that you may review them or even interview them directly.
Because they're an online employee supermarket, small and medium-sized businesses (SMEs) may recruit people from all over the world, more specifically from the more affordable side of the planet.
Also not typical to the usual outsourcing arrangement is that in Virtual Employee, a customer maintains more control over their assigned staff, acting more as an in-house resource.
For the customer's benefit, VirtualEmployee thoroughly assesses and investigates the overhead expenditures of the client or customer, such as human resource management, account management, and IT support.
This feature alone distinguishes VirtualEmployee from the rest of its rivals in the marketplace. Not to mention the seemingly more number of specialized services they offer compared to similarly situated virtual assistant providers. 
Have you used VirtualEmployee before to hire virtual assistants? Please leave a review below and rate the company to tell everyone about your experience.