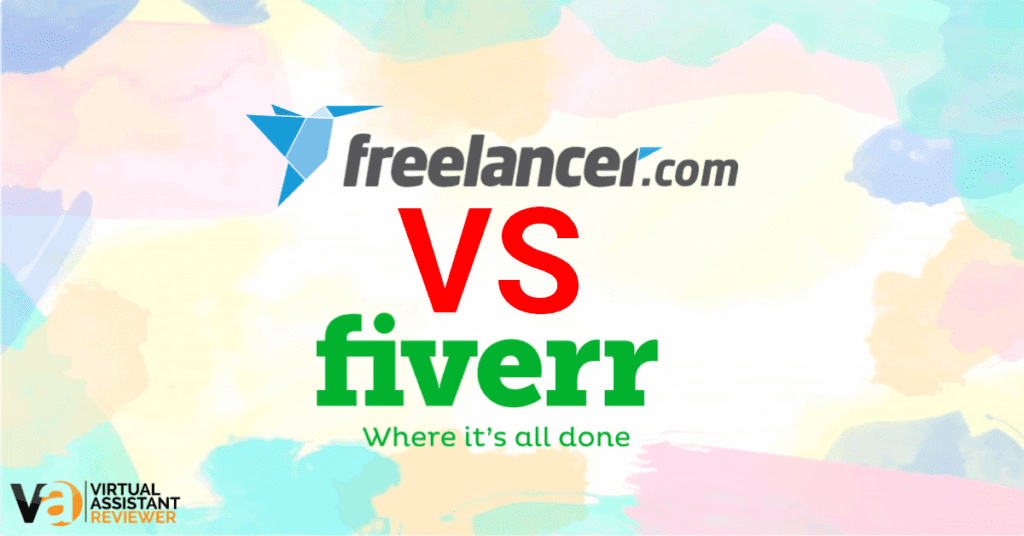 Searching freelance platforms like Fiverr and Freelancer.com for an affordable and reliable freelancer can be overwhelming. Both Freelancer and Fiverr provide excellent freelancing services as well as numerous other benefits.
Short Note: Freelancer.com is the larger and more established site, and it is ideal for those looking to work with freelancers on a long-term basis. While Fiverr is a smaller site, it is suitable for those looking for a more dependable and cost-effective way to hire a freelancer.
This article will compare Fiverr and Freelancer based on specific categories. We will help you decide wisely, so keep reading this article until the end.
Fiverr vs. Freelancer: Ease of Use & Workflow
Browse Gigs on Fiverr
Sellers on Fiverr offer "gigs," which are predefined, fixed-price projects that you can browse to find the type of work you need. 
Each gig usually has three packages to choose from Basic, Standard, and Premium. The basic package is the least expensive, while the other two include extra work for a fee.
As a result, buyers can search through various categories and styles to find a freelancer who best matches their needs.
There are numerous categories and services to choose from, including:
Digital marketing
Writing and editing
Music and audio
Music and audio
Video and animation
Logo design
Translation
Voice over
Business services (e.g., virtual assistant, business plans, branding services)
Programming and tech
You can then contact the freelancer or use the order form on its website to present them with an outline. But, if you are unable to find a suitable match, you can post a request outlining your requirements. Sellers who meet your criteria will then be able to bid on the job.
Post a Job on Freelancer.com
Meanwhile, rather than browsing, Freelancer.com prompts you to post a job and review bids. Because freelancer profiles on Fiverr aren't as easy to browse, this is usually the easier option. You can specify your needs and have freelancers come to you, saving you time and effort.
When you post a project, you can name it 'Need a Designer for my Website.' You can also provide more information about the project by attaching relevant documents, such as a more detailed outline.
A job posting typically includes information such as the buyer's location, job specifications, and the price the customer is willing to pay. Any freelancer can bid on a job. The site displays the number of bids received as well as the average fee quoted.
As a result, freelancers can bid higher or lower than the average. As a result, a buyer is more likely to receive a competitive price.
In any case, communicate with freelancers via the site's private messaging system. It is an excellent way to let the seller know what you are looking for and ensure they complete all the work and get what you are paying for.
If you are frequently on the go but still need to supervise your freelance projects, you can use the mobile apps provided by both freelance platforms.
The Fiverr app, like the websites, is more polished and user-friendly. The Freelancer.com app, on the other hand, is more limited.
You can post projects and communicate with freelancers, but you won't have access to some of the more advanced desktop features, such as tracking freelancer hours.
Fiverr vs. Freelancer: Freelancer Verification
Anyone can sign up on Fiverr and Freelancer.com, but their verification processes are somewhat different.
Fiverr's "Seller Levels"
Fiverr has automatic seller "levels." These levels aim to provide some insight into the activity and credibility of its freelancer pool. When you work with any of these levels, you can be confident that they have delivered more than 90% of their orders on time and to the customer's satisfaction in the previous 60 days.
If you want more proof that freelancers possess the skills they claim, Fiverr's version, Fiverr Pro, requires a thorough application detailing a seller's qualifications and experience. Thus, Fiverr's "Pro verified" designation will make you feel safe and secure.
Freelancer's Identity Verification
Identity verification options such as a seller's Facebook account and payment method are used by Freelancer.com.
These identity verifications serve little purpose other than to confirm that they are who they claim to be. They don't give you any information about a freelancer's work habits or ability to complete work to your satisfaction.
Furthermore, sellers who rank in the top three percent for one of their listed skills and pass a professional skills test can apply for the Preferred Freelancer's Program. It's not a particularly stringent set of criteria, and it appears to be more of a group of hoops to jump through than any actual skill assessment.
Fiverr vs. Freelancer: Freelancer Profiles
Since Fiverr and Freelancer.com allow anyone to sell their services, seller profiles are essential in determining which freelancer to hire.
Fiverr's Highlighting Tactic
Fiverr's freelancer profiles are visually exciting and easy to navigate, mainly because they highlight the specific tasks a seller can complete for you rather than listing largely unverified skills like Freelancer.com. You will be able to quickly determine whether a freelancer on Fiverr can meet the work you require without any trial-and-error or repeated messaging.
Freelancer.com's Freeform
However, Freelancer.com leaves it up to the freelancer to determine how to highlight their expertise. Because the summary section is entirely freeform, sellers can and should mention the specific services they provide.
But even when sellers list specific project types they offer, there's no way to know the inclusions or how much the final pricing will be, necessitating more legwork to get your project started.
Freelancer.com is the larger and more established site, and it is ideal for those looking to work with freelancers on a long-term basis. While Fiverr is a smaller site, it is suitable for those looking for a more dependable and cost-effective way to hire a freelancer.

VA Reviewer
Fiverr vs. Freelancer: Pricing
Fiverr has Fixed Prices and no Hidden Fees
Both buyers and freelancers can sign up for Fiverr for free. You can get a freelancer's services for $5. On Fiverr, you can still find high-quality work for that price, but as the platform has grown, so has the price range. Fees range from $5 or $10 to a few hundred dollars in any category, especially if you're looking for Fiverr Pro sellers.
Freelancer.com is a bit pricey and Unclear
Prices on Freelancer.com typically range between $20 and $40 per hour. If you are looking for a fixed-rate project, the prices listed here will not accurately reflect your payment.
There are numerous costs, transaction fees, and percentages of fees assigned to various categories. Those categories, however, are not easily defined for a first-time user. It is also not always obvious which costs apply to freelancers and which to buyers.
Fiverr vs. Freelancer: Payment
Once you and a seller have agreed on a project and paid for it, you can track its progress on the Your Orders page. This is also where you will receive your finished product, which is very convenient.
Upon approving your order, Fiverr will transfer your payment to the seller. You can also reject it and request changes. Just keep in mind that you must act within three days, or the order will be automatically approved.
While Freelancer.com prompts you to use the Milestone Payments program to set up stages for your project and make payments as each step is completed.
It's an excellent way to ensure that the project stays on track from the start, allowing you to provide feedback on each step before the freelancer moves on to the next. You can offer a single payment for fixed-price projects if you have a smaller project that does not require milestones.
TRENDING ARTICLES
Fiverr vs. Freelancer: Dispute Resolution
Both Fiverr and Freelancer.com urge their users to resolve disagreements among themselves before involving a third party.
Fiverr's Automatic Resolution
When a dispute arises, both buyers and sellers on Fiverr can choose from a predefined list of possible solutions, which includes:
Canceling the order
Extending the delivery time frame
Modifying the order to have revisions or extras (only sellers)
Requesting a status update (only buyers)
Before calling customer service, Fiverr users can use this list to get ideas for addressing the problem independently. If not answered, some options will result in automatic order cancellation, pushing customers to fix issues on their own or risk losing time, money, or both. In general, both buyers and sellers appear to be treated fairly throughout the process.
Freelancer.com's Enter Arbitration
The dispute resolution method on Freelancer.com is a little different. It is based on more formal agreements and a process that involves evidentiary documentation and additional expenses if it progresses to the final level. Buyers have a modest advantage over sellers in responding to disputes because their response times are longer.
The Verdict: Which is Better for Hiring Freelancers?
It is easy to assume that all freelancer platforms are pretty much the same, but when you compare Fiverr to Freelancer.com, you will notice that they're not. Both job sites will successfully connect you with a freelancer.
Finally, the job site you choose is determined by your requirements, preferred payment methods and procedures, and how you decide to find skilled professionals.