Most of the real estate agent's time is spent tracking down leads and closing deals. All these things are part of "the hustle," and they are all amazing.
But a thriving business should not force you to work 60 hours a week. Or make you lose precious family/me time. There is no better way to generate more money in fewer hours than hiring a great real estate VA.
If you have troubling questions like:
Where do I begin?
What kind of virtual assistant should I hire?
How will I know it will be worth the risk, time, and money?
Fret no more. We have got you covered. This article will help you know exactly what you are looking for and how to manage real estate virtual assistants effectively.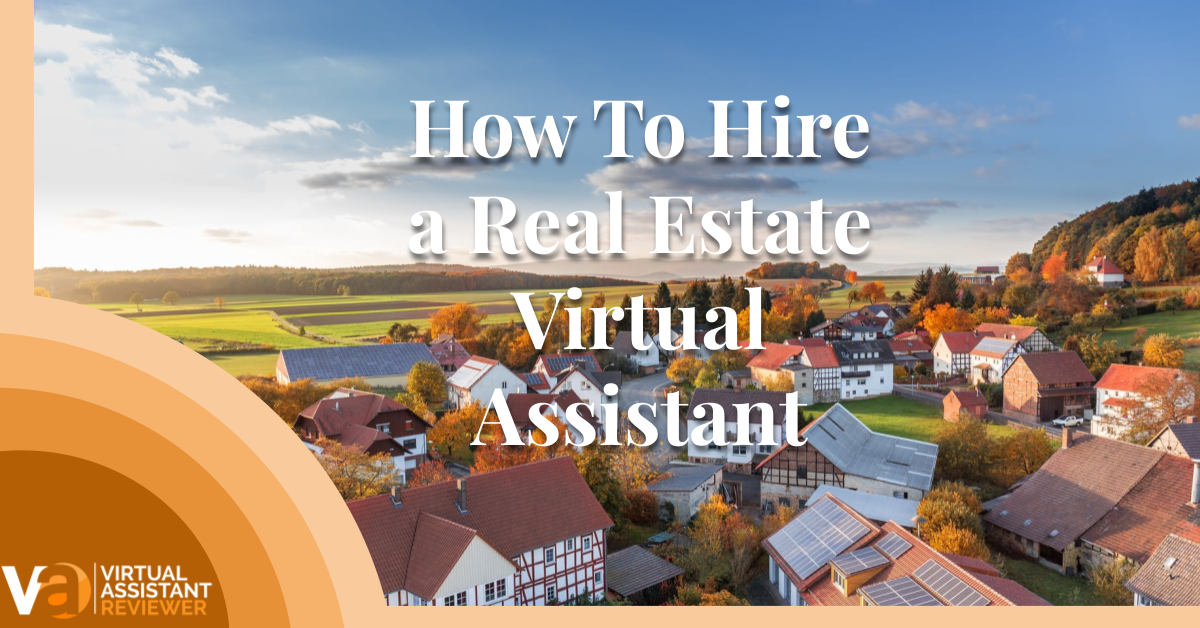 What Is a Real Estate Virtual Assistant?
A real estate virtual assistant (VA) is a business administrator who serves as your right hand. In-person or remotely, a real estate VA can provide a range of business services.
The ideal virtual assistant can handle many activities. These include lead generation and database administration, as well as finance and marketing.
Hiring a virtual assistant (VA) allows you to reclaim your time. You can now focus on the significant tasks that generate revenue for your real estate business.
Virtual assistants are the best strategy top agents use time and time again to reach 7 and 8-figure salaries. Yet, you must be able to manage them properly.
Tasks of a Real Estate Virtual Assistants
The secret to success in any role in defining the tasks and outcomes you seek. Here are a few of the many things a great virtual assistant can do to assist you in growing your real estate business.
1. Appointment Scheduling
When you have a lot of appointments to manage, calendar management can become quite overwhelming.
It is necessary for you to:
Schedule meetings with prospects and manage calendars.
Prioritize time for meetings with sellers and buyers.
Add buffers to avoid scheduling conflicts.
Hiring real estate virtual assistants can help you manage your calendar. They can also schedule appointments by answering phone calls and emails. They will plan your meetings using popular calendar tools such as Google Calendar, Calendly, and others.
Plus, a real estate virtual assistant can send you appointment reminders on time. Thus, ensuring that you never miss an appointment.
2. Real Estate Research
Real estate is a competitive industry. You must answer a slew of questions, such as:
What strategy will you use to market my property?
How long will it take for you to list my home on the multiple listing service (MLS)?
How are the taxes in this area reassessed?
Do you have a property that meets my needs?
Responding to these questions is the golden ticket to close a deal. And how do you go about doing that?
Your real estate virtual assistant (VA) can work as an inside sales agent (ISA) and concentrate on:
Prospecting for and locating property information such as location, features, and amenities.
Monitoring market trends and pricing points in various locations
Examining competitors' businesses
Thus, you will not have to look for the data yourself. You have all the information you need right at your disposal.
3. Marketing
You realize that marketing is an essential part of your business, but it can also be time-consuming.
A virtual assistant can handle many of the marketing tasks on your plate. Thus, allowing you to focus on what you do best. A virtual assistant can assist with marketing tasks such as:
Make buyer's packets and PowerPoint presentations.
Distribute mailers to your areas of influence.
Designing graphics for digital and print assets
Research content ideas
Handle many social media campaigns.
Respond to social media prospects.
Blogging by writing relevant articles and optimizing your website for search engines (SEO)
Update your website.
Email scheduling
Use social media to post, update, and advertise.
Analyze marketing analytics.
They will also be aware of what is trending in the real estate niche. As well as monitor engagements and analyze statistics to determine which strategies work best.
4. Operations
Balancing projects, deadlines, and other people's schedules is not everyone's cup of tea. And that is okay.
Hiring a virtual assistant to assist with daily real estate operations is your key. Especially if you hire one who is familiar with the real estate industry, a real estate VA can help with a variety of tasks that keep your office running smoothly, such as:
Entering data (MLS, CRM, reporting, etc.)
Presentations, coordination, and updates on listings
Gather feedback from your customers and team members.
Bookkeeping fundamentals, including I&E and P&L tracking
Create performance and sales reports.
Manage contracts, agreements, and other documents.
Schedule showings and services (photographers, inspections, etc.)
Recruiting and onboarding new agents
Your real estate virtual assistant is most likely a master handling these tasks. They will have the necessary skills and tools to complete the task without a fuss.
Benefits Of Hiring a Real Estate Virtual Assistant
Increase Level of Productivity
The primary function of a real estate VA is to organize time. Instead of dealing with incoming calls and paperwork, you can devote your time to preparing for appointments and meetings. Thus, you can focus on the functions that are more important to your business.
The real estate virtual assistant acts as an active filter, clearing the way for you to achieve your goals for the day. Finally, you will notice that you can be more punctual in meetings and complete more tasks in a single day.
Save On Hiring and Training Costs
Another perk of hiring a real estate VA is low-cost employment. You do not have to worry about labor laws or having to provide them with vacation, sick leave, or even overtime pay!
The VA handles all this because they can work remotely and manage their time effectively.
Moreover, most of them have extensive real estate industry experience. They know the ropes and require little to no training. You can also assign them to specific tasks based on their expertise. Thus, eliminating the need for training.
No Stress
Skipping the mundane tasks + spending your time wisely = NO STRESS!
You will be better and more productive if you take some time off to recharge. As a result, having a real estate virtual assistant on board is an asset. It allows you to enjoy a luxury that many people overlook — time.
How To Hire A Real Estate Virtual Assistant
1. Determine The Type of VA You Need
Since most VAs charge by the hour or task, the length of work is an important consideration when hiring a virtual assistant.
You have two options: hire a:
Part-time (short-term) real estate VA
Long term real estate VA
A full-time real estate virtual assistant is better for you if you have time-consuming tasks or expect the VA to be available to clients around the clock.
But, if you only need help with a few tasks or for a few months, a short-term real estate assistant would be ideal for the job.
2. Determine Where You Want to Hire From
Now that you have determined how long you will need the VA, the next step is to hire them.
Where you find your real estate, a virtual assistant is essential.
While there are many actual estate-specific companies to choose from, many agents who are just getting started with a virtual assistant have found great talent on Upwork or Craigslist.
Here are a few companies and websites to help you narrow down your search:
VirtualStaff.ph
VirtualStaff.ph is home to some of the most skilled and highly-trained Filipino real estate virtual assistants. Virtual assistants from the Philippines speak excellent English, and you will pay them a fraction of what you pay for US or UK-based VAs.
WoodBows
WoodBows provides real estate virtual assistants with more than a decade of experience. If you are dissatisfied with the VA, they will refund your money. You even get a dedicated account manager who reports on the tasks to you daily.
ClearDesk
Do you need a virtual assistant with real estate experience? A social media expert? Are you an expert in business development?
ClearDesk can help you find a virtual assistant (VA) with the right skills for the job, whether part-time or full-time. All ClearDesk VAs go through a detailed and rigorous certification process to ensure you get the quality you expect.
MyOutDesk
MyOutDesk has a strict selection process for their overseas help. They actively train their VAs to become true experts who can handle the full range of real estate tasks and activities. They are best suited to small to medium-sized businesses. They offer high levels of data security to ensure that your data is always secure.
Upwork
Upwork is a popular website for finding freelance virtual assistants. It enables you to quickly find and hire virtual assistants with years of experience in real estate. On Upwork, many new agents have found ideal VAs to assist them with organization, administration, and marketing tasks.
Managing Your Real Estate Virtual Assistant
Your virtual assistant could be located anywhere. Thus, you must use the best practices when managing your virtual assistant.
Here are a few things to keep in mind as you monitor the activities of your assistant:
1. Use The Right Communication Tools
You could use messaging tools like Slack and Fleep to communicate task details. They enable you to:
Distribute task details and files.
Convey task specifications.
Create communication channels for each task.
Video conferencing tools such as Zoom and Skype, on the other hand, can assist you in this regard. They enable you to:
Organize project meetings.
Share your screen for more in-depth explanations.
Create a working relationship with your VA.
2. Performance Monitoring Tools
It is critical to keep track of your real estate VA, especially when they may be thousands of miles away. Fortunately, tools like Time Doctor make employee monitoring a breeze. Time Doctor is a powerful employee monitoring tool used by large corporations. Such as Apple and PwC to track the performance of their employees.
Takeaway
Ensure that your virtual assistant successfully fills the correct gaps in your business and can be synchronized with your workflow.
Remember, when it comes to hiring a real estate VA who understands what you are about. You need to know what you are looking for.
Make sure he/she can help you free up your time without sacrificing the value you provide to your clients.