Virtual Latinos is the first-ever platform that connects small businesses with talented virtual professionals in Latin America.
These days, providing virtual assistant service is a robust, fast-growing, and highly-profitable business.
This growth is because most of the time-consuming duties of operating a company or a business may now be taken care of by a virtual assistant or virtual specialist.
And many firms have now rapidly embraced available technology to allow work-from-home set-ups and staff to work virtually.
To help small companies worldwide, the Virtual Latinos organization has gathered the best virtual assistants from Latin America to assist companies worldwide.
Like every other virtual assistance firm, their assistants can free up businesses from the burdens of administrative tasks and instead focus on their core competencies. Their virtual assistants primarily handle administrative tasks, sales, marketing, and other business-related activities.
Since you'll be working with virtual assistants from Latin America, you will pay a fraction of what you'd usually pay for a professional in the US or the UK, Australia, Canada, and New Zealand.
So you'll get more from the usual budget you've set for staff costs, and it will cover things like scheduling meetings, conducting internet research, handling social media accounts, assisting in digital marketing campaigns, and more.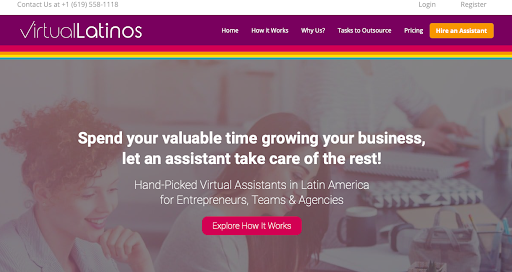 Brief Background About Virtual Latinos
Virtual Latinos is based in San Diego, California, and is a full-service virtual assistant business. Founded in the middle of 2018, they provide virtual assistants from all around Latin America, i.e., virtual workers and professionals from Mexico, Central America, and South America.
Bloominari, a San Diego-based marketing firm, came up with the concept for Virtual Latinos. In recruiting virtual assistants for their customers, they discovered that Latin America has a large pool of capable virtual assistants and remote workers who can work with them efficiently and effectively.
As a result of their previous success in locating and recruiting talent from South American nations, they founded Virtual Latinos, which primarily gears towards serving the needs of small and medium-sized companies by providing virtual assistants.
To fulfill all their clients' business requirements and employment qualifications, Virtual Latinos pre-vetted Latino virtual assistants before taking them in and offering them to take care of all the time-consuming chores that hinder the clients from being productive themselves.
According to their website, only 7% of the total candidates were hired by Virtual Latinos, ensuring that only the finest talents made it through their rigorous screening procedure and could fulfill their clients' demands.
How Virtual Latinos Works
In Virtual Latinos, there are two methods to recruit an assistant: (1) Latinos Virtual Agency or (2) Latinos Virtual Directory.
In Latinos Virtual Agency, you may employ an assistant via this service for at least 40 hours per month or 10 hours per week. On the other hand, In Latinos Virtual Directory, you may hire an assistant straight via their directory, with no long-term obligations.
Here's the step by step process on how you can use their platform:
STEP 1: Establish a business entity
Register your company.
Select a monthly hours plan.
Pay monthly.
There are no long-term commitments, beginning at only $400 per month.
STEP 2 Complete a brief questionnaire
Complete the brief "Get Started" client survey to provide them with the necessary information about you and your recruiting requirements.
Inform about yourself, your business, and the products/services that you provide.
Describe the employment or project you're considering or the position you're seeking to fill.
Select the attributes you want in an assistant, e.g., talents, hourly rate, location, and experience, for example.
STEP 3: The staff identifies the ideal assistant
They pre-select assistants on your behalf, saving you valuable time.
They analyze your project or work specifications and identify the most qualified assistant(s) for your needs.
They conduct interviews with prospective virtual assistants to determine the best fit and choose the top three to four virtual assistants (VAs) for your requirements.
They'll introduce you to their virtual assistants.
STEP 4:Conduct interviews and employ your top-choice virtual assistant
You examine their VAs' qualifications.
Conduct interviews with the top two prospects
Confirm and choose an assistant
Examine and sign the agreement
Attend client and virtual assistant onboarding sessions
Your virtual assistant begins working with and for you
Virtual Latinos delivers billings to you
Services
The company offers assistance to everything from simple administrative duties to sales, marketing, and customer service.
Virtual Latinos has established a new network to facilitate the introduction of outstanding Latinos to businesses in the United States and Canada.
Small businesses and entrepreneurs in North America are now saving a lot of money by using remote employees who are highly qualified and offer services such as:
General Admin Assistants
General Digital Marketers
Customer Support
Sales and Customer Reps
Writers and Bloggers
Project and Operations Managers
Branding and Graphic Designers
Social Media Marketers
Email and Automation Experts
Web Designers
Advertising Experts
Many More Experts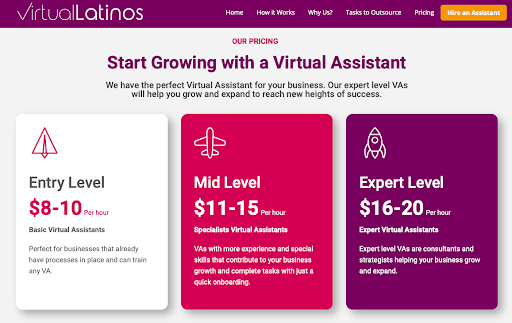 Pricing
Suppose you wish to delegate the responsibility of locating and screening the best applicant to them. In that case, you have two options: General Virtual Assistants and Marketers and Expert Assistants and Certified Marketers.
The usual goal for a general virtual assistant is to employ a less experienced virtual assistant. On the other hand, hiring an expert virtual assistant means you'll be choosing from their more experienced pool of virtual assistants with certificates as proof of their skills and competency.
Please remember that the prices shown below are indicative only and may change depending on the candidate selected.
General Virtual Assistants and Marketers
40-Hour Plan – starting at $400 per month ($10/hour)
80-Hour Plan – starting at $760 per month ($9.50/hour)
Full-time Plan – starting at $1,400 per month ($8/hour)
Expert Assistant and Certified Marketer Plans
40-Hour Plan – $600 per month ($15/hour)
80-Hour Plan – $1,120 per month ($14/hour)
Full-time Plan – $2,100 per month ($12/hour)
The Directory Plan
If you're interested in posting your job, you may pick from three monthly membership plans:
(1) Free — This allows you to post a job and monitor responses but not contact applicants.
(2) Standard — Monthly payment of $90, payable quarterly.
(3) Team — $2 per day for each virtual assistant, including time monitoring software to assist with team management.
Pros
Offers satisfaction guarantee
Hand-picked professionals
Pre-vetted bilingual VAs
Certified professionals
Same skill, lower costs
Working in your time zones
Direct hiring, no middleman
No hiring fees
No long-term commitments
No set-up fees
Cons
No free-trial
Manage your VA's performance
Expensive hourly rate as compared with Asian-based virtual assistants
Other Alternatives
Uassist.me follows a similar business strategy to Virtual Latinos and has some excellent customer feedback. Their virtual assistants are also from countries in Central America, and they charge slightly higher than Virtual Latinos.
UAssist.me offers some of the finest administrative solutions for your essential business activities. They have a fleet of experienced remote teams that are entirely bilingual (English/Spanish), with offices in Miami, Florida, and San Salvador, El Salvador. It also boasts rich experience in business management, marketing, customer support, finance, web design and development, lead generation, and sales. 
Its Basic Plan for a part-time shared assistant is $1,059. Under this plan, you will get a virtual assistant that will work 40 hours a week but who may report to one or more other customers.
You may require that a virtual assistant be assigned to work for 4 hours a day on your assignments or tasks. It will cost you about $12 per hour, assuming you spend 80 hours each month. The benefit is that you have a committed "on-call" skill or talent resource without the full-time paid staff.
It also provides a full-time service if you have plenty of work or tasks to keep your virtual assistant occupied full time. The new full-time support team option includes three assistants with up to three distinct skill sets. Currently, this Plan costs $1,798 per month.
Overall Review
Virtual Latinos is the first network that connects Latin American professionals, teams, and agencies comprised of virtual assistants and remote workers to businesses and companies in the United States, Canada, and the rest of the globe. With Mexico, Central America, and the whole of South America thrown in for good measure.
Unlike other US-based virtual assistant platforms, there are no hidden fees with Virtual Latinos. They provide free, unrestricted access to their virtual directory of plans and pricing.
To ensure that only the most qualified candidates join their team, they conduct a rigid and thorough screening process for all applicants. Only 7.5 percent of all applications are accepted because they want to make sure you get to work with the finest Latin American talent.
Overall, Virtual Latinos is an excellent choice if you seek cost-effective ways to maintain your business's development. They may undoubtedly assist you if you want to diversify by targeting the Hispanic market. Apart from their pre-vetted talent, they employ only the finest Latino assistants that are sure to assist you in achieving your business's goals.
Have you used Virtual Latinos before to hire virtual assistants? Would you please leave a review below and rate the company to tell everyone about your experience?