Get Friday is a virtual assistance service division of TTK Services Pvt. Ltd which is a company owned by TTK Group.
GetFriday is a virtual assistant service dedicated to helping small companies and entrepreneurs worldwide with various business activities that need a broad collection of skill sets.
Its services include market research, digital marketing, and website creation.
These services are available to individuals and businesses alike.
The company primarily serves customers from the United States and the United Kingdom, spanning many industry sectors.
Brief Background About Get Friday
Get Friday is a Bangalore, India-based outsourcing firm that offers virtual assistants to businesses worldwide.
They're best known as Your Man in India's (YMII) virtual assistant branch, the well-known personal concierge service. Get Friday is an outsourcing service that helps people get on with their busy schedules by getting the administrative help they need.
Through the years, Get Friday found that it's been a tremendous struggle to maintain a high level of service quality while expanding quickly. There were a few mistakes from here and there which gave them valuable lessons. Despite their best efforts, there were unsatisfied customers, and they found themselves in a no-win situation.
After they dealt with capacity issues, they've turned their attention to enhancing the quality of their services. A high-quality service that lives up to the expectations of the customer will allow the company to grow.
The first months of the company have been the most difficult for everyone involved. Get Friday solved them one by one through their passion and dedication. They've created a system where customers' feedback and internal algorithms help evaluate the quality of randomly chosen jobs, which in turn aid them to deliver consistently high-quality service.
There have been 200 virtual assistants working at Get Friday since 2005, helping customers from all around the globe succeed in their careers and personal lives. They've serviced more than 11,000 customers in more than 40 countries as one of the longest-running firms in the virtual assistant industry.
How Get Friday Works
Sending tasks to your virtual assistants and receiving updates has never been easier. Working with GetFriday is like getting email, chat, and phone answers from your own personal assistant. GetFriday makes this experience possible.
They operate in three stages, which are as follows:
Become a member of GetFriday by registering.
Set up a communication channel with your virtual assistant. You can use email, telephone, fax, or other telecommunication software to communicate with and send assignments to your assigned VA.
Let your virtual assistant take care of the details while you take a break from your hectic schedule.
Get Friday strives to provide their clients with the skills and competence of an experienced executive assistant. If you can assign tasks through email, phone, fax, or the internet, they can do it for you.
Get Friday is accessible 24 hours a day, seven days a week, and you can choose from the different four different shifts.
Far East shift: 09:00 – 18:00 (AEST Time)
European shift: 8:00 – 17:00 (British Summer Time)
EST shift: 9:00 – 18:00 (Eastern Daylight Time)
PST shift: 9:00 – 18:00 (Pacific Daylight Time)
A team leader oversees everything in each team and will be your first point of contact should you escalate a problem for resolution. If the team leader cannot address the issue adequately, you may escalate it to their Quality Department. They can handle it according to their complaint escalation matrix.
If you need a specialist or an expert that Get Friday would still have to hire, you'd expect it to be a bit expensive compared to those already employed with the company. But you don't have to worry as Get Friday will verify the price you have to pay before moving forward.
Services
As long as they can work your tasks virtually or through existing telecommuting channels, GetFriday can handle any job, whether it is professional or personal.
Get Friday divides its services into two (2) segments: Virtual Personal Assistant and Business Support Services.
Here are the Virtual Personal Assistant services:
Family and Personal Tasks
Their virtual assistants can work for your errands and is best for those with families. You can delegate to them the completion of many tedious family chores that you can no longer do due to the hectic schedule at work or in business. That way, you can spend quality time with your loved ones.
Travel Management
Whether it's your first or hundredth trip, overseas travel, or a big family vacation can be very stressful. To avoid headaches, you can leave all travel-related tasks to your virtual assistants and concentrate on having a wonderful time. Don't let the booking and travel plans stop you from having a great time. Their virtual assistants will take care of all travel arrangements for you.
Online Research
They take research seriously and will promptly return to you with the information you requested. Research isn't rocket science, but it is time-consuming. Research virtual assistants can be convenient if you're handling data or writing business papers.
Executive Secretarial Tasks
Their virtual assistants will manage everything from email management, researching, writing memos, travel arrangements, data curation to more technical tasks like booking, etc.
On the other hand, Get Friday also supports firms and companies through its Business Support Services which they call Get Friday Ace, which are the following:
Bookkeeping
Get Friday Ace provides a wide range of services to assist small companies in streamlining their accounting procedures and establishing more solid financial foundations. To handle comprehensive financial data analysis, cash flows, and planning, starting with basic accounting (using software such as QuickBooks, KashFlow, Xero) and managing debtor and creditor lists.
Business Process Support
They can help you increase profitability and efficiency by supplying the appropriate skills to fulfill your various business processes. They offer SMEs the knowledge, competence, and dependability to get comfortable with outsourcing their operations.
Market Research
Get Friday Ace can help convert data to information and information to insight across various industries. Utilizing their research and analytics expertise can enable businesses to make more informed and timely decisions.
Digital Marketing
It accomplishes various company goals by carefully executing its research-backed small business SEO and social media marketing services. What differentiates Get Friday from other digital marketing agencies for startups is its knowledge to support holistic company development.
Web/IT services
Get Friday has designed and built more than 1,000 websites for its customers, each tailored to their unique company needs and specifications. As a result of their long track record, they've earned a reputation as one of India's top website development firms.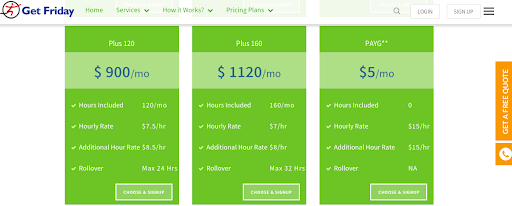 Pricing
Get Friday's virtual assistant service options which range from Pay-As-You-Go at $15 an hour to Full Time (160 hours a month) for $1,120, or only $7 an hour.
Over 40-hour plans contain "rollover" time to transfer leftover hours to the next month. Your plan may be upgraded or downgraded at any time with a 30-day notice.
Get Friday will also estimate rates for one-off jobs if you give them a description. Get Friday's 7-day free trial reduces anxiety about hiring a virtual assistant. If you don't like the service, you may cancel without penalty.
Your virtual assistant is accessible five days a week, at your convenience. The time zone difference between the US and India doesn't matter. They also charge 1.5 times the regular hourly rate for work done on weekends and overtime.
Pros
VA's long years of experience handling clients
Access to a range of skill sets
Competitive pricing
Flexibility of plans
Available 24/7 support
Process-driven with backup support
Compliance with stringent security and privacy policies
Cons
Time-consuming sign up process (phone verification, print, sign, email the contract)
Weekends overtime charged 1.5 times regular hourly rate
Other Alternatives
You can compare this virtual assistant service platform to VA Talks. The business has a team of virtual assistants to help you with your day-to-day responsibilities. VA Talks aim to ensure that companies can do their most critical activities.
Pricing for VA Talks begins at $130 per month for 10 hours ($13/hour). More extensive plans have lower effective hourly rates, with full-time dedicated virtual assistants charging less than $7 an hour ($1,100/month). A significant distinction between Get Friday and VA Talks is that the latter service does not roll over unused hours to the next month. So it is crucial to estimate the hours that meet your exact requirements.
Overall Review
Get Friday is the solution if you want to simplify your life to devote more time to what matters most to you rather than juggling work and family obligations inefficiently.
With Get Friday's virtual personal assistants, you can receive all the advantages of having a personal assistant without having to shell out a large sum of money upfront. The many intangible benefits of employing a virtual assistant are challenging to quantify.
And the same can be said to be businesses looking for support services for a fraction of the cost.