VA Talks is a virtual assistant provider based in India that offers personal assistants for both personal and business needs providing time management solutions.
The majority of businesses want a personal assistant. It's critical for anybody in an organization who has a significant amount of managerial responsibility to have someone to make sure that everything is in order. 
According to a recent study, professionals and business people are increasingly turning to virtual assistants (VAs) to help them manage their workloads.
Almost all virtual assistants can help you with a wide variety of duties, such as keeping track of your expenditures, helping you with your SEO requirements, or even placing an order for your lunch.
Your needs determine the type of tasks that the virtual assistants will do. With a virtual assistant, you'll save hundreds of dollars over hiring an on-site employee. In the long run, these savings will be significant.
It is where you can rely on VA Talks. VA Talks, a new start-up, began its operations in 2015.
Using the Internet and different apps, including email, Skype, instant messaging, and other online contact forms, a VA (virtual assistant) offers business help to busy entrepreneurs and professionals. They're available at all hours of the day and night.
As a result, no matter what time of day or night a job needs to be completed, a virtual assistant is always ready to help.
Brief Background About VA Talks
With a seven-year track record of innovation, VA Talks is considered a veteran in the virtual assistant industry. It has risen to prominence because of its incredible Virtual Assistance, which makes your life a lot easier.
Two virtual assistants with years of experience in the industry decided to establish their own business in 2015. VA Talks is a professional virtual assistant based in Kolkota, India, with access to a secure workplace and access to live assistance around the clock.
They provide fast, efficient, and cost-effective business and lifestyle management services. They are a fully equipped virtual assistant service provider company. As your personal assistant, they handle and provide time management solutions for your professional and personal needs throughout the country and abroad.
Their mission is to provide all entities, either start-ups or long-established companies, with the expertise and agility of experienced personal assistants needed to help their companies flourish, fulfill services tailored just for them.
VA Talks has the benefit of being fully adaptable, which is one of the advantages of working with them.
They can provide virtual assistant services for as many or as few hours as you need. It's possible to use their part-time VA to help you with a particular job or project or to manage vacation time, maternity leave, or medical leaves.
How VA Talks Works
To meet all of your business needs and difficulties, the virtual assistance team at VA Talks proactively utilizes a broad mix of expertise and personal support.
You may focus on tasks that generate revenue while their virtual helping staff takes care of the details.
Here's how their service works:
1. Specify Your Requirements
Instead of a phone meeting, if you want to speak with someone directly, they may send you an email with answers to all of your questions. They would want to know more about how you do business, what kind of company you have, and what challenges you face. They would also like to know what your long-term objectives are. 
2. Select Your Dedicated VA
Once you're informed of the services they're offering, you may speak with a member of their knowledgeable VA team and make a selection based on your particular business needs. A typical virtual assistant will be assigned to you, and this VA will work for you and respond to your requests. You can assign your tasks and projects to them and relax a bit, knowing they will be completed on time.
3. Wait For Their Output 
The VAs will step up to the plate and deliver the services to fulfill the assigned tasks and meet your goals and objectives. VA Talks implement internal evaluation on how things are done and constantly improve on the delivery of services. Their goal is to create full collaboration with their clients to ensure the completion of the tasks, distinguishing them from other VA companies.
Services
Below you'll find a list of the services provided by VA Talks: 
Virtual Assistance
A capable VA will assist you with your everyday administrative duties, ensuring that you achieve your deadlines and remain on top of your to-do lists, so you can focus on things that really matter. 
Web Development 
Their web team excels at creating dynamic, minimalistic, and richly textured websites and apps with a touch of your personality or branding. 
Process Outsourcing
VA Talks provides you with experienced and highly-skilled people who are quick to learn and adaptable to the changing market and offer cost-effective outsourcing. 
Content Writing
The team creates original and high-quality content for your blog or website that is optimized for search engines.
Social Media
VAs that are skilled in social media and digital marketing will work for you and can guarantee you a spectacular return on investment (ROI), improved brand visibility, and loyalty. The VAs can also formulate efficient social media marketing strategies that can work wonders for your company's bottom line.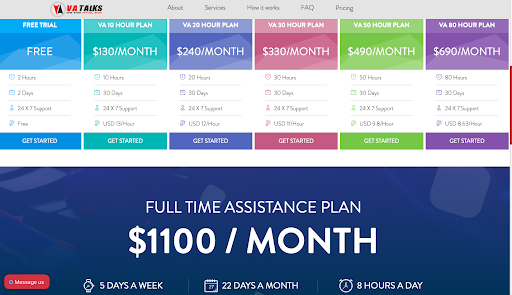 Pricing
Pricing for VA Talks begins at $130 per month for 10 hours ($13/hour). Higher-priced plans have lower effective hourly rates, with a full-time dedicated VA charging less than $7 an hour ($1,100/month).
Remember that unused hours will not be rolled over to the next month, so only buy a sufficient plan for your current and hourly needs.
Unless you're on the pay-per-use plan, you may try out the service for two hours without paying a cent. Nevertheless, if you only require services for a few hours a month, you can get on-demand assistance for $15/hour with a Pay As You Go plan.
Pros 
Flexible pricing options
Round-the-clock service
2-day FREE trial
Low-cost
Fast output delivery
Cons
Not for a long-term contract
Not advisable for big accounts
Other Alternatives 
If you're looking for an alternative, there are many virtual assistant businesses in India. MyTasker, a highly regarded VA provider and has a proven track record of high-quality performance, is one of our top choices.
Their staff of qualified virtual workers guarantees that each job is performed accurately and on schedule. Their web management and digital marketing staff support their customers with web design and development, social media marketing, online marketing, and search engine optimization (SEO) services.
MyTasker is a small to medium-sized administrative staffing business which offers its products and services to companies that badly need administrative support. MyTasker sometimes gives out discount codes and discounts to its clients.
One downside of MyTasker is the non-transparency of its pricing plans. Nevertheless, we can say that MyTasker VA prices are well within the average in the industry.
Overall Review
The business has a team of virtual assistants to help you with your day-to-day responsibilities. VA Talks aims to ensure that companies perform their most critical activities without being sidetracked by time-consuming paperwork and admin tasks.
Booking a doctor's appointment, making a restaurant reservation, or doing other administrative work may be as varied as business-related activities such as giving presentations, doing lengthy research, marketing, or developing a website.
But no matter how varied these tasks are, VA Talks will handle them. You will be left with more time on your hands to focus on more critical tasks, maximizing your business' growth and potential.
Have you used VA Talks before to hire virtual assistants? Please leave a review below and rate the company to tell everyone about your experience.