Appointment setters are responsible for contacting leads over the phone to schedule appointments.
The term "lead" pertains to someone who has expressed interest in your goods or service and has purchasing capability to acquire them. Given that "leads" are windows to your revenue, any staff dealing with them are deemed essential to your business.
Working as an appointment setter entails a great deal of stress. It is a high-pressure job as the business stands to win or lose with the success of these appointments. When you don't make appointments, your company's productivity decreases.
Because of its importance, an online appointment setter position is an in-demand remote job. And the demand continues to grow as the e-commerce industry is seeing explosive growth for the last two years.
If you're a remote worker looking for breakthrough opportunities, check appointment setter positions.
But before you start applying for jobs you'll find online, read this article as it will tell you about the position and the things you'll need to become one.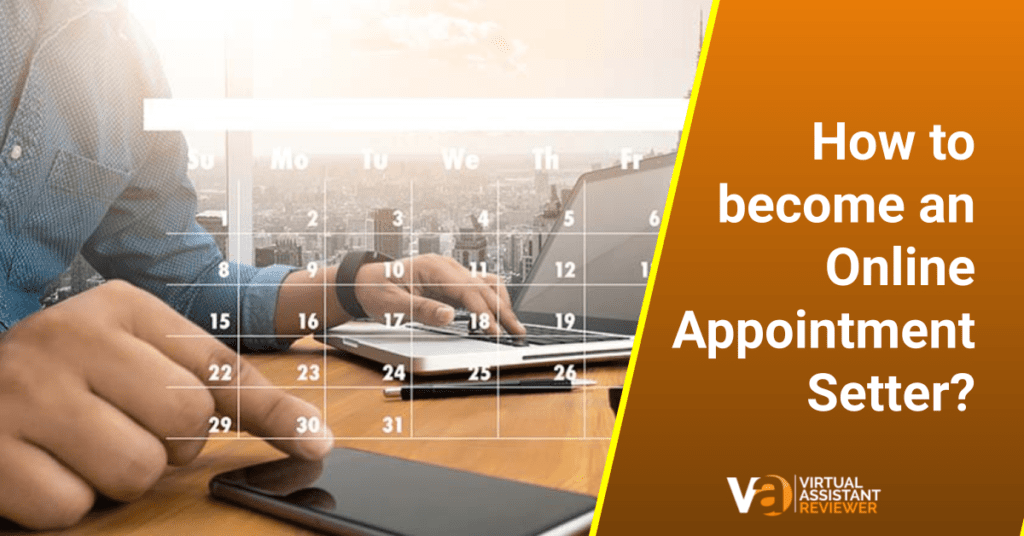 What does an appointment setter do?
As an appointment setter, you will make cold calls to leads from a list to describe your firm's product or service and measure the potential client's interest.
You will respond to their initial questions and establish their level of interest in your product or service.
Your goal is to persuade the potential customer to make an appointment (in person or over the phone) with a sales team member to complete the transaction.
Appointment settings are now entirely via phone or online. Because of this, the position is best for those looking for work-from-home jobs.
Appointment setter skills and qualifications
Appointment setters are excellent communicators who ease conversing with clients and customers all day.
Employers prefer appointment setters with prior customer service experience, but they do not typically require any formal education for the position.
The top consideration for many businesses is skills. And the skills that employers are looking for are not confined to certain college degrees or certifications.
Employers are looking for the following skills for an online appointment setter:
Sales skills
Appointment setters should understand sales principles because they are frequently the first point of contact between a client and a company. They also understand how to generate interest in its product or service.
Customer service experience
Appointment setters should have prior customer service experience, preferably in a call center environment. However, experience in retail customer service is also usually beneficial for this position.
Data entry skills
Appointment setters need to be skilled in data entry as they input customer data and essential information. They should be able to type quickly and accurately.
Interpersonal communication skills
These professionals communicate with clients all day via phone calls and emails. As a result, they need to have excellent interpersonal communication skills, both verbal and written.
Organization skills
They must also be able to work with the schedules of multiple salespeople. As a result, they need to be well-organized employees who are always aware of each salesperson.
You Can Also Read: Top 9 Most In-Demand Virtual Assistant Services in 2022
Responsibilities of an appointment setter
As discussed above, appointment setters deal with potential customers. They are the first line for a business or company to make that all-important sale.
To go into specifics, the following are some of the most common responsibilities of an appointment setter:
Creating interest in products and services to sell them or agree to a sales meeting.
Using scripts and contact lists to promote goods and services over the phone.
Arranging for product samples, information packs, and brochures to be processed and sent to consumers
Keeping track of notes for follow-up and updating marketing databases to reflect changes in customer status.
Contacting supervisors about issues mentioned by contacts.
Keeping track of the number of calls made and the results obtained.
Reporting on telemarketing operations and effects regularly.
Receiving phone calls and giving basic customer service.
Appointment setters may follow a script to schedule appointments with the company sales personnel, generate sales, or generate interest in the offered products or services.
They are also in charge of handling and coordinating the distribution of sales materials such as product samples, information packages, and brochures.
Appointment setters may also regularly assess a lead's strength and report their activities and outcomes.
They may use paper or spreadsheet or a Customer Relationship Management (CRM) software to record calls, successfully make appointments, update the database with new information, such as customer status updates, or make follow-up notes.
Appointment setters work with sales teams to synergize the sales process.
How to become an appointment setter?
You don't need formal education requirements to work as an appointment setter beyond high school graduation. But you should have exceptional people skills and be a terrific conversationalist.
As an appointment setter, you will likely provide customers their first impression of your firm, so be courteous, professional, and knowledgeable.
You should also not be discouraged by rejection. Remember, your goal is to sift out the genuinely interested potential customers. It means that you will likely be dealing with many people who aren't.
Related: Guide on How To Become a Virtual Assistant
How to be a successful appointment setter?
To be a successful appointment setter, you must have excellent customer service skills, a courteous and professional telephone approach, and basic record-keeping skills.
But you can learn the skills you'll need to become an effective appointment setter. It takes time, practice, and dedication to hone the necessary skills.
The following are some of the essential things that you can do as a beginner:
Exercise with your spiel
Improve the script you use to pitch your products and services to leads. The script should begin with a branded introduction that introduces you or the company you represent. The script should sound unrehearsed and natural.
If your pitch is poor, your lead will likely hang up before you ask to schedule an appointment.
Sound enthusiastic about the product or service you're promoting. Your leads may be less likely to hang up the phone if you catch their interest.
It is also easy to babble when you are nervous and trying to get through your script. Concentrate on speaking slowly and clearly.
Make use of the information you're given
Instead of completing your script as part of your appointment setter duties, pay attention to your lead.
According to Proven Sales Training, you can pick up on signs the customer sends out that indicate whether he needs your products or services by simply listening.
Don't continue the rehearsed pitch after the lead throws out a cue. Request an appointment instead to go over the criteria in further detail.
You might talk yourself out of an appointment if you keep pitching.
Stay calm and collected
Professional handling of objections is one of an appointment setter's most essential skills. Being prepared for a complaint is the best way to deal with it.
Rehearse rebuttals to every possible objection from the lead. It would be best if you prepared an intelligent rebuttal when a potential lead objects to your pitch or an appointment.
Prepare yourself for future contacts
Kindly request the name of the best person to contact or visit to discuss your company's benefits in greater detail.
Get the person's phone number and inquire about the best time to call.
Give your lead a range of dates to avoid scheduling an appointment that is too far in the future. You can ensure that your conversation remains fresh in their mind by scheduling the appointment as close to your conversation date as possible.
Finally, provide an email address to send the confirmation.
Taking care of the appointment
Please send a confirmation email to the lead, reminding him of his appointment. Briefly summarize the purpose of the meeting.
Remind the lead of the conversation he had with you and the date.
If your lead declines an appointment, politely inquire as to why. Having this information is priceless. Knowing why leads are dropping can help you fine-tune your approach.
How are appointment setters compensated?
The compensation for many appointment setters is in two ways. Employers can pay appointment setters a base hourly wage that provides their guaranteed pay.
They also get bonuses or commissions for each successful sales transaction. The pay is proportionate to the employer's revenue from the successful leads.
Appointment setters are thus highly motivated to do well in their jobs because their compensation is directly related to the success of the company's sales team.
Takeaway
Setting appointments is, without a doubt, a time-consuming and high-level responsibility. It is no wonder why so many entities and entrepreneurs outsource these services.
Appointment setting is a component of outbound lead generation, and as we all know, it is essential to businesses. While hard at first, finding success as an appointment setter is doable.
By ensuring that you have the essential skills needed, landing an appointment setter job is just around the corner.