PeoplePerHour is a UK-based freelancing platform founded in 2007 that boasts over 3 million freelancers across more than 180 countries.
Hundreds of websites promise to serve as intermediaries between remote workers and clients. There are many advantages of hiring a freelance worker as it would benefit your business in the long run. It's cost-effective if you focus your time on other business matters while hiring freelancers to do some of your tasks.
PeoplePerHour.com is one of the most prominent freelancing websites. As one of the longest-term freelancers in the United Kingdom, PeoplePerHour is an advanced platform where remote employees may be found in your area.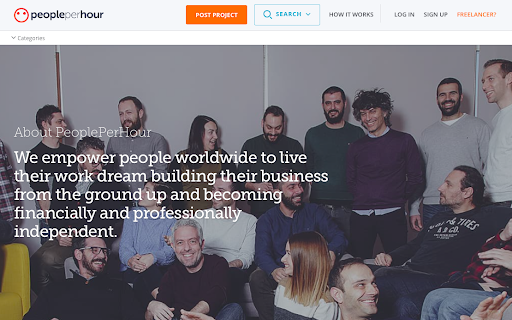 Brief Background About PeoplePerHour
PeoplePerHour began with a pen, paper, and telephone in 2007. Xenios Thrasyvoulou and Simos Kitirisand founded the business and have their headquarters in London and Athens.
Much has changed since then, but their objectives remain the same:
Connecting customers with the community of freelancers who can be hired by the hour or by the project.
Providing flexibility for working beyond the 9-to-5 day.
Making individuals realize their work dreams.
Since its founding, the outsourcing platform has linked over 1 million customers and freelancers so far and paid freelancers more than £100 million.
Businesses that utilize the website are often start-ups or small to medium-sized enterprises (SMEs) seeking to expand more flexibly by engaging freelancers to undertake tasks rather than recruiting in-house or via an agency.
As the UK's largest marketplace for freelance talent, PeoplePerHour has developed and participated in many research projects on SMEs, freelancing, and the gig economy, providing tools for new and expanding companies and individuals interested in pursuing a freelance career.
Jobs start at only one hour and maybe scaled out as required to create whole teams online, implying that the concept is scalable to multinational businesses.
How PeoplePerHour Works
If you have precise criteria for a piece of work that you need a professional to perform and would like to get bids from skilled freelancers, you may create a project for FREE. Here's how you can create a project:
Step 1: Click on the "Post project" link in the site's top navigation bar.
Step 2: Complete the form with information about your project.
Step 3: Provide a clear description of the project, preferably indicating the specific skill set required.
Step 4: Select the category that is most closely related to your project to make it searchable. The subcategory is associated with the category that you're about to create for your project.
Step 5: Provide the project description.The more information you provide, the better. Consider it a briefing for the project.
Step 6: Indicate your budget. Freelancers set their prices, and they are not interested in wasting your time if their charges are much more than what you are willing to pay.
Make sure your budget is reasonable; if you set it too low, you will discover that the finest freelancers will not give you proposals. The adage frequently rings true: you get what you pay for.
Step 7: You may indicate if the project needs on-site work or whether you are willing to work with freelancers remotely, and if so, which countries you prefer.
Step 8: Once your project is submitted, it is subjected to automated checks to ensure that it complies with PeoplePerHour's standards before being advertised to all freelancers through project listings and email alerts.
Step 9: You can now receive proposals from freelancers; you will get an email notification directing you to your PayPerHour inbox, where you can check their proposals and hopefully select your perfect freelancer.
Services
PeoplePerHour's AI technology connects freelancers with the most relevant tasks based on their profile and abilities. You may further refine it depending on language, skill set, and area of interest.
There are 15 categories available to freelancers and clients, including marketing, information technology, SEO, social media, writing, translation, video, design, administration, and tutorials.
Pricing
Offers are pre-packaged services provided by freelancers. Browse a wide selection of deals starting at only £10. Evaluating offers is an excellent method for clients to experiment with new concepts and develop long-term partnerships with freelancers.
If you are satisfied with the outcomes, submit a request for a follow-up project.
PeoplePerHour safeguards your payment (in an escrow account) until you notify them that you are satisfied and willing to release the payments.
Pay freelancers directly from your project stream at the end of a project, and only when you are delighted with the job completed. Pay with a single click, and money is released to your freelancer. You may increase the balance in your PeoplePerHour account and simplify future payments.
Suppose you're unhappy about releasing payments to a freelancer. In that case, your PeoplePerHour account includes access to the customer support staff, who will assist you in resolving any disputes – ensuring that your money is secure regardless of what occurs.
Pros
Safe payment through escrow
Invoices are generated automatically
You may register as both a buyer and a vendor
With convenient app
The account management dashboard is simple to use with two-way communications
Buyers are not charged to post a job or project
Customer service takes the buyer's side most of the time
You may quickly and securely exchange files
Buyers may review freelancers' histories and ratings, while freelancers can increase their employment opportunities with positive evaluations
Cons
Spam accounts have the potential to infiltrate the platform
Lacks good handling management support for complaints and issues (technical and payment issues)
Other Job Platform Alternatives
The quality of services offered by PeoplePerHour varies significantly depending on the kind of task being outsourced. The standard prices fall between the low-cost, readily accessible offerings on sites such as Fiverr and the outsourcing platform UpWork.
If you're looking for a virtual assistance platform for whatever your business assistance needs, 247VirtualAssistant.com can help. All your tasks can be handled by a large pool of highly qualified virtual assistants.
Another platform for dedicated personal assistance, Virtalent, which specializes in Personal Assistance (PA), supports tasks such as diary management, administration, and marketing activities like social media scheduling and email newsletter distribution.
Overall Review
Before you hire through this platform, you should determine if it is the appropriate fit for your business that distinguishes PeoplePerHour from other comparable platforms.
In contrast to other similar sites that strictly forbid direct connection between the employer and the contractor, PeoplePerHour promotes personal interaction.
The variety of jobs and professions accessible on this site ranges from the more conventional IT, multimedia, writing, and design categories to the more unusual, such as a job listing for individuals who own grinding machines.
If users adhere to the suggested guidelines and choose their freelancers wisely, PeoplePerHour is a reputable platform. It links qualified freelancers with suitable companies and cultivates working connections via personal interaction.
Additionally, it features a unique location-based function that enables buyers to employ freelancers in their located area. However, if the service costs are not for you, other freelancing websites may better fit.
Have you used PeoplePerHour before to hire virtual assistants? Please leave a review below and rate the company to tell everyone about your experience.