Truelancer is an On-Demand curated freelance marketplace. You can hire top-quality and skilled freelancers or managed teams as per your business needs.
Suppose you're looking for a job marketplace where employers can find reliable people to do business tasks or freelancers searching for work opportunities; Truelancer can connect you with clients and freelancers worldwide. 
Truelancer offers a fast, safe platform and gives you the flexibility to place single task orders or engage in a long-term freelancing partnership.
On Truelancer, if you're looking for someone to carry out specific jobs fast, you'll find plenty of skilled people who are available at your service. They have an extensive database of freelancers, consisting of IT and programming, sales, mobile app development, SEO, and more.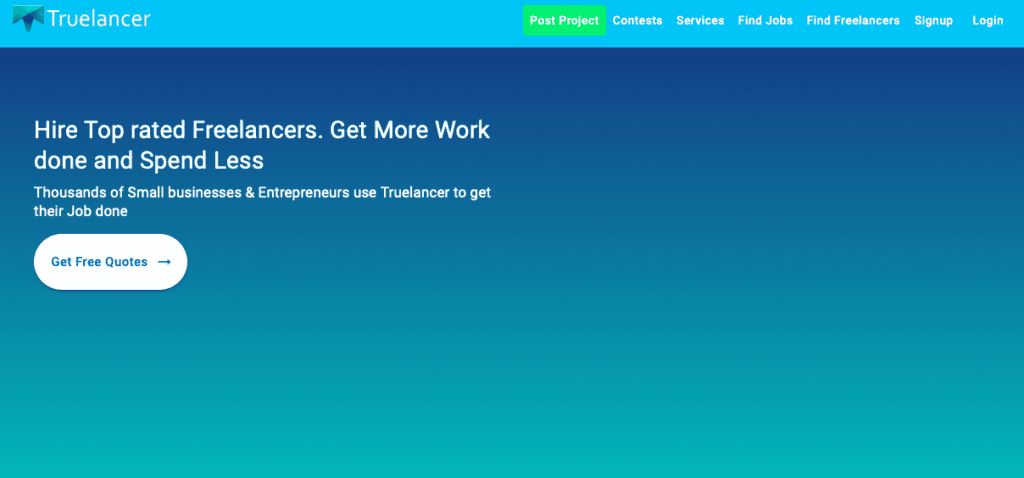 Brief Background About Truelancer
All freelancers utilizing the platform are from different corners of the globe, while the company headquarters is in India. Dipesh Garg runs the business, which he founded in September 2014.
You may use Truelancer to either purchase services from a freelancer you found to be most suited to your job requirements or sell your skills.
The goal of Truelancer is to help freelancers discover work or jobs that match their talents and get fair or reasonable compensation for a job well done. In contrast, employers will find freelancers who can get the work done in simple terms. You can communicate, collaborate, and reward the contractors you work with.
Truelancer provides a platform for freelancers to find the kind of work they want, empowering them to build the fulfilling lives of their jobs. As for the employers, they can find freelancers who can best assist them meet their requirements to focus on critical business matters.
How Truelancer Works For Employers
The three most common ways to locate a freelancer or an assistant are:
Predefined Gigs: You may browse predefined jobs from freelancers under the "Buy Services" page.
Content-Based Crowdsourcing: They provide logo design, web design, mobile app design, and contests for freelancers supplied by employers, etc.
Browse Freelancer Profiles: To find freelancers of different skill sets, browse through freelancers' portfolios or submit a job and filter through the candidate pools.
As an employer, your hiring work will cover the following steps:
Evaluate proposals from freelancers;
Verify the bidding price of the proposals received;
Examine the applying freelancer's portfolio of work;
Verify the work samples shown in the portfolio;
Complete and finalize your selected few profiles;
Conduct interviews with the freelancer profiles that were shortlisted;
Follow your interview process and hire the most qualified candidate;
Monitor the hired freelancers' regular work;
Once the work is submitted, allow a few days for evaluation; and
Once happy with the services delivered, release the payment.
Truelancer encourages employers to interact with their workers beforehand. If you need to offer an artist or graphic designer a short test project to see how well they grasp your instructions, you may request examples of their previous work.
You can communicate with your chosen freelancers if you want to work with them or if you have a job specification that you believe requires a profound degree of understanding.
How Truelancer Works For Freelancers
Truelancer operates similarly to any other independent website.
The recruiter or employer publishes their job specifications.
Freelancers will bid their proposals.
Recruiters may choose from any of the proposals.
When an employer chooses a proposal, they must pay Truelancer the project's total cost.
The freelancer completes the job, and upon approval by the customer, the payment will be settled.
Following that, both parties may leave a review/feedback.
Once the payment has been sent to the freelancer's Truelancer wallet, the latter only needs to request a money transfer to your bank or PayPal account. One would simply log into his/her account and click the payment tab to see a drop-down selection of the available payment methods.
Services
A lot of work tasks can now be completed remotely. Therefore, you can find lots of freelancers if you have projects available online.
In Truelancer, services are organized into the following categories:
Admin and Data Entry
Social Media
SEO and Blogging
Music and Audio
IT and Programming
Writing and Translation
Finance and Accounting
Multimedia and Graphic Design
Pricing
Employers will not be charged any fees but will be responsible for the processing costs charged by the preferred or selected payment methods. On the other hand, freelancers pay the platform a service fee of between 8% and 10%, determined by their membership plan, ranging from free to $48 per month.
Additionally, employers will benefit from money protection since the platform will hold cash paid until the work is completed and approved. In short, it is only upon the project completion that the money will be released to the freelancer.
For Freelancers
There are 4 membership options on the freelancer side:
Free ($0/month) – This plan includes a 10% project/service charge, a $75 bidding limit, and a limited number of skills, portfolio slots, and service listings.
Basic ($5/month) – This plan improves your ability to publish skills, portfolio slots, and service listings.
Pro ($10/month) – This plan reduces project/service costs to 8% and includes the basic enhanced privileges.
Plus ($48/month) – This is their most expensive plan, including unlimited listings, talents, portfolio spaces, and proposal submissions.
Additionally, there are specific transaction fees:
Project Fees — Depending on your membership level, a 3-10% project fee is computed from each transaction.
Employer Payment Processing Fee – Processing fees are assessed based on the method of payment.
For Employers
The Prime plan includes all of the following:
You will get a dedicated assistant in searching for the most qualified profiles.
Access to the best freelancers and profiles that have been hand-picked based on Truelancer internal polls.
The Prime Manager will handle your hiring process.
You may engage the Truelancer Prime team for a flat fee; contact Truelancer support for an estimate depending on the work.
Pros
Hire Top Talent from different countries
Pay only for what you get
Quick turnaround time
Engage Numerous Freelancers at once
Scale your business quickly
Funds are on hold until work is approved
Cons
No live chat support
Higher service fee from $8-$10 for all plans (for freelancers)
Other Job Platform Alternatives
You may want to consider other service platforms such as the following:
VirtualStaff.ph is a platform that links businesses and entrepreneurs directly to Philippine virtual assistants and remote workers located around the Philippines. The company's objective is to eliminate the need for businesses to utilize recruiters and cut out the middlemen, making it easier than ever to hire virtual assistants. 
What's good about VirtualStaff.ph is that there's no salary markup and no hidden fees for its Do It Yourself plans. Meaning, you can hire as many workers as you need and pay them directly. In addition, the online platform won't charge you additional markup costs added to the workers' salary or overtime hours. 
FreeUp is a marketplace that connects pre-vetted virtual assistants, freelancers, and agencies in e-commerce and marketing, offering them to clients to assist in several projects. However, FreeUp claims to only allow 1% of all applicants into their network of top-tier virtual assistants and freelancers. 
Workers here use freelancer pricing,  which sets individual prices depending on skill levels. Entry-level professionals often charge $5 to $10, whereas mid-level professionals charge $10 to $30, expert professionals charge $30 and above. On the other hand, the site charges a 15% commission.
On Fiverr.com, outsourcing is a smart business option. The core concept of Fiverr centered around people's willingness to perform minor tasks for a mere $5. Eventually, it has turned into a global community of freelance workers and the businesses that hire them. 
Overall Review
Truelancer is the world's leading marketplace for finding, hiring, and compensating freelancers. With Truelancer Prime, they go through the talent pool and pre-screen the most acceptable candidates based on your specifications. Additionally, they handle your project on your behalf, ensuring that you get the most satisfactory outcomes with the least amount of trouble.
Some freelancers tend to post useless or irrelevant projects when they send proposals for jobs posts or projects. As you hire, you have to up your patience in scouring over freelancer profiles to find a quality hire.
It is also an excellent platform to look for skilled and experienced IT professionals.
Have you used Truelancer before to hire virtual assistants? Please leave a review below and rate the company to tell everyone about your experience.