VAStaffer is an inbound marketing agency by virtual assistants with specialization in Search Engine Optimization (SEO), web design, lead generation and social media marketing.
---
When you get a virtual assistant to work for you, you'll have a dedicated virtual assistant devoted to your work needs. But imagine the possibilities if you have access to a team of virtual assistants with different skill sets. Add to that, and you'll be working with virtual assistants from the Philippines, which means you'll pay them at much more affordable rates without sacrificing skills, quality, and competency.
If you're looking for virtual assistants from the Philippines, VAStaffer is the place for you.
VASfatter.com assists small companies, CEOs, and entrepreneurs with its pool of skilled virtual assistants. The company helps scale businesses by providing more affordable options for labor and staffing needs. It also has built-in project management tools that will allow you to coordinate with your virtual assistants, complete projects, and hit deadlines.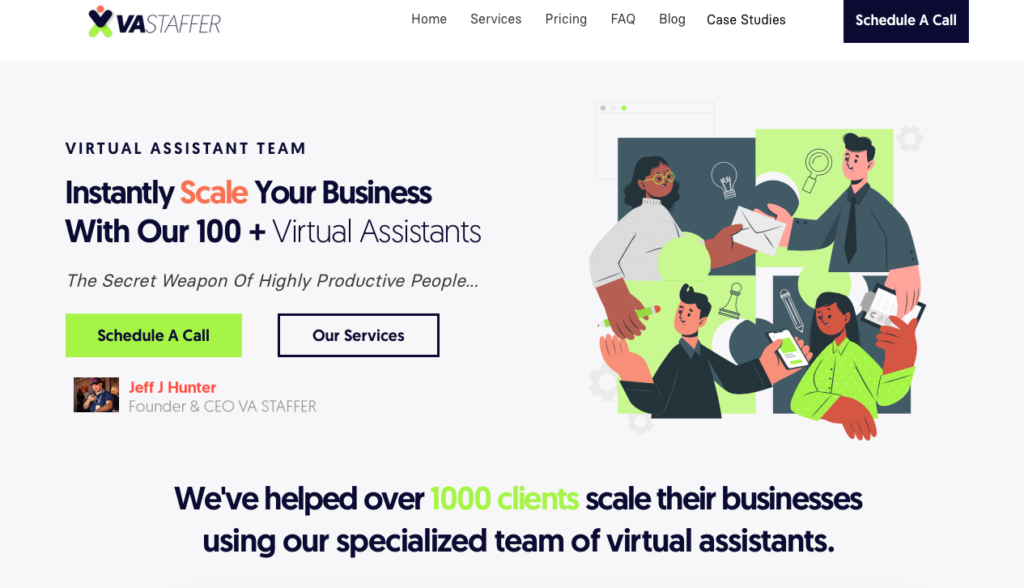 Brief Background About VAStaffer
When Typhoon Haiyan ravaged the Philippines in November 2013, many qualified and skilled workers in the Philippines faced lesser employment opportunities. Jeff J. Hunter and his team thought of an idea. Why not create jobs and employment for new college graduates in the Philippines? Providing work to skilled virtual assistants in the Philippines will empower them and provide financial freedom.
With the bulk of its staff working in the Philippines, with its headquarters in Makati City, VAStaffer is a Digital Marketing and Virtual Assistant provider. VAStaffer also offers marketing, project success, and consulting services in the US and has expanded its international market in South America, India, and the Caribbean.
How VAStaffer Works
With over 100 dedicated virtual assistants, VAStaffer offers its clients a remote team of expert virtual assistants. To start your team of virtual assistants from the Philippines, here's the process you need to follow:
Step 1: You need to schedule a strategy call with VAStaffer.
Step 2: Meet with VAStaffer's Client Success Advocate to discuss your employment specifications and requirements. The company's team would lay down the strategies on task delegation with your virtual assistant.
Step 3: Based on your needs and the requirements you have provided, the team from VAStaffer will assign to you the perfectly matched candidate who will be your dedicated virtual assistant at your service.
A 30-minute consultation with the Project Success Team can tell you more about your Virtual Assistant Team. The team will also help you identify your time-consuming tasks and develop a strategy to eliminate them. You set your priorities, and VAStaffer's virtual assistants do the rest.
With a team of skilled virtual assistants, you can now emphasize your time management plan. The idea is, with a virtual team to unload many business tasks from your plate, you can now focus on revenue-generating activities.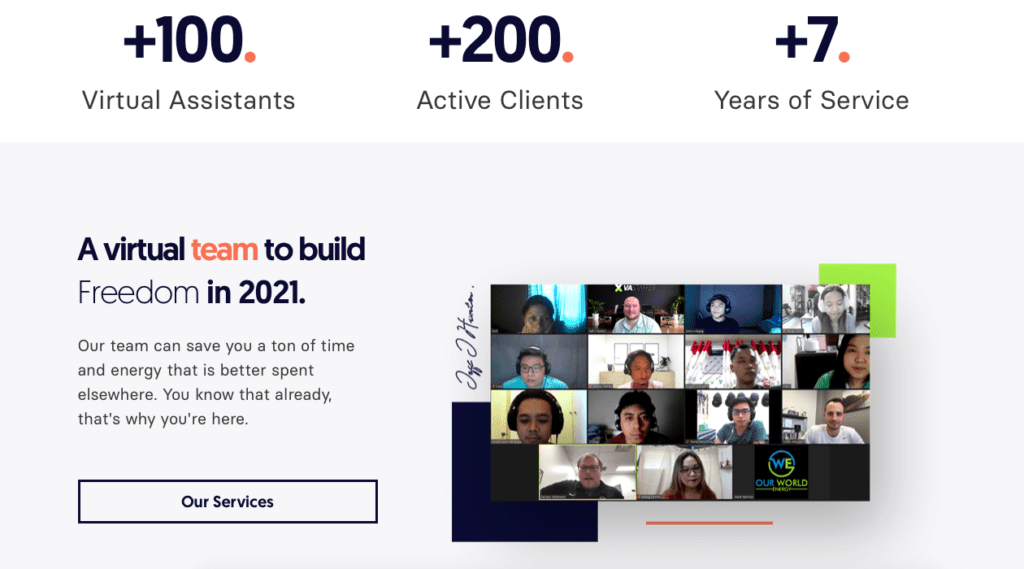 Services
Your Virtual Assistant Team from VAStaffer is capable of managing your social media accounts, as well as producing content material for you. VAStaffer sets its virtual assistant price packaged with its built-in project management tools to allow you to maximize the services while keeping costs down. Here's how VirtualStaffer can help you scale your business with its array of services:
Lead Generation: Your virtual assistant can explore the internet to search for new customers. They can locate leads based on your predefined demographic requirements. Using LinkedIn for sales efforts is another way they may utilize their lead generation.
Marketing and SEO Optimization: Your dedicated virtual assistant can provide a research service that includes competition research, conducting a market study and SEO keyword research to help you rank well and be competitive on keywords that matter to your business. Use your SEO virtual assistant to boost your presence on search engine results pages (SERPs) and be more visible online.
Graphic/WordPress Design and Branding: You can use VAStaffer's virtual assistants' image-building capabilities. Their virtual assistants can assemble presentations, logos, graphics, and print-ready brochures and information sheets for your website. They are also skilled in building WordPress websites, incorporating your business branding.
E-book and Product Promotion: They specialize in helping other businesses discover excellent locations to put their internet advertisements. They target the demographics with the highest interest levels in your goods or services to get more exposure and a higher conversion rate.
Social media management: It may be challenging to keep up with your social media presence. Relevance is crucial and must be maintained by posting at least twice a day, especially for lead generation and building social awareness of your business. Your virtual assistant can do all the tasks related to your social media management to ease your burden from maintaining your social presence.
Email management: You don't need to spend so much time producing your newsletter. It's impossible to monitor each lead who opens the emails you've sent, and your virtual assistant can tag them appropriately. They can also set up an autoresponder and sales funnel automation.
Inbound Marketing Agency: They can assist you in getting exposure using search engine optimization, focused market research, and the development of a brand that draws targeted visitors to your website.
Contact Management: Maintain your contact information and help you manage your leads with your dedicated virtual assistant. You may rely on them to keep track of critical emails, as well as react to customers.
Ecommerce Solutions: Your virtual assistant can insert new items, pricing, and product descriptions into your online shop. If you own a wholesale or drop-ship business, you understand that prices fluctuate often, and it is critical for your firm's survival that you monitor those changes.
Database entry: This is the work that requires a lot of concentration and time. It includes data entry into a database or updating a spreadsheet. You'll need a dedicated virtual assistant for this job, with particular skill in speed and accuracy.
Pricing and Plans
You can see the current pricing here to check the services included in their pricing and plan. The Dedicated Assistant plan starts at $800 per month with 20-40 hours of work per week. In comparison, the Hourly Plan starts at $298 per month.
A one-time setup fee of $497 is charged for all of their programs. The setup helps guarantee that their virtual assistants receive the training and guidance needed before starting the work and assisting you in reaching your goals. However, inbound/outbound calling, copywriting, paid advertising management, and SEO services are not included.
VAStaffer tailors its virtual assistant price for small companies and individual entrepreneurs. Using virtual assistants allows them to get the maximum number of tasks accomplished for how much it costs.
Software Used
VAStaffer uses ActiveCollab software for its project management and communication. Using the project management software aims to establish a long-term, mutually beneficial relationship with customers. The arrangement guarantees task management (screenshot monitoring) and oversight.
Pros
Thorough screening of applicants
No headaches in hiring, training, and managing virtual assistants
Excellent customer support team
Employers can reduce their overhead
With built-in project management
Increases productivity
Cons
No free trial
No money-back guarantee
No complete control in the hiring process
Other Job Platform Alternatives
Before signing up with VAStaffer, you may also want to compare it with other providers who hire virtual assistants in the Philippines. Here are some of your other options:
ClearDesk is a one-stop-shop for hiring reliable virtual assistants for your business. ClearDesk works with all business sizes, whether you're a start-up business or a real estate broker running your own realty business, a small E-commerce business, or a sales organization.
It is one of the simplest platforms to navigate while looking for virtual assistants. You won't have to worry about navigating a complex sign-up procedure since there is no contractual contract, and you may pay as you go.
Similar to VAStaffer, you don't need to search for resumes to hire virtual assistants. Instead, they will discuss the employment specifications, regular tasks to be filled in, and other requirements for virtual assistants. Once VAStaffer finds the best matched virtual assistant, its staff member will contact you.
The Enterprise Solution of VirtualStaff.ph is also a similar service to VAStaffer, where they screen and hire virtual assistants based on your needs. But you get a more significant say in the hiring process as you'll be asked to pick between candidates vetted by its account manager. After hiring, the account manager assists you in the management of your virtual staff, including attendance, weekly timesheets, and payroll.
Another platform is FreeUp, a marketplace that links customers with pre-vetted virtual assistants, freelancers, and marketing firms for assistance with various tasks. They accept just 1% of all applicants into its network of top-tier virtual assistants and freelancers.
Freelancers and virtual assistants found inside the FreeUp marketplace provide services in over 100 distinct skill sets. The hourly rates range from $5 to $100. The marketplace also offers fixed-price projects.
Lastly, Remote CoWorker is also the place to go for highly skilled virtual assistants in the Philippines. It is an established team of experts who have built solid connections with their virtual assistants from the Philippines. They specialize in offering affordable virtual assistants to companies and organizations with the appropriate skill set.
Overall Review
Time is the most precious asset that each of us has. Using VAStaffer's virtual assistant services can help you reclaim your valuable time. You can now focus on more essential aspects of your business now that virtual assistants in the Philippines assist you with many of your time-consuming tasks. The extra hours can also mean more time for leisure or to be spent with your family.
Have you used VAStaffer before to hire virtual assistants? Please leave a review below and rate the company to tell everyone about your experience.