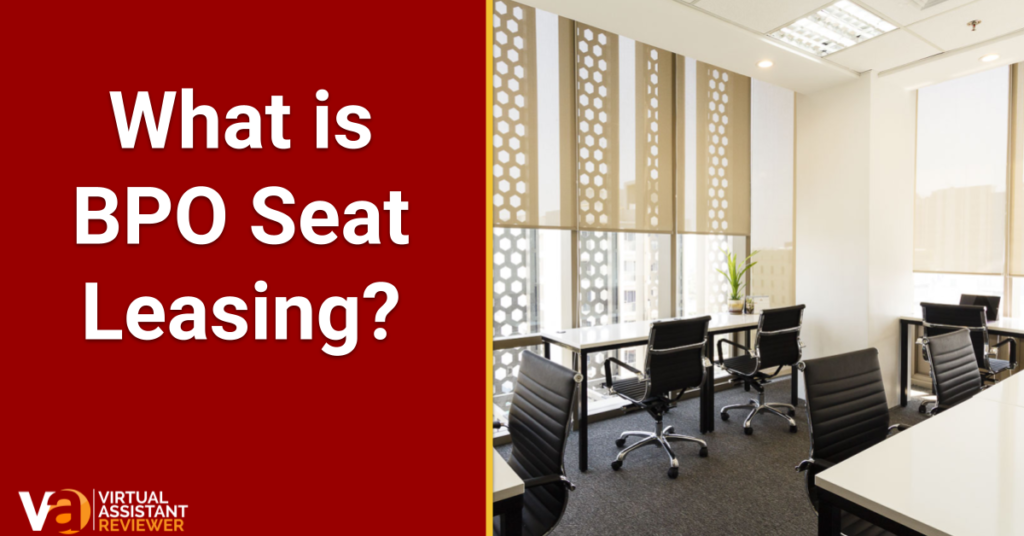 Selecting the ideal office space is one of the most crucial decisions you'll have to make when setting up an office, whether a startup or a growing corporation. 
Before deciding, you must evaluate several aspects, including your budget, the amount of space you require, and the number of staff you now have or will have.
The following questions will pop into your mind as well:
Are you able to make a sufficient financial investment?
What number of people are you planning to hire?
What kind of facilities fit your industry and needs?
How long will you require the office?
These are the considerations you should make before renting an office space. It's capital intensive and entails a lot of work.
But there is an option which could mean lesser work for you.
Seat leasing has been one of the most enabling approaches to starting a business for many organizations due to rising office space rental rates.
This article will provide all you need regarding BPO seat leasing, what it is, and its advantages and disadvantages.
Related: Top 10 Indian BPO Companies
What is Seat Leasing?
Seat leasing is an outsourced business strategy. Companies want to focus on their employees' hiring, training, and management rather than worrying about tangible assets like desks, computers, internet connections, and facilities.
It is the practice of renting desk space from business process outsourcing (BPO) firms that have already spent time and money finding the best locations and maintaining the physical infrastructure required for work.
Seat leasing enables businesses to set up offshore operations quickly, significantly lowering their initial investment costs.
Companies can also take advantage of the security, janitorial services, and other overhead costs included in the seat lease package.
Related: 10 Biggest BPO Companies in the Philippines
Seat Leasing Offers
A client can choose from two alternatives for seat leasing: warm seat leasing and cold seat leasing.
Warm seat leasing provides clients with office seats, work supplies, equipment, and additional workers to assist them in running their business.
Seat leasing employees frequently provide back-office services such as virtual help and administration, human resources, accounting, or essential IT services.
Meanwhile, cold seat leasing covers the only office seats, tools, and equipment required for their operation. Companies that choose this option typically already have a workforce or a small team to fill the administrative support functions.
Related: Top 5 Reasons Why Companies Outsource
Advantages of BPO Seat Leasing
There are many reasons why leasing a BPO seat is beneficial and the ideal option for your company.
Best for startups and SMEs
Small and medium-sized businesses benefit from the cost-effectiveness of BPO seat leasing.
Space is an essential resource, particularly in cities. Small firms frequently have difficulties obtaining one due to the high leasing costs, space availability, and stringent requirements from lessors.
Seat leasing is the most excellent option in both of these situations. In addition to offering businesses ready-to-use space, these generally come fully outfitted, saving startups and SMEs the cost of purchasing the needed equipment.
Furthermore, a seat lease arrangement is typically less expensive than the monthly rental of shared office space. They are also customizable to the specific needs of any organization.
Well-Established Organizations
Although it may appear implausible that established call center organizations would need to lease office space outside their own, some BPO firms do.
Space is always in great demand in the call center industry, just like small and medium firms. Even the largest BPO organizations with entire buildings may need additional capacity to run their operation.
Generally, entities leasing seats are well-established and already rooted in the industry. They have previously worked with many types of businesses. Their experience may help you find ways to provide you with space and facility solutions that you may discover scarce if you do it independently.
Cost-efficient and functional
In BPO seat leasing, you will have pre-installed workstations, tables, chairs, and equipment with robust and up-to-date specifications. There will be a backup generator should there be power failures, security all over the facility, reliable internet connection, and dedicated storage for your staff's personal belongings.
By renting them, you have spared yourself from deploying so much capital to procure these pieces of equipment and features.
Rising real estate prices
With the rise of real estate prices comes the increase in rental rates. Plenty of spaces are available in prominent business districts, but they are usually too big for your needs.
You may only have a few staff as a startup or a growing company.
With BPO seat leasing, you get to have a space in a fully-equipped office sprawl, but you don't get to pay for the entire office lease. You only pay a portion of it as your bill only covers the number of seats you've taken.
For Virtual Assistant Business
Sometimes you may encounter clients who prefer their virtual assistants to work in an office with the impression that they are more dependable and professional. If you have a work-from-home model, it would not be easy to comply with the office-based specification immediately.
Finding a BPO seat leasing that includes backup internet and power might mean the difference between keeping and losing a client, which is critical for any organization, especially startups.
Disadvantages of Seat Leasing
Renting an office is a long-term financial commitment that typically lasts for more than a year, depending on the terms of your lease. Moreover, more often than not, a large sum of money may be required upfront for a deposit and advance rental.
And there could be a few hidden costs that come with your billing. You may also have to shoulder the cleaning and maintenance charges on top of what you pay for the BPO seat leasing.
Before you decide to rent office space, make sure your company can afford this long-term financial commitment.
Seat Leasing in the Philippines
Only the IT and office infrastructure are outsourced in seat leasing, arguably the most basic business process outsourcing. However, you will remain directly responsible for hiring and managing your staff. The next level of outsourcing is staff leasing, in which a BPO company is engaged in providing the team that the company requires.
Outsourcing vs. Seat Leasing
There are various types of office setups available depending on the needs of the business.
A complete outsourcing solution provides a comprehensive package that is ideal for business owners who want to focus on their core services while outsourcing back office, administrative, and other non-core functionalities.
Aside from using the workstation and facilities, the outsourcing provider provides you with people and trains them to perform your required tasks.
You will not have direct control over this personnel because your provider will manage them. It shields your company from liability on the employee benefits while saving you time and money on recruiting, hiring, training, staffing, managing, and compensating employees.
On the other hand, seat leasing allows you to retain complete control over your staff.
Your service provider is only obligated to provide a conducive work facility, including power, internet, and security.
You will hire, train, and manage your employees while remaining completely controlled. However, you will use the shared office space and eliminate your company's cost of capital expenditures.
There are also hybrid outsourcing solutions available, tailored to your company's requirements. A combo between outsourcing and seat leasing may work best for some entities.