Companies have been outsourcing information technology (IT), customer support, software development, and various other critical business services to outsourcing companies to cut costs, save money, and improve their bottom lines.
Besides improving their bottom lines, companies outsource to maximize their resources by diverting their savings into core business activities and expanding on revenue-generating units. Many of these companies outsource to offshore companies that operate in countries with way lower wages and cost of living.
However, some companies do not trust foreign contractors and are more comfortable outsourcing within their home countries despite the advancement in cyber security and virtual office technology. We call this type domestic outsourcing.
If you are interested in learning more about domestic outsourcing, this article will review the benefits, trends, and statistics everyone should know.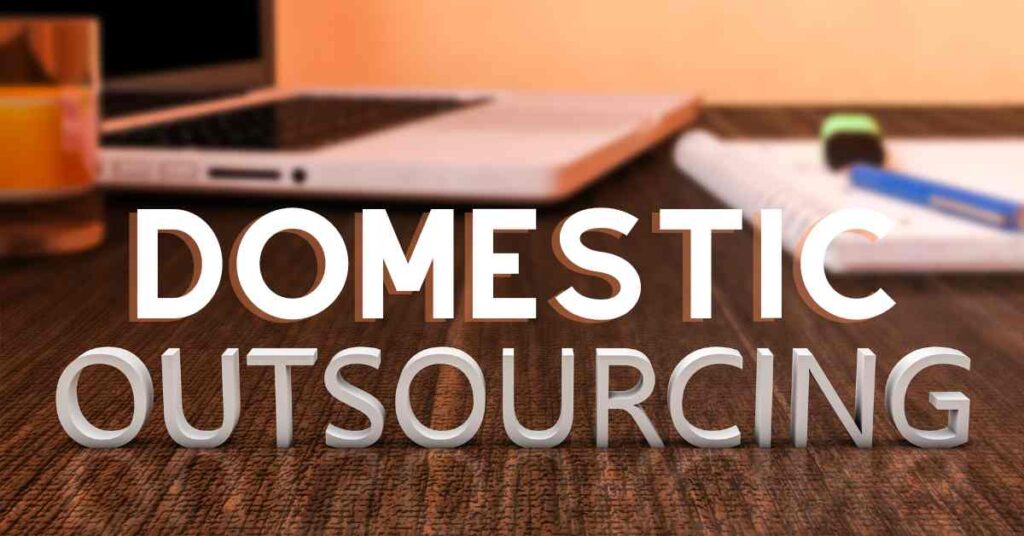 What is Domestic Outsourcing?
Domestic outsourcing, or onshore outsourcing, is a strategic business process outsourcing where business functions are outsourced to a third-party provider based in the same country as the company outsourcing its business processes.
Operational support and back-office services like customer support, information technology operations, accounting, finance, and payroll are outsourced to third-party entities specializing in such services.
Onshore outsourcing allows a third party to handle non-core tasks, i.e., shared human resources functions, that have significant business value and security risks but are not part of the central business.
Because of its nature, onshore outsourcing allows for greater control and communication between the two organizations. Domestic outsourcing gives companies the peace of mind that their vital information will not be handled in a foreign land.
However, in most cases, this may be more costly than other options for outsourcing.
Domestic Outsourcing vs. Offshore Outsourcing
Domestic outsourcing provides the advantage of having a closer relationship with the service provider.
In contrast to offshore outsourcing, clients can only travel short distances to meet and work with their outsourcing partners. They can exercise more control over their operations and review the service providers' work.
Companies can also demand their preferred quality output more quickly and without the hassle of additional regulations. However, they will likely save less money compared to offshore outsourcing.
If the service provider operates in India or the Philippines, companies will see significant cost savings of up to 70% compared to hiring domestically. Moreover, offshoring can be 60% cheaper compared to domestic outsourcing.
Domestic Outsourcing vs. In-House Hiring
On the other hand, domestic outsourcing can be far more convenient than in-house hiring.
Companies would still save money on labor and equipment. As is customary in the case of offshoring, the service provider will handle everything from hiring and recruiting employees to providing training sessions and managing their salaries and benefits.
In the long run, companies can save on benefits and retirement costs as the people processing their transactions are employees of the service provider and not the company.
You Can Also Read: Why Consider Outsourcing White Paper?
Why Do Companies Choose Domestic Outsourcing?
Legal Constraints
There could be strict regulations and statutory compliance that may bar companies from outsourcing to foreign countries. The service provider is subject to the same regulation and annual compliance with domestic outsourcing.
As such, companies can expect outsourced services to comply with existing regulations as opposed to foreign companies that would have to be acquainted with the local laws.
Also, some countries may have strict regulations or horrific bureaucracy that would be a nightmare. Some of the most popular outsourcing countries have yet to be known for their ease of doing business. Offshore outsourcing may require massive documentation for the company and its outsourcing partner.
In an attempt to cut the red tape, companies go to onshore BPOs for their outsourcing needs. Because they are in the same country, the service provider is subject to the same regulations and laws.
Protection of Intellectual Property
Domestic outsourcing also shields them from potential intellectual property infringements by their service providers. The protection assures companies of protecting their concepts and patents from unscrupulous parties.
Some countries may not have the same stringent intellectual property protection, which may lead to the theft of patents and assets with impunity. Of course, many reputable BPO companies in other countries adhere to the rule of law and operate with honesty and integrity.
But if companies are situated in countries with exemplary intellectual property laws, then onshore outsourcing would be a consideration. Moreover, outsourcing locally would mean that potential lawsuits for intellectual property protection would be easier for the companies' legal team.
Stability in Politics and the Economy
Offshore countries' political and economic conditions are not always stable. Businesses risk losing operations when an offshore country experiences political and social turmoil. They'll end up back where they started.
Businesses relocate their operations to their home countries for security and stability reasons. Some companies find comfort in doing so because their home countries have more economic and political stability.
Geographical Constraints
Due to geographical and timezone differences, companies may not outsource some functions to offshore locations. It rings true for companies that need timely document submissions or to supervise the processing of transactions more closely.
Responding to emergencies would be difficult if the outsourcing provider is in a faraway country. Flight cancellations or another pandemic lockdown would pose more problems.
Businesses use domestic outsourcing to transfer processes to another entity that may operate in the same city or a nearby community. In troubleshooting problems, company representatives can drive to the service providers and work closely with them.
You Might Also Be Interested: Pros and Cons of Offshore Outsourcing
Advantages and Disadvantages of Domestic Outsourcing
Despite cost and growth constraints, businesses outsource domestically. Here are some of the advantages and disadvantages companies consider when domestic outsourcing:
Advantages of Domestic Outsourcing
There are Fewer Concerns about Communication
When companies outsource their services domestically, they have more minor communication issues.
Because they work with locals, language and accent obstacles are reduced, if not eliminated. They make it easier for their service providers to communicate with them by simplifying communication processes and techniques.
More Effective Collaboration Methods
Work collaborations with domestic outsourcing are no longer restricted to online communications and virtual meetings.
Companies can schedule in-person project collaboration meetings with their service providers whenever needed. It also aids in the development of relationships between in-house and outsourced staff.
Make Use of the Skillsets Available in your Community
Domestic outsourcing entails employing local labor with knowledge and concentrated competencies for specialized operations.
Companies can benefit from the skill sets available in the area. They can readily hire available talent because they have a service provider who will take care of it.
Maintain the Product's 'Local' Identity
Domestic outsourcing allows businesses to maintain their 'local' character. It is especially true now as people are becoming more supportive of firms that offer products and services that are "locally" made.
Clients use local suppliers to create items and deliver services to their customers. They prefer local service providers because they know the dangers and injustices associated with cheap labor.
Affordability in the Long Run
Domestic outsourcing might help a company save money over time. It has more excellent interest rates than its offshore competitors.
One of the most common motivations for organizations to outsource abroad is to save money and resources. However, personally cooperating with them might be difficult and costly due to time and travel costs.
Domestic outsourcing provides cost-effective and accessible communication, travel, and overhead solutions.
Read Also: Top 5 Reasons Why Companies Outsource
Disadvantages of Domestic Outsourcing
Limited Reach of Talents
Despite the availability of local talent, domestic outsourced recruitment options may be restricted. Companies may find it challenging to recruit dedicated people for their required positions. Compared to offshore outsourcing, onshoring or domestic outsourcing may lack variety and the range of skills that companies need.
Restrictions on Service
When only a few people have the skills needed for outsourced jobs, domestic service providers may find it difficult to fulfill companies' outsourcing needs. Such restrictions may prevent companies from expanding and growing.
With offshore outsourcing, companies have an entire country as a talent pool for a fraction of the cost. The wide range of skills found in these offshore locations that can be 70% lower in cost offers opportunities for companies to grow tremendously.
Domestic outsourcing, in this sense, impedes a company's scalability and ambitions for expansion into new markets.
Higher Costs
Domestic outsourcing would usually involve higher overhead costs and associated expenditures. As a result, organizations can save less money than they can with offshore outsourcing.
Countries with higher salaries also have higher living costs. Companies would still need to spend on fair pay for their local workers even if they cut costs on equipment, facilities, and other requirements. As such, domestic outsourcing will not dramatically reduce operational costs.
Statistics on Domestic Outsourcing
Outsourced services have a promising future this year all around the world.
According to a recent Clutch study, more than 80% of businesses intend to outsource their services to save time, develop their business, and collaborate with specialists. Sixty-six percent (60%) of these businesses decided to explore onshoring. Around one-fifth of respondents intend to experiment with nearshoring and offshore.
According to experts, companies recruit onshore employees primarily if the function involves local users. The most popular roles for domestic outsourcing are information technology (IT) and customer support services.
Due to offshore this function's existing and future problems, corporations have begun to bring their IT services back to their home nations since 2018. Domestic outsourcing allows organizations to take advantage of more local talent.
According to a 2019 report, companies favor onshoring development work because their providers solely hire local senior developers.
Takeaway
Overall, domestic outsourcing can be an excellent place to start for foreign companies that want to experiment with outsourcing without the offshore challenges. They only need to contact their preferred outsourcing companies to find out how they can improve their operations.