Professional service companies have a particular business model that requires precise invoicing of each client's work hours to make a profit to produce income.
Many, however, fail to see the significance of individual clients' time monitoring.
Regardless of the company, using a time tracker doesn't only take billable hours but instead captures the overall hours to take a snapshot of the overall cost of a particular project.
Knowing how long it takes each customer to complete their job is still essential to correctly price and decide on future projects. This way, you'll get a more accurate insight into your costing and the project's profitability.
That's the importance of time tracking and management tool software.
FunctionFox is a cloud-based time tracking and project management tool that enables users to create timesheets and estimations and schedule and allocate tasks.
FunctionFox's billing and timesheet features are ideal for creative advertising, graphic design, marketing, public relations, and multimedia teams.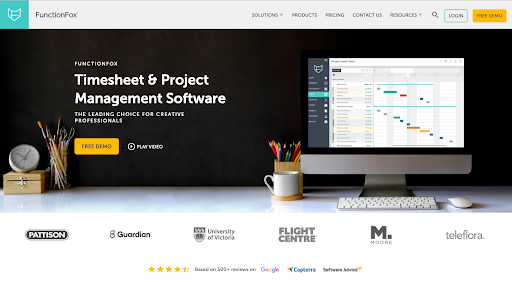 Brief Background About FunctionFox
Founded by Mary-Lynn Bellamy-Willms, FunctionFox has been in operation since 2000. It is committed to delivering easy-to-use, secure web-based solutions that assist creative teams worldwide in increasing their productivity and profitability.
Every member of their staff is equally dedicated and committed to achieving their company objectives. Since its inception, FunctionFox has continuously delivered straightforward, secure web-based solutions that help creative teams increase their productivity and, in turn, their revenue.
A combination of features, including in-house billing and time monitoring, will appeal to advertisers and marketing professionals, according to FunctionFox.
How FunctionFox Works
Creative company projects such as advertising, graphic design, marketing, public relations, and multimedia businesses are well-suited to use the FunctionFox project management and timesheet software.
Employees involved in these tasks may oversee multiple projects at once, assign these tasks to team members, and manage them remotely.
The software is also helpful in comparing financial data, making estimates, and comparing them to actual costs, getting an overview of deadlines, keeping high productivity, and sticking with budgets. It is also possible to compare financial data with project timelines, productivity, and budgets.
Using FunctionFox, employees may track how long it takes them to do tasks using the stopwatch timer feature inside the app. Also, some tools help manage a personal calendar, distribute papers and data, plan timelines and objectives, make to-lists, and assign tasks.
Additionally, users can create a project blog with comments and email notifications to facilitate team communication. Users may also generate invoices, plan meetings and activities using a shared calendar, and build contact lists and client profiles.
There are no downloads, no installation, and no IT assistance required with a cloud-based system. FunctionFox supports an infinite number of customers and projects, with the option to custom account settings based on the needs of the business.
Features
FunctionFox developed simple, straightforward, and powerful solutions that automate time tracking, administrative processes, and workflow.
To give you a sense of how FunctionFox operates, consider the following important features:
Access Rights & Client/Contractor Access
Account Preferences & Customization
Action Assignment with Action Calendar for Resource Allocation
CEO Desktop
Contacts
Cycle and Capacity Reports
Estimates, Quotes, & Budgets
Flink – Exchange Documents & Attach Files
Group Calendar
Invoicing
Personal Calendar
Project Blog with Email Alerts on Comments
Project Costs & Expense Tracking
Project Scheduling with Project Calendar
Project Status & Status Options
Reports – Additional Action & Production Reports
Reports – Clients, Project, Status
Resource Forecasting
Retainers
Tasks with Editable Rates
Timelines with Milestones
Timesheet with Stopwatch Timer
To-Do Lists with Email Alerts
Unlimited Clients & Projects
Pricing
FunctionFox offers three distinct products:
Classic (time tracking and project management)
Premier (enhanced project management capabilities)
In-House (for internal creative teams)
Additionally, a free plan is available for small groups and individual users needing a straightforward project management application. The complimentary program supports up to three users, two active projects, and an infinite number of tasks and customers.
The first user is charged $35 per month on the Classic plan, and each subsequent user will cost $5 per month. As this plan includes time tracking, project tracking, email alerts, and reports, you receive all of them.
For $50 per month, the Premier plan includes one user, and additional users pay $10 per month. It has PM essentials, including PM mastery, project management, task lists, deadlines, and project blogs.
Meanwhile, the In-House plan is designed for creative teams and costs $150 per month for the first user and $20 per month for each subsequent user.
With the In-House plan, you'll get everything included in the Classic and Premier plans, plus project request forms, custom fields, configurable reports, and a cloud storage platform called "Flink" with ten gigabytes (GB) storage capacity.
Flink is also available as an add-on to the Classic and Premier subscriptions. Additional 10 GB of storage is available for $10 per month.
Pros
Great report generator
Excellent for time and cost tracking
Free customer support and onboarding
Account preferences and customization
Project tracking
Project templates
Customizable project request forms
Solid selection of reports
Well-organized user interface
Free-trial
Free-version
Cons
A little bit expensive for a small team
Not more on task management
No view of elapsed time
Lacks of project management in mobile app
No GPS monitoring
Other Alternatives
The FunctionFox is the web-based time and project management tool for graphic design, advertising, communications, marketing, multimedia, public relations, and interactive companies.
FunctionFox focuses more on-time monitoring than task management, unlike most project management software we've reviewed. If you want to manage your customers, employees, and projects, as well as keep track of your time and expenses, the platforms described here are both excellent choices.
You can look for other alternatives such as Teramind Time Tracking, Webwork Time Tracker, or ClockShark.
Teramind is used by businesses of all kinds, from small and medium-sized enterprises to big companies and government agencies, to monitor workers and remote users. It is available on-premises or in the cloud through AWS or Azure. The Android application is available for free.
Business owners (both small and big companies), employees, freelancers, or any kind or size of a remote workforce is ideal to use Webwork. While ClockShark was designed mainly for construction, field service, and franchise businesses that want to eliminate paper timesheets. The time tracking software is designed to cater to these sectors specifically.
Check out some other project management reviews:
Overall Review
You'll like FunctionFox's intuitive design and robust feature set for time tracking and project management. However, you may find its pricing a bit pricier than the existing alternatives or competition, but it is not too expensive.
A lot of project management software we have evaluated is focused on tasks. At the same time, FunctionFox emphasizes simplifying processes and storing project and client information in one place.
FunctionFox offers several impressive features and an intuitive user interface. It seems to be more about form than function. The platform is visually appealing, but with a few usability problems and a shortage of support resources, it leaves a lot to be desired.
Nevertheless, FunctionFox is a straightforward time tracking and project management application designed for creative teams. The solution eliminates the need for timesheets by including a built-in time clock and stopwatch and additional ways for monitoring, organizing, and reporting on projects.