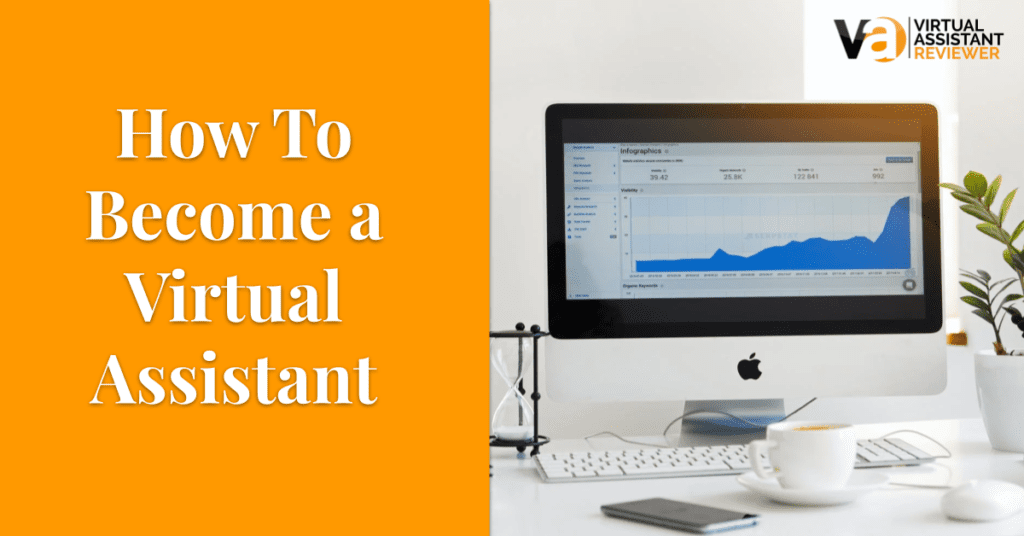 I didn't plan on becoming a virtual assistant. I am a Certified Public Accountant, and I was working for a premier business management solutions company when I decided to go to law school.
The work schedule wasn't compatible with my law school classes, so I decided to quit my day job. So I lost my primary earner, and I was left with my part-time job as an assistant university lecturer. But it wasn't enough to pay for my books, coffee, university fees, and daily expenses.
Looking for a flexible job that is non-location-dependent and pays well, becoming a virtual assistant seems to be the most logical choice. I updated my resume, applied online, and everything kind of just fell into place.
Without any prior experience, apart from my previous corporate job, I learned the ins and outs of working from home and being a virtual assistant while doing the job. I worked for a Kiwi mom who is running her boutique digital marketing agency. With the time zone difference, I would wake up at 4 AM to match the start of her business day. I learned all about search engine optimization (SEO), social media marketing, and WordPress website building because of the tasks assigned.
To do my job, I have taken many online courses and read guides for "dummies." I was able to get more clients — a charitable organization to run its Pay Per Click (PPC) campaign via Google Ad Grants for Non-Profits Organizations and a marketing agency running Google AdWords and local SEO.
In 2018, I finished law school and took the Bar Examination. By 2019, I was one of the 1,800 who passed and became lawyers out of the 8,000 who took the exam. As a new lawyer, I joined PricewaterhouseCoopers as a Senior Associate while running an internet business I co-founded in 2016.
In 2020, I left my Senior Associate position to run the internet business full-time. COVID-19 then turned our world upside down, but the business grew tremendously. I saw my earnings from the outsourcing business overshadow my solo practice as a CPA lawyer.
Realizing how becoming a virtual assistant changed my life, I decided to start Virtual Assistant Reviewer. More than a place to review virtual assistant providers, I aspire for this website to help aspiring virtual assistants start their own virtual assistant service business.
In this post, I will discuss everything you need to know to become a virtual assistant and start your own life-changing virtual assistant business. I will give you the steps you should take and the resources necessary to become a successful virtual assistant. At the end of this article, you'll get a solid understanding of what it takes to become a virtual assistant and run a successful virtual assistant business.
What is exactly a virtual assistant?
Traditionally, virtual assistants provide any form of services remotely from a home office. The definition that I've created is intended to incorporate the number of services rendered by virtual assistants. Gone are the days that virtual assistants are confined only to administrative and support tasks. Later on, I will discuss the services that virtual assistants provide.
Commonly, virtual assistants are independent contractors or self-employed. It means you'll be offering your services to businesses and entrepreneurs for an agreed fee.
When working as a virtual assistant, I would send a service agreement to my client specifying the scope of services, monthly fee, and other business terms.
What services does a virtual assistant provide?
Given the definition above of a virtual assistant, no fixed list of services a virtual assistant can provide.
To help you start your journey as a virtual assistant, I have compiled a list of the most common virtual assistant services. Depending on your skills, competency, and training, you'll be able to find a service that can appeal to your potential clients. Moreover, the more technically difficult the service is, the higher pay you can charge.
Here are a few of the services that a virtual assistant can provide:
Project management
Social media management
Community management and moderation
Content planning, writing, and blogging
Lead generation
Creating landing pages and sales funnels
Website design and WordPress building
Email management
Ecommerce management
Customer support
Calendar management
Keyword research
Copywriting
Proofreading and editing
Video editing
Outreach marketing and backlink building
Bookkeeping
The list above isn't exclusive. The list goes on, and it is endless. As long as the services are needed for personal errands or business needs, and they can be performed remotely — pretty sure virtual assistants can provide these services.
READ MORE: Best Work at Home Jobs
If you lack the skills for the services listed above, this should not stop you from becoming a virtual assistant. These skills can be learned through online courses and research. Add to that some great amount of motivation, determination, and a desire to gain work flexibility and financial freedom; you'll surely make it.
Steps to Become a Virtual Assistant
When I started working as a virtual assistant, I just went with the flow and didn't really plan ahead. I had a fair share of struggles along the way. But I was able to smoothen my processes and schedules through time and got the hang of it.
To help you start your virtual assistant journey, here are the steps to get you started as a virtual assistant:
1. Decide the services you'll be offering
I think that to jumpstart your virtual assistant journey is to determine first the services you're offering to your future clients. Once you've decided to it, it will determine the skills you'll need to effectively and efficiently deliver the services you'll offer.
Self-assessment of your skills and competency is a great start. You can look into the list above of services that virtual assistants can provide. You can pick two to three services you're interested in or feel that you can deliver and see if they match your current skills.
If you think you lack the required skills, you can start by attending online courses. You need to learn more than the basics, of course, and you can just further learn while on the job. Nothing beats real work and on-the-job experience.
Once you've taken the first step, you'll gain the momentum, and your learning curve will make everything, later on, seem more manageable than when you're starting.
2. Decide on your pricing structure
Once you've determined the services that you'll offer and your skills level, you can now set your pricing structure and how much you're charging your client. In setting up your rates, you usually start on an hourly basis and have to consider the following:
You are an independent contractor or self-employed
You have an overhead cost that needs to covered in delivering the services
You're not entitled to the usual benefits that regular salaried employees get
The number of hours you are willing to allow for each client
The things enumerated above will help you set the proper and profitable rate as a virtual assistant. The rate should cover your service costs, taxes, and the benefits that you're trading off for the flexibility and other benefits of self-employment.
Also, the hours you can set for each client will determine the number of clients you can accommodate.
Considering everything I've said above, it would only be logical that you'll be charging more on an hourly basis than what you make as a salaried employee. But bear in mind that since you're an independent contractor, your client will be enjoying several perks and advantages compared to hiring a full-time employee. Moreover, the client will also save on overhead and some additional costs since you're working remotely or from your own home.
You may move from an hourly rate to a fixed rate or a retainer fee basis as you go on. I personally like the fixed-rate or retainer model as I prefer having deliverables rather than my hours being tracked. Working for an hourly rate feels more like working on the clock rather than working on my own time.
But it's still up to you and pick the pricing structure that works best for you. I only discourage undercharging just to secure the job, as this would later hunt you and affect your service quality.
NOTE: If you're working for a virtual assistant provider, you're working as a salaried employee with a structured salary and benefits. You may not necessarily have much leverage for rate negotiation compared to virtual assistants working as independent contractors.
3. Create your Online Presence
As you're working online, it's only natural that you establish your online presence. Your online profiles will be the first thing that your clients will be checking before engaging your services. Just imagine this as the online version of a flyer or print advertising but only done online.
An online presence may not necessarily mean that you spend on a website. Putting up a self-hosted WordPress site may be costly, especially for someone who is just starting. You can start with the following:
LinkedIn Profile
Facebook Business Page
Instagram Page
Twitter
You may also need to update your resume focusing on your skills that can be helpful to business owners and entrepreneurs (your potential clients).
I have optimized my online presence, and now I get much of my accounting and legal clients via online inquiries. It helps that I ranked first in my locality, and my boutique firm dominates the SERP ranking.
But you didn't even have to rank. All you need is some social proof of your virtual assistant services that would come out once your potential clients Google your name or business. The probability of getting them on board after seeing your optimized and well-maintained social media presence is very high.
4. Land clients and networking
Landing your first client is perhaps the most challenging part of getting started as a virtual assistant. It requires a lot of refining your resume and customizing your engagement proposal based on the client's requirements and business needs.
Based on experience, it was the most challenging landing that first client compared to securing your third or fourth client. Experience spells the difference, and being a first-timer, you're only banking on your skills and confidence.
To know more about the INs and OUTs of the virtual assistant industry and meet people who work remotely and business owners and entrepreneurs looking for remote workers, join Facebook Groups and communities.
Steps to Get a Virtual Assistant Client
1. Share your virtual assistant services with everyone
You've already set your online presence. But these profiles won't get much attention from paying clients. So when starting as a virtual assistant, you need to spread the word and reach out to potential clients.
So you must tell everyone about your virtual assistant services. When I say everyone, I mean everyone. Here's a list of where to share your virtual assistant services
Family and friends
Small local businesses
Past co-workers
Facebook Groups
Other online communities
You might end up getting small businesses in your locality that need support as your first clients.
2. Check out job marketplaces and freelancing boards
Job marketplaces, specifically ones that offer remote positions, are the best places online to look for potential clients and business owners looking for virtual support. You can start pitching your services to these potential clients.
When you're just starting, I advise that you pitch daily. You also customize your pitches based on individual requirements and needs. Do not just simply submit general pitches or proposals.
Check out some of these marketplaces with some of the largest available listings of jobs for virtual assistants:
You can also check ways for finding a remote job as added guide.
3. Offer a trial period for your services
Until you get referrals, you would be relying on pitching to get clients. To entice potential clients and build trust, you can offer a short-term FREE trial period. The trial period would serve as some sort of testing the water and checking if you and the client can work together.
Becoming irreplaceable to your clients
Once you land a client, you would naturally want to build a long-term relationship. To do that, you have to provide as much value as possible to your client and their business. As a virtual assistant, it is not enough that you do the bare minimum. You have to learn things about the client's business to address productivity issues and provide solutions.
When working as a virtual assistant for a New Zealand solopreneur, I was tasked to do content for her blogs and prepare copywriting drafts. Realizing the delays that we constantly face due to the absence of WordPress maintenance, I took it myself to learn how to install and configure WordPress themes.
I become valuable to my client as she got a guy who gets the content done and at the same time makes minimal changes and onsite SEO for her clients' WordPress sites. Learning WordPress on my initiative made me irreplaceable to my client.
To learn more about the secrets of becoming a successful virtual assistant, join and enroll The Virtual Savvy training courses and join the thousands of successful alums now with thriving virtual assistant businesses.