Vasumo is a virtual assistant provider with offices in New York and Toronto. It offers home-based outsourcing solutions to businesses of all sizes.
In the virtual assistant business, Vasumo is a widely recognized name. It is one of the most well-known places to find experienced VA's from different areas of the world and concentrate on just one goal—to make your company a success.
Launched in 2014, Vasumo is a prominent virtual assistant company typically utilized by firms in New York, Toronto, and other parts of the United States. The team is made up of domestic employees with a US headquarters.
Brief Background About Vasumo
Virtual assistants at Vasumo are situated throughout the United States and Canada. They are all college graduates, and they provide consumers with a work-life balance. Vasumo is an essential element of its company strategy to create a successful connection with its customers. Therefore, client happiness is of vital significance.
Vasumo employs a rigorous recruiting process, where each virtual assistant is recruited via a series of lengthy interviews and evaluations. The VA also undergoes a training procedure in which they are tested to meet their best needs and assist overcome personal and professional obstacles to meet client requirements.
How Vasumo Works
Starting with Vasumo is as simple as registering for an account. Once the account has been checked and verified within 24 hours, you may begin immediately.
Once you have completed the criteria and filled up their profile information, the site will send an email or a call for user dashboard access. The website provides all the information and instructions on how to use the website and start a project immediately.
The unique interface enables users to make postings and start a job. This also allows the user to delegate and share duties and control files that the assistant and the customer utilize.
Whenever a post is created, the client has to give all the information regarding the job or assignment. This allows the website to filter the best applicant from the list of hundreds of employees accessible.
Details required from the applicant to locate the perfect assistant include the needed software or program degree of expertise, desired experience level, understanding of the specific niche or topic, the amount or volume of work involved, and the scheduled date of receipt of the completed file, etc. When establishing postings, it is essential to be as thorough as possible to guarantee the most excellent fit for the helper and be clear about the duties required.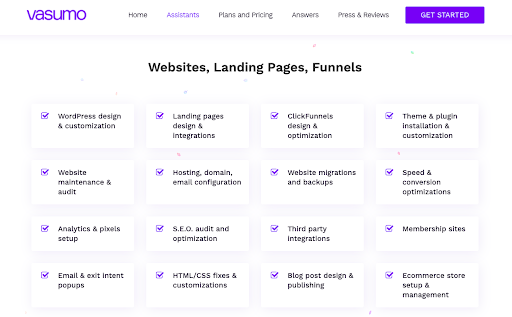 Services
Vasumo caters to major services such as the following:
Websites, landing pages, and funnel building
Graphic design
Video and audio editing
Marketing and advertising services
Social media maintenance
Administrative support
Sales support
Pricing
Pricing options for the Economy plan vary from $498 per month, Business Plan for $598 per month, and $798 per month in the First Class plan. The first plan includes up to 25 hours per month, and the second plan up to 55 hours per month.
Pros
American virtual assistants
Trained for over three months in over 300 tasks
Assigned a dedicated virtual assistant
No middleman
No contracts
No hidden charges
With time tracker for monitoring
Cons
Plans are expensive as compared with competitors
No money-back guarantee
No-free trial
Other Alternatives
Zirtual or Boldly may be worth checking out for US-based virtual assistants. Both businesses are highly rated on this website. However, the history of good feedback is far more costly than the stated prices here at Vasumo.
With Zirtual, you may choose a US-based assistant that works Eastern or Pacific time zones, ensuring that they are available when you need them. US-based virtual assistants are responsible for many administrative duties.
It is designed for straightforward and routine activities. It also explicitly avoids specialist services and talents like search engine optimization, lead creation, social media administration, and inbound phone calls.
Your Zirtual assistant will do a search using the requirements you provide. For instance, if you ask your virtual assistant to evaluate the costs of tickets to Hawaii, they would almost certainly recommend the least costly choice.
The plan starts from $499 for 12 hours to $1499 for 50 hours. You're not bound by any contract. You may downgrade or upgrade your plan as needed. When you request a plan modification, it will be included in the next month's billing cycle—the same thing with your cancellation.
On the other hand, Boldly sells itself as a reliable provider of skilled, dependable, verified virtual assistants, marketers, and project managers who can assist you and your company's needs. Boldly is a premium global staffing company, serving customers and staff members in North America and Europe.
Based on the most current pricing plans, you can choose from the number of hours you want to avail of per month. It starts with $1,470 for 30 hours and increases as you plan to have more hours dedicated per month. For more extensive plans of more than 160 hours per month, you can contact them and ask for pricing.
You won't pay any single cents until you decide to sign-up and work with your staff member. You can have a one-hour complimentary launch meeting with your dedicated staff so that you can clarify your job requirements and other essential business matters.
Overall Review
Vasumo may be pricier as compared with other VA service providers nowadays. That's why their enhanced quality and dependability also demand more pay – they work more than their rivals.
Their monthly prices are quite a fantastic bargain if you remember that your virtual assistant would be a US citizen with three years of experience with guaranteed expertise. Using Vasumo is a simple method to escape the hustle and bustle of novice employees.
And although Vasumo does not give free trials, prospective customers may simply email or contact them for evaluation and review at the contact information listed on the website.
This would also enable prospective customers to consult before starting using the platform. Finally, although the business costs a little more than its rivals, they are confident about what they do and what they have to offer. This is simply because their virtual assistants with the greatest degree of skill and experience possible.
Have you used Vasumo before to hire virtual assistants? Would you please leave a review below and rate the company to tell everyone about your experience?