Virtual Staff Finder is a headhunting company specializing in recruiting, screening, and hiring virtual assistants and remote workers in the Philippines on your behalf.
A virtual assistant is ideal for various tasks that can be done or be completed remotely or via the internet. Virtual assistants in the Philippines are characterized by specific unique skills, which are outstanding and distinctive in the field.
For this reason, the Philippines became one of the leaders in the outsourcing sector, especially when it comes to providing excellent virtual assistants.
It's no surprise that a lot of outsourcing companies pride Filipino candidates on their international clients. It is how Virtual Staff Finder becomes reputable in the field of outsourcing skilled Filipino virtual assistants.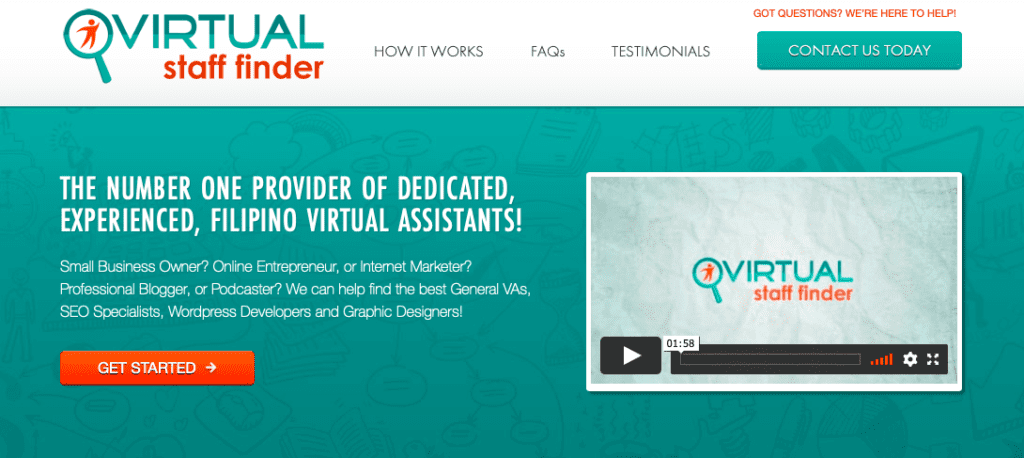 Brief Background About Virtual Staff Finder
Virtual Staff Finder is primarily a headhunting firm rather than a virtual assistant business. Founded in 2010 by British entrepreneur Chris Ducker, the company guarantees to connect you with competent top-quality Filipino remote workers. 
Since the company has been in the outsourcing business for over a decade, it has a deep understanding of the Filipino market and is considered an outsourcing expert. The company is located in the Philippines and guarantees that you can get the best people to grow and support your business.
How Virtual Staff Finder Works
Sign Up
You need to click the 'Buy Now' button and sign-up for the service. It's a one-time investment. You'll receive a Job Description document where you can list down all your virtual staffing requirements.
Outsourcing
It is one of the most critical parts where you get the value of your money. You can watch the tips and tactics video to help you get ready to work productively with your
new virtual staff member.
Testing
Virtual Staff Finder has an experienced sourcing team to find the best candidate for your business. They do all the filtering of resumes and suited applicants before you proceed to the next process.
Interview
The process involves phone interviews and, if possible, face-to-face interviews. All candidates need to undergo several screening processes, including online testing, background checks, and an internal selection. Then it's your last call to decide who among the top applicants is the best match for your business requirements.
To sum it up, the process starts with signing up. Just provide Virtual Staff Finder your business requirements and the qualifications for your preferred candidate, and they will source and filter the best applicants for you.
Then, the candidates will undergo different phases of rigid screening. You'll get a chance to interview the top three potential candidates for the job title. Lastly, you will decide the best match for your needs and start to work with your new virtual assistant.
The recruitment process may take up 7-14 days but can take longer depending on the expertise you need from your VA.
If you want to learn some of the frequently asked questions, you may go to this link.
Services
Virtual Staff Finder specializes in finding virtual assistants and remote staff for small-business owners. Administrative staff with strong English language skills, college graduates, and previous job experience working with international customers.
While you will have the flexibility to train your VA in any function you need, if you require specific abilities in web building, content writing, SEO, or other areas, Virtual Staff Finder may not be ideal for this kind of expertise.
Pricing
When you sign-up, you need to pay a one-time $495 cost. Once you get that job done, you discuss compensation details with your new virtual assistant, paying them directly.
The benefit of outsourcing your administrative needs with Virtual Staff Finder is that you only pay a one-time fee, and there is no more extended corporate overhead or additional charges when you hire your virtual assistant.
The amount Virtual Staff Finder charges may seem excessive. But keep in mind that the average full-time referral bonus paid to new employees is $1,200, which does not include the hiring costs.
Because Virtual Staff Finder offers a 10-day guarantee, it provides you with another three prospects for free if you were unable to recruit one of the three candidates it has chosen for you, or if you did hire one and it didn't work out within the first ten days.
Pros
A reputable company in outsourcing Filipino virtual assistants
With a 10-day guarantee to present another candidate free of charge (in case you don't like the final candidates or the one hired didn't work out)
Discounted rate for returning clients
No overhead cost or markup in the hiring process
Direct hiring process
Cons
No training provided
Sign up covers for one role only
Preferred working hours of virtual assistant doesn't usually fit for US working hours (8-5 pm Philippine standard time)
Doesn't have a wide range of virtual assistants for specific roles, e.g., developers and other more technical positions
No bilingual virtual assistants
Limited specialized skill sets
The hiring process is longer than any other virtual staffing service that usually delivers within 48 hours
Other Job Platform Alternatives
If you're looking for more options to hire virtual assistants from the Philippines with a wide range of experience and fields of expertise in virtual staffing services, you can check out the following:
VirtualStaff.ph
VirtualStaff.ph is known as the Philippines outsourcing marketplace. It's an easy-to-use platform that allows you to post jobs and directly choose from hundreds of thousands of virtual assistants and remote workers in the Philippines.
The company's objective is to eliminate the need for businesses to utilize recruiters and cut out the middlemen, making it easier than ever to hire virtual assistants. You can visit the how it works page to learn more.
The thing we like about VirtualStaff.ph is that they also offer an enterprise solution. You get your own client success manager and an experienced talent acquisition team finding you the best staff in the Philippines.
I'd suggest reading our comprehensive VirtualStaff.ph review.
ClearDesk
ClearDesk is also another provider of reliable virtual assistants for your business tasks regardless of your size or industry. The virtual assistants can assist you with your research and handle your email and schedule. The platform also employs virtual assistants that are skilled in customer assistance and Amazon virtual assistants that can manage your eCommerce store for you.
WoodBows
WoodBows aims to assist its clients with highly qualified virtual assistants from the Philippines, India, and the United States and free entrepreneurs and business owners from their daily burdens. WoodBows prices are very transparent.
Its virtual assistants based in the Philippines start at $8.99/hour, whereas virtual assistants based in the US begin at $25/hour. There are no fees or charges and no setup costs to start availing WoodBows services. Check out the plans and pricing here.
TaskBullet
TaskBullet offers virtual assistants to entrepreneurs by providing buckets of hours to be utilized by an assigned virtual assistant for your tasks. TaskBullet uses the "Bucket System" for purchasing hours, ensuring no monthly contracts, no long-term commitments, or hidden fees.
Overall Review
There could be times that you may find Virtual Staff Finder lacking in terms of filling in technical positions and roles that are a bit more complex than the usual administrative support.
But what's good about Virtual Staff Finder is that their pool of candidates is well-screened. Virtual Staff Finder will give you the top three best candidates, and it offers a 10-day guarantee just in case the one hired doesn't match your company culture or business practice.
With Virtual Staff Finder, you are relieved from the burden of the recruitment process. The company promises to use its expertise and deep-rooted history in the Philippines to screen applicants, vet their qualifications, and present the three best-matched candidates for your picking.
Once you hire the best candidate, you can now focus on more essential parts of your business instead of being trapped with all the mundane tasks that can eat your valuable time. If you're new to outsourcing, using a headhunting company specializing in Philippine virtual assistants and remote workers would be a great start.
The downside is that at just under $500 per staff, the headhunting fee is on the expensive side.
Have you used Virtual Staff Finder before to hire virtual assistants?
Would you mind leaving a review below and rating the company to tell everyone about your experience?