BELAY is based in Atlanta, Georgia, and claims to be the home of 100% remote virtual workers screened via a rigorous proprietary matching process.
Life has a sneaky way of getting in the way of our greatest intentions:
Bringing big ideas to life;
Expanding our company;
Setting healthy boundaries;
Prioritizing self-care; and
Prioritizing family.
But if you have business in mind, you struggle to find out how to achieve it all. You may not have everything under control.
But BELAY finds a solution for every business looking for a reliable virtual assistant to help their company grow.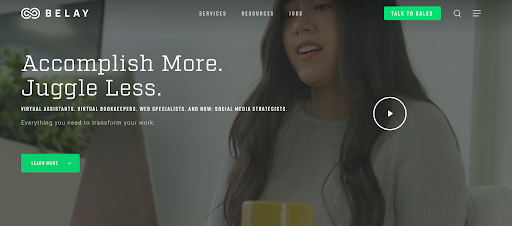 Brief Background About BELAY
In 2010 the Atlanta couple, Bryan and Shannon Miles, the brains behind BELAY, combined customer service and remote virtual assistants with bookkeeping and web services. They aim to pursue the vision they finally felt ready to take on: starting up an enterprise that would be theirs.
BELAY is located in Atlanta, but its staff has been distributed throughout 48 US states following the massive change in the workforce brought forth by the internet. The two founders believe that although many businesses no longer have conveyor belts and assembly lines, they nevertheless function as they do – and treat their workers as they do too.
Since 2010, the company has shown that a shared vision generates a work culture, not a single location. The company's staff's collective feeling of belonging guarantees that they all recognize their purpose, vision, and values.
Belay was established as a business that provides virtual assistance to organizations that require email, scheduling, and project management assistance.
It expanded into accounting, content writing, and online services, among other things, via the acquisition of MAG Bookkeeping. The business now connects remote employees to clients in four fields – writing, web design, virtual support, and accounting.
How BELAY Works
Here's the complete process of how you use Belay for your business needs:
Step 1. Call for Sales
Meet your Solutions Consultant to communicate your staff requirements and pain areas to determine the suitable criteria for potential hires. Afterward, you will be assigned to a Client Success Consultant who will guide you at every step of the hiring process.
Step 2. Discovery Call
Meet your Client Success Consultant to detail the tasks to be fulfilled, tools to be used, work culture, and other specific needs to guarantee that they match the suitable VA.
Step 3. Positioning Process
Your Client Success Consultant will discuss, review, and choose 2-3 top prospects from their approximately 1,500 US-based talent pool with the Placement Team. Your Success Consultant will next interview and select the best applicant based on their discovery call.
Step 4. Kickoff Call
Your Client Success Consultant and your VA will have a kickoff call to lay down your company objectives, establish communication strategies, duties, and responsibilities, etc.
Step 5. Onboarding
Your Client Success Consultant remains close to providing high-touch customer relationship services that will assist you through their proven integration process in the initial few weeks.
Services
The BELAY services have four major categories:
Virtual Assistants
Research and reporting
Inbox schedule management
Project coordination
Social media
Book travel and expense
Light bookkeeping
Website Specialist
Provide content updates
Update plugins
Maintain site
Schedule regular backups
Execute site builds
Optimize site
Bookkeeping
Produce reports and balance sheets
Reconcile credit cards
Reconcile bank accounts
Process payroll
Manage weekly bill pay
Process invoicing
Social Media Strategists
Create content calendars
Drive engagement
Schedule posts
Create brand conversation
Develop strategy
Provide reporting
Pricing
As you would imagine, BELAY is pricier compared to many virtual assistant providers in other countries. It is because their VAs are US-based and typically paid Western standard rates.
BELAY thinks that you get what you pay for and doesn't target the same crowd of customers or clients that look for $5/hour VAs. As of October 2020, the prices vary from $38 to $45 per hour, which is way pricier than what you can get from providers like VirtualStaff.ph or OnlineJobs.ph.
However, the nice part is that these prices are all-inclusive since there are no extra employer charges to pay as a regular W-2 employee. BELAY provides a range of contract sizes with a 30-day cancellation notice for each service line.
Pros
US-based virtual assistants
Rigid application process
Expert dedicated virtual assistants
Award-winning company
Dedicated support team
Cons
No money-back guarantee
No complete control in the hiring process
Price is relatively higher than other competitors
Other Alternatives
Some other virtual assistance businesses operate similarly with home-based American workers like VaVa Virtual Assistants or Prialto.
VaVa Virtual Assistants offer an experienced collection of virtual assistants to help with social media, digital marketing, and website design. They will link you with the most qualified virtual assistant based on their understanding of your particular business needs.
They can also screen US-based candidates for you if you need a combination of skills or abilities. VaVa Virtual Assistants offers skilled back-end office assistance for clients worldwide, ranging from administrative specialists to more specific digital marketers or creative assistants.
Likewise, if you want to hire an assistant through a virtual assistant agency, one of the highly-rated business assistant providers is Prialto. The company established best practices to implement tight quality control assurance with its virtual assistant services.
Prialto is responsible for recruiting, hiring, training, and managing all virtual assistants. They employ virtual assistants on a full-time W-2 basis. The majority of its staff are college degree holders. The organization has a retention record of 97 percent for both its pool of staff and clients.
Overall Review
BELAY has a proven and tested search method to discover the perfect individual to help your company prosper as the company promises to be unique in the market. They're talking about giving you the crème de la crème, knock-your-socks-off exceptional virtual assistants – and they're standing by to assist you in reclaiming your business's most precious asset: more time to concentrate on what matters most.
However, the price and rates of their VAs are on the expensive side compared with other VA service platforms. So any cost savings you may get would be at the minimum. While they promise the best candidates, you can find the same skills and talent from other providers for a way lower price.
To enjoy massive savings, try outsourcing to the Philippines. You may hire an English-speaking skilled VA for a fraction of the cost.
Have you used BELAY before to hire virtual assistants? Would you please leave a review below and rate the company to tell everyone about your experience?