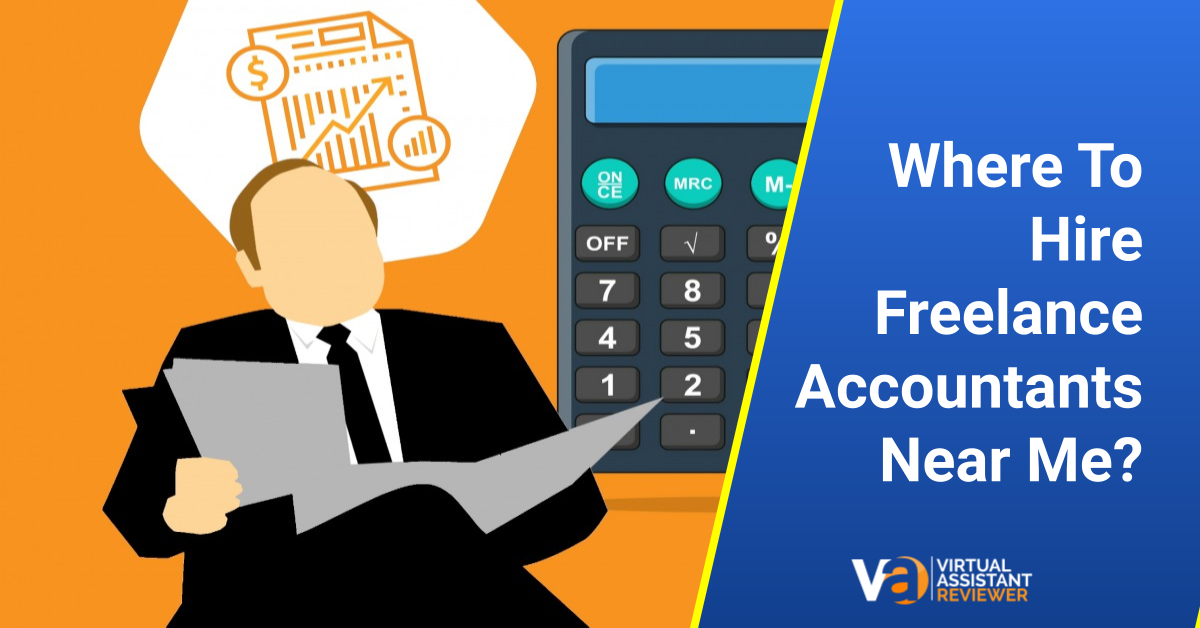 No small business owner should be responsible for their company's finances on their own. Understanding your company's assets and liabilities is critical, and an accountant can assist you in managing your money beyond daily profit.
In today's digital world, finding an economic accountant is easier than ever.
One factor is that keeping documents no longer requires physical space. Expensive software and tools, such as dedicated servers, and even basic meeting rooms, are not required to complete the task. A laptop is now all that is required of an accountant.
If you were looking for "where to hire accountants near me," this article will save you time and effort.
We have listed the best websites/marketplaces where you can hire the best accountants.
Upwork has been home to high-caliber freelancers and is an excellent site to discover the right accountant for your business. Upwork has essentially become the go-to site for recruiting since oDesk and Elance merged with it.
Over 12 million freelancers are eager to complete your project on this platform. You start by posting specifics about your job and waiting for freelancers to bid on it, just like most of the other sites on this list.
From there, you can choose the best one(s).
Select your criteria from areas like language, job success score, hourly wage, and location. You can even specify industry tests to locate persons who possess specific certifications.
You can also click on profiles to discover additional information about them, including client records, bios, education, reviews, and more.
You can schedule chats, send messages, trade files, and provide feedback on the site, making it simple to interact with freelancers.
Payment is not provided until the project is approved, which will guarantee you assurance and confidence.
Why Choose Upwork?
Best choice for long-term relationships.
Detailed search options.
Work diary feature to review progress.
Pro plan good value for a high volume of projects.
Fiverr is one of many businesses' favorite freelance sites, with thousands of freelancers in over 200 categories.
One of the most noteworthy perks of using Fiverr is its low cost. You can hire a professional for as little as $5 for any job you require.
Instead of posting project details and waiting for freelancers to bid on them, you search through the available gigs in each category and choose your freelancer from there.
You can sort your options by "preferred," "bestseller," or "newest" additions to the site. Since freelancers create profiles, they differ, but we were impressed by the option to include a "FAQ" part that answers clients' most common questions about your services.
Another unique perk is Fiverr's Pro service, which helps you limit your search to the best applicants. Yes, you must pay more, but you will receive highly rated, vetted freelancers, saving you time and reducing the danger of bad quality.
Why Choose Fiverr?
The most budget-friendly platform.
Easy-to-use help and support.
A wide range of job types is available.
100% safe payment system.
More than 6,000 accountants are available for hire on Freelancer.com. The filters are fewer than those offered by competitors like Upwork, but they cover things like location, hourly rates, talents, reviews, etc.
The portal provides freelancers with a variety of qualification exams to demonstrate their expertise in many sectors. Although this can help prospective clients narrow down prospects, the platform presently only offers one exam for personal accounting.
On Freelancer.com, clicking a profile is the most straightforward approach to making a final decision about the accountant you want to hire.
There's also a section where potential workers can post tasks they've completed for previous clients.
On the extended profile, you can also read client reviews. If you have a position that urgently needs to be filled and you want to start the application process right away, another alternative is to look at "online users."
Why Choose Freelancer.com?
An excellent choice for international companies
Easy to navigate
Wide range of templates to start projects
Free to post a project
Flexjobs is another reputable job site specializing in remote and flexible work opportunities such as freelancing, part-time, and full-time positions. There are numerous job opportunities available, ranging from education and training to journalism and writing.
Flexjobs verifies that all jobs posted on the site are legitimate. All job postings are checked and screened, clearing out scams and imposters. Unlike other online job boards, this freelance website does not have any advertisements on its page.
You may upgrade to their subscription plan, which costs $399/month, to get some fantastic extra advantages like social media advertising of your requirements, insights on job responses, and more.
Why choose Flexjobs?
Scam-free
30-day money-back guarantee
Reliable support
Long-term and secured relationships with freelancers
SpareHire is another service that offers "highly vetted independent consultants to power your business," as well as specialized accounting services.
In SpareHire, you can choose which of the following services you need help with, ranging from tax preparation to bookkeeping, payroll, and CPA assistance.
After choosing all of your specifications, you sign up and post the job online.
Professional accountants then bid for it, and you can compare candidates and review their experience and prior ratings. This method is an excellent way to find a freelance finance professional who can meet your requirements expertly.
Why Choose SpareHire?
No charge for posting
Uses technology to connect you with the best candidate
Reliable support
Using PARO to hire a freelance accountant is like SpareHire's method. This job site also specializes in the field of finance.
When choosing candidates, you start by taking a quiz so that the provider can figure out how to suit your demands best. Then, you are prompted to enter information such as your company's size, name, and contact information at this point, and you are told that someone will contact you.
Thus, the questionnaire makes it personalized when finding a freelance finance professional for your company.
PARO guarantees to provide you with their best accountants.
Only the top 2% of finance freelancers, according to PARO, make it past their rigorous vetting procedure, which includes a skills exam, interview, test project, and reference check. PARO connects clients with the most qualified financial analyst, CFO, CPA, or bookkeeper for the job.
Why Choose PARO?
Hire top-notch accountants
More personalized way of hiring accountants
Reliable support
Takeaway
As your company grows, its needs get more significant as well. As a business owner, you must market, create, grow, and sustain your company daily.
Hiring a personal accountant for your business can save your business. They are incredibly knowledgeable. They are capable of much more than just balancing your books and filing your taxes.
When you hire the right small business accountant, they will use their skills to assist your organization in meeting its objectives, whatever they may be.
Thus, hiring an accountant is a long-term investment that will allow you to free up your days and devote more time to income-generating ventures.
Conduct as much research as possible. Try to avoid reaching out to someone whose services appear within your budget; get to know them and communicate your queries and expectations. Once the hiring process is done, having a personal accountant can genuinely lift a weight off an entrepreneur's shoulders.
If you want to know more about freelancing, click here.
You can also check some of our free resources on virtual accounting: